My three-year-old daughter calls herself the "warrior princess" (no Xena influence there), so it's no wonder the Highland Games are one of her favorite events of the year. Celtic culture is riddled with battles and heroes, and these people and events have left a legacy any warrior princess would love: namely, Highland Athletics and Highland Dance.
We live in Phoenix, which is where the annual Highland Athletics Women's World Championships are held every year in early spring. It's amazing to see these women in action, and as I specialize in women's health and fitness, it seemed appropriate to cover this event.
There were eight women competing for the title of world champion. This year's Games were particularly exciting, since one of the competitors, Adriane Wilson, was going for her third consecutive title. Wilson (maiden name Blewitt) has a long history with Highland Athletics. As she notes in an interview at DieselCrew.com:
I am very proud to be a two-time Women's World Champion and the current world record holder in the 28lb. weight for distance at 50'11". I am the first person, man or woman, to throw over 50 feet in the heavy weight event. I share the world record for the spinning weight for height event with Mindy Pockoski at 19'. I earned the World Caber Tossing Championship in Scotland at the Callender Games in 2010 and 2011 and won the overall Championship in Fergus, Ontario and Pleasanton, California.
Wilson also competed in the 2004 and 2008 Olympic Trials. Oh, and did I mention she's a cancer survivor? In other words, she's one tough lady. This year, Wilson was the champion once again. She also set a new world record in the heavy weight throw for distance, as well as new field records in the Braemar stone and light weight throw for distance.
Wilson wasn't the only tough one at the Games. Kate Burton, who placed second, also made a new field record in the heavy hammer, with an awesome throw of over 89 feet. And Kristy Scott, who finished third, made a new world record in the weight for height. Scott tossed the 28-pound weight an incredible 19 feet, surpassing Burton and Wilson by two feet.
What always impresses me most about all of the competitions at the Highland Games is the sense of camaraderie and sportsmanship between the players. All of the competitors are so encouraging to one another, and you really got the sense that, although they are certainly there to compete, they really love their sport. The weights may be heavy, but the overall mood is relaxed and a lot of fun. From a spectator's perspective, it's the way athletic competitions should be – focus the intensity during the events, and enjoy the rest.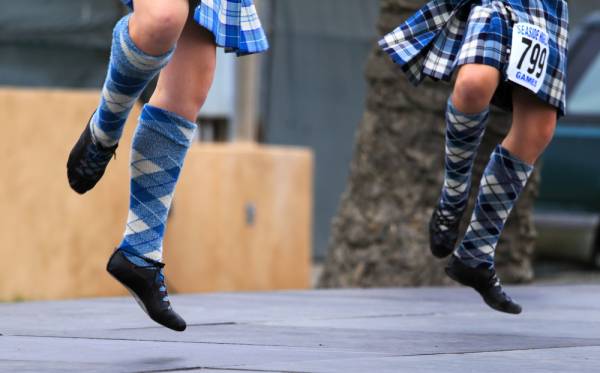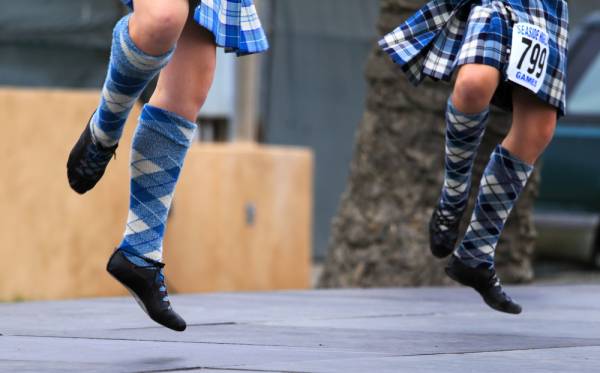 Of course, warrior princesses don't just throw big rocks and tree trunks – they also like to dance, at least as far as my three-year-old is concerned. Since September, she's been taking Highland Dance and absolutely loves it. Her dance school competed at the Highland Games and made quite an impressing showing. After seeing my daughter's improvement over the last six months, I'm convinced that Highland Dance is an awesome athletic activity for children. It's an amazing test of strength and coordination, and it's also a great way to build confidence and self-esteem through performance and competition.
According to Kari Maschino, founder of Maschino School of Highland Dance (MSHD), strength, endurance, and agility are the three primary benefits of Highland Dance for children and adolescents. Most of the dances are done entirely on the balls of the feet and require strength as well as stamina. "The younger and less experienced dancers have the biggest challenge holding their arm and leg positions. Elevation is another challenge that affects all dancers. These three things tie into strength," says Maschino. To illustrate: in a typical six-step version of the Highland Fling, a dancer will jump vertically 192 times!
Highland Dance also gives kids the opportunity to perform and compete. Although Maschino doesn't require her students to compete, she does think it can be beneficial for children's self esteem and confidence. "Dancers put on their 'game face' and lay out their best work, hoping that their best will place out at the end of the day. Any placing is a nod that their work was a job well done. Sometimes just getting through the dance without stopping or turning the wrong way in front of a judge is a dancer's goal. They can say at the end of the day, 'Hey, I did it!'"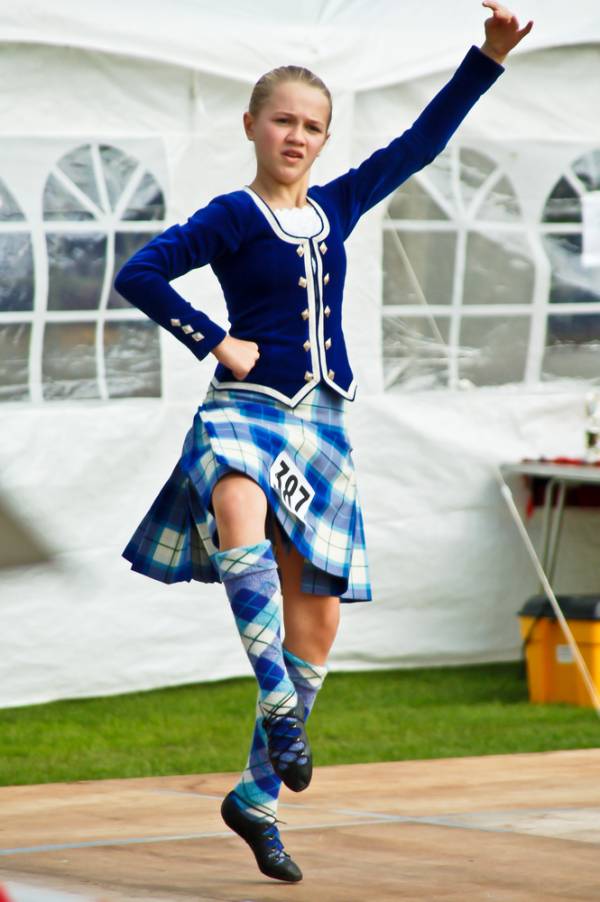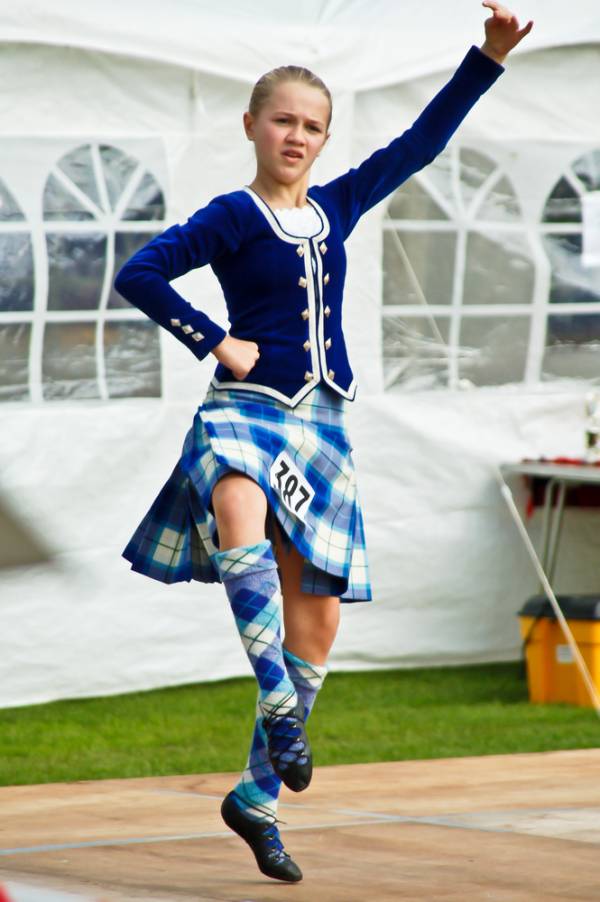 Another thing I love about Highland Dance is it doesn't seem like there are as many of the body image standards that often come with other kinds of dance. What matters most is strength, grace, and stamina. You see all ages and body types at competitions, and as long as the technique is there, everyone has the potential to place. As noted by Maschino, "Highland Dancing provides different challenges to different body types. It's like any physical activity, you just find a way to make it work for you."
It's also appropriate for both boys and girls; in fact, men were the first Highland Dancers. "Highland Dancing was originally created for the Scottish men-at-arms to help them stay in shape for battle…I personally love watching male dancers because they were the original Highland Dancers. They bring a certain nostalgic feel to any exhibition or dance competition. They are rare, but they are out there and they usually end up being amazing dancers because of their strong legs," says Maschino. In fact, several of the past Highland Dance world champions have been male.
MSHD had an amazing weekend at the Games, and although my daughter is too young to compete, she was really excited about the other girls' results and about competing in the future. And just in case Highland Dance falls through for some reason, she's also been throwing boulders around.
Congratulations to all the competitors at the Games – can't wait until next year!