We receive free products and receive commissions through our links. See
disclosures page
.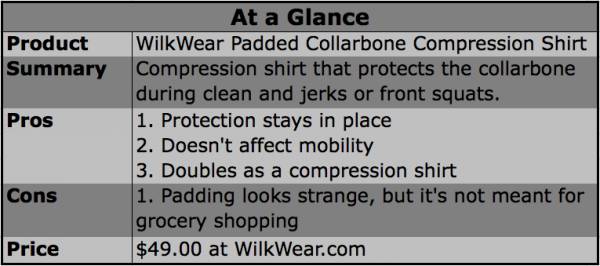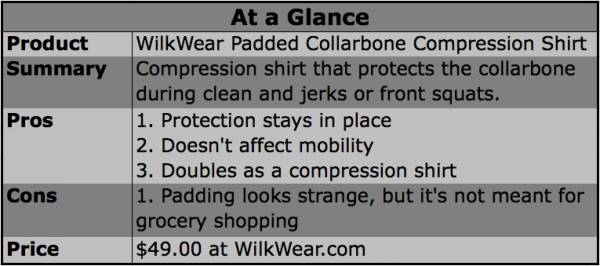 Recently my editor, Becca Borawski Jenkins, sent me an email with the subject, "You are now the padded clothing expert." I don't know how I got this title, but I do know that I never aspired to have it.
Part of the reason for the title might be my surprise at how well the Snatch Shorts worked in protecting the hip bone when I reviewed them a while back. I never felt I needed protective clothing while doing cleans or front squats, so when I received the Wilkwear Padded Collarbone Compression Shirt I decided to ask around to find out how important the issue of chafing or bruising of the collarbone was to athletes.
Surprisingly, many people started to show me bruising and redness all around their neck when I asked them whether this was a problem. After doing a bit more research, I found that slow elbows may be a contributing factor to this problem with the Olympic clean. That is, when people tend to catch the bar with their elbows down, the shoulders are not in as high of a position to protect the collarbone from the bar.
Mobility and flexbility issues can also cause you to bang up your collarbone. For example, the video below discusses how limitations in squat and elbow mobility can actually hinder the catch during cleans:
Getting A Bruise On Your Collar Bone When You Clean? - The Daily BS 105
Shoulder mass is also important in catching the bar. The more mass you have, the more muscle will be able to catch the bar. Lifting the shoulders and bringing them forward slightly might mitigate part of this problem. The bar's springiness also plays a role, as the more it bends the less pressure there is in the middle.
Additionally, during high-rep exercises, perfect form is not always emphasized and people might resort to catching the bar in different ways that aren't optimal. So it seems there are many reasons why damage can occur to the collarbone, which explains why people might want protection during their practice.
The WilkWear Option
The WilkWear Padded Collarbone Compression Shirt is designed to provide protection from bruising and chafing in Olympic clean and jerks and front squats. The shirt fits comfortably and it can easily be used as a compression shirt. I reviewed the sleeveless version. However, the short-sleeve version probably offers more compression to the upper arms. The padding is not one single piece, but eight separate units, as shown below. This allows for more movement and shows the quality of the construction. It is a comfortable shirt that feels like it would last a long time.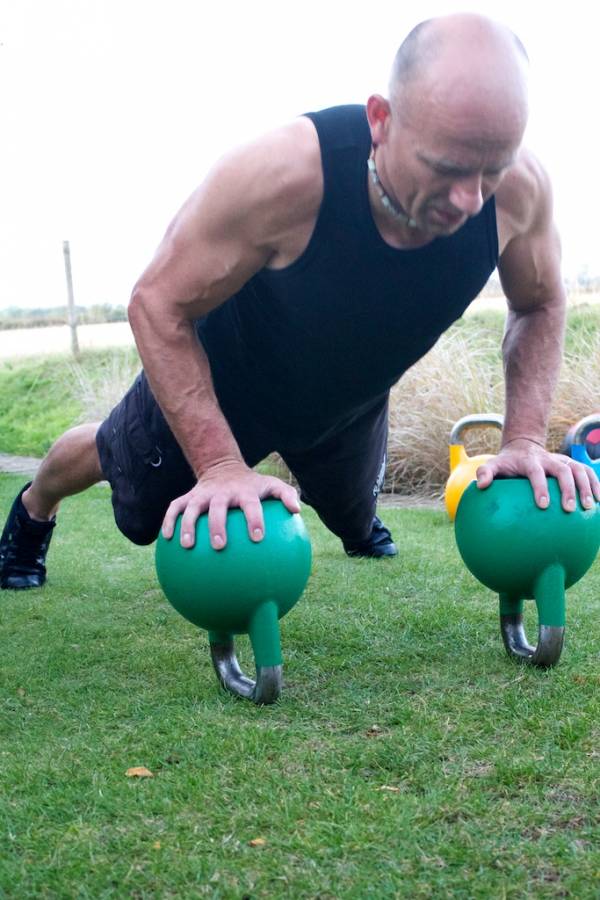 As for my own testing, it seemed to take a beating quite well. I attempted light weights at first to really let it bang around my shoulders. It definitely protected my collarbone. The same effect was seen as the weight increased. I felt confident in letting the bar hit a bit more awkwardly. I also realized I have been lifting my shoulders up a bit to protect my clavicle. Wearing the padded shirt, I could relax more.
I lent the shirt out to someone who described having more of an issue with bruising. He used the shirt during a clean and jerk and thruster CrossFit-style workout. He felt quite comfortable in the shirt and ended up with no chafing, which wouldn't have usually been the case for him.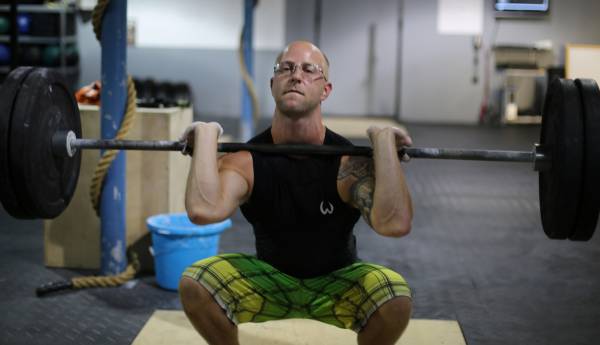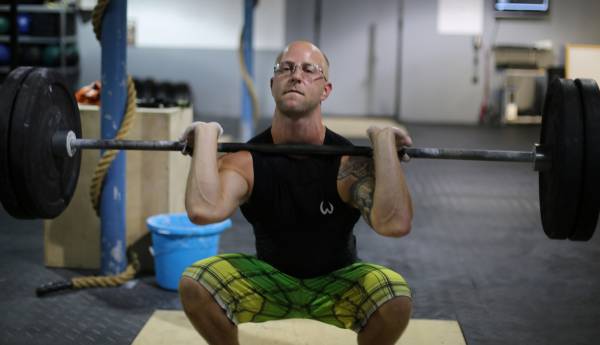 In general, the WilkWear Padded Collarbone Compression Shirt is a high-quality product that provides protection for people who tend to bruise or chafe their collarbone area during clean and jerk types of movements. I may not go out to the grocery store with all my padded clothing, but I can certainly recommend it to anyone who needs that protection while doing Olympic lifts.
The WilkWear Padded Collarbone Compression Shirt is available for $49.95 at Wilkwear.com.