The holiday season not only wreaks havoc on our wallets, but it also affects our daily routines. The stress many of us feel to incorporate all the holiday cheer into our daily life can create unhealthy eating habits and keep us from getting in workouts.
RELATED: How to Make Social Events a Strength This Holiday Season
Crockpots to the Rescue
Since beginning my paleo lifestyle, the crockpot has become an invaluable tool. The beauty of cooking in a crockpot is threefold:
Simplicity of one pot cooking
Convenience of minimal effort
Many magnificent meals that can be prepared from one filled pot.
I've always been a fan of pork, especially bacon, but finding nitrate- and sugar-free bacon can be a challenge. This reality introduced me to pork belly, which is now one of my go-to favorites for preparing homemade bacon, as well as many delicious crockpot meals.
Three Meals, One Recipe
Use the Herb-Rubbed Pork Belly recipe below to make these three meals:
Herb-Rubbed Pork Belly with Root Vegetables and Brussels Sprouts
Pork Belly Tacos, Sautéed Plantains, Red Cabbage, and Avocado
Broiled Crispy Pork Belly and Eggs With Mixed Green Salad
What You'll Need:
Note: These quantities will serve 1-2 people. Adjust as needed.
4-5lb of pork belly
2 Tablespoons each of paprika, onion powder, garlic powder
1 Tablespoon of salt and pepper
4 bay leaves
Assorted root vegetables to fill the bottom of pot
Brussels sprouts
1 plantain
1 lemon
Head of red cabbage
1-2 avocados (or store-prepared guacamole)
Handful of mixed greens
Corn tortillas or butter lettuce leaf for a paleo option
3-4 eggs
Ghee
RELATED: Eating Clean on the Go: It's All in the Planning
Herb-Rubbed Pork Belly Preparation
The night before you plan to cook the pork belly, mix the spices in a bowl and rub the pork belly, covering as much as possible. You can use a whole pork belly or sliced, as pictured below.
Wrap the herb-rubbed pork belly in plastic wrap with the bay leaves included.
Let it sit overnight in the refrigerator.
The next morning, line the crockpot bottom with desired root vegetables.
Lay pork belly on top and cook for six hours.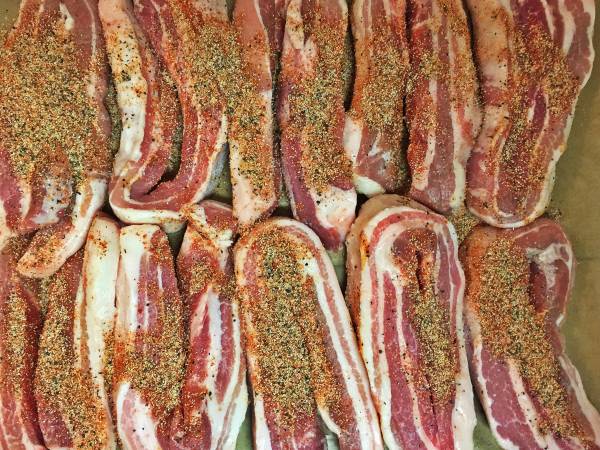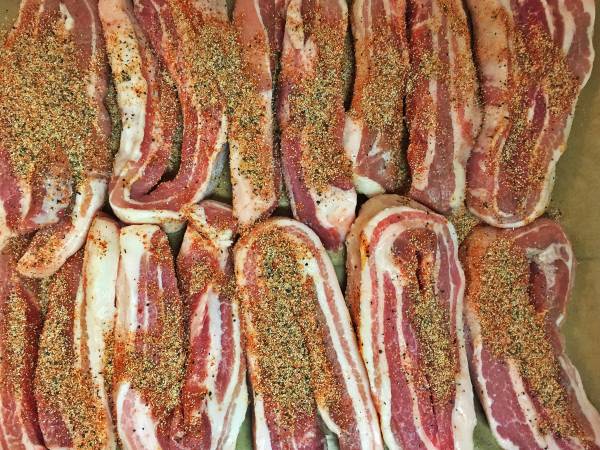 Herb-Rubbed Pork Belly with Root Veggies & Brussels Sprouts
The first dish is easily taken right from the crockpot. Just serve some of the pork belly with your favorite root vegetables and Brussels sprouts, cooked however you like. Nothing could be easier or more delicious and satisfying after a winter workout than a hot meal, and this dish delivers just that.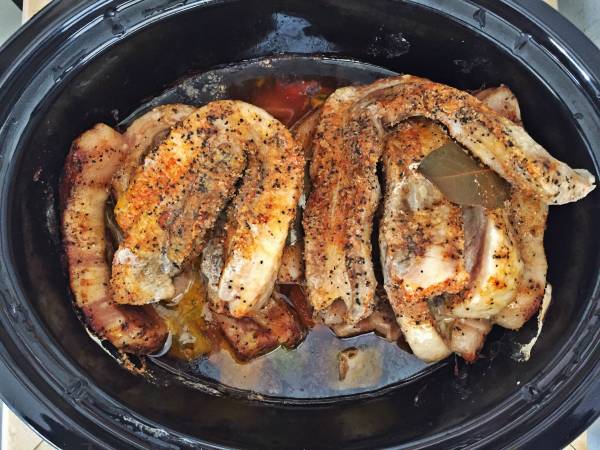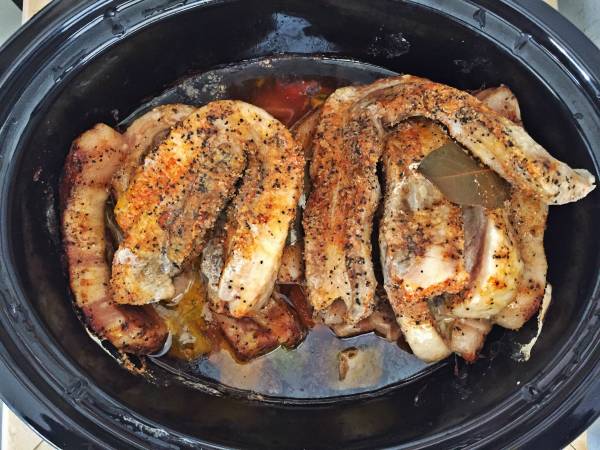 Pork Belly Tacos With Plantains, Red Cabbage, and Avocado
The tacos are tasty and fun. Simply slice some of the leftover pork belly and plantains into half-inch pieces. Sauté the pork and plantains for a few minutes in about a tablespoon or so of ghee. If using corn tortillas, either heat them in the oven or in a pan. Fill the tortilla shells with sliced cabbage, pork belly, and the plantain mixture, topped with smashed or sliced avocado.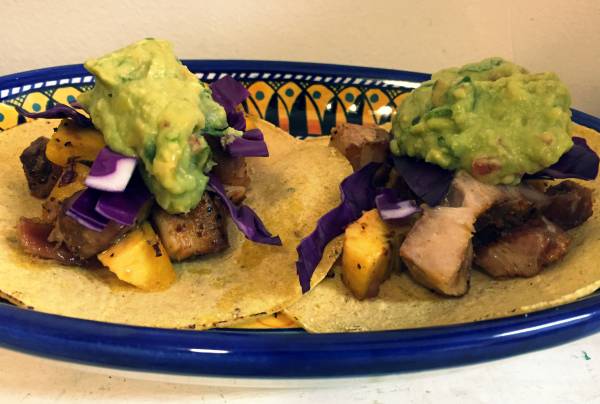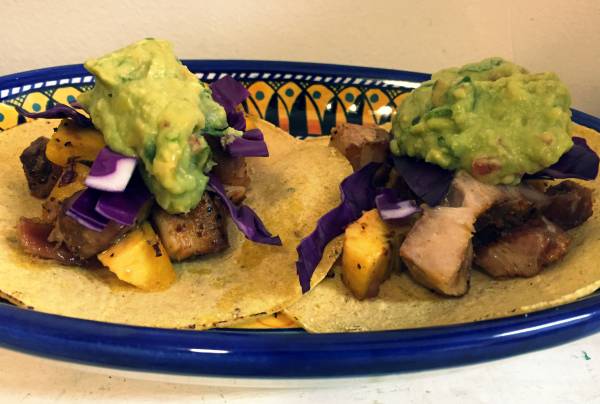 Broiled Crispy Pork Belly and Eggs With Mixed Green Salad
I love having what is normally considered breakfast for dinner. Eggs with crispy pork belly fall into this category and are one of my favorite meals. I love scrambling my eggs in bacon fat or fat from the leftover pork belly. Then I put some of the pork belly under the broiler until crispy and slice into bite-size pieces. Serve with a side salad of mixed greens drizzled with lemon for the perfect symphony of flavors.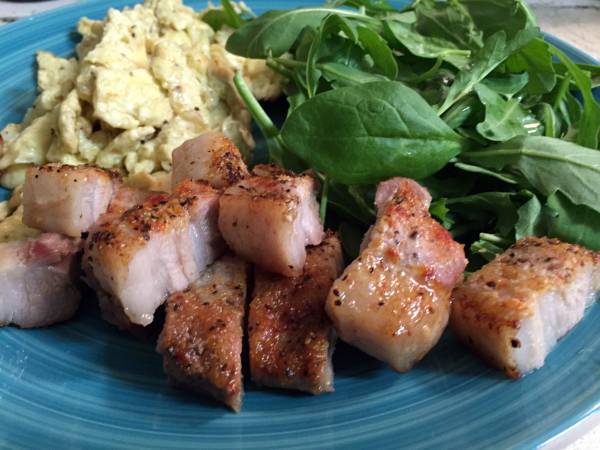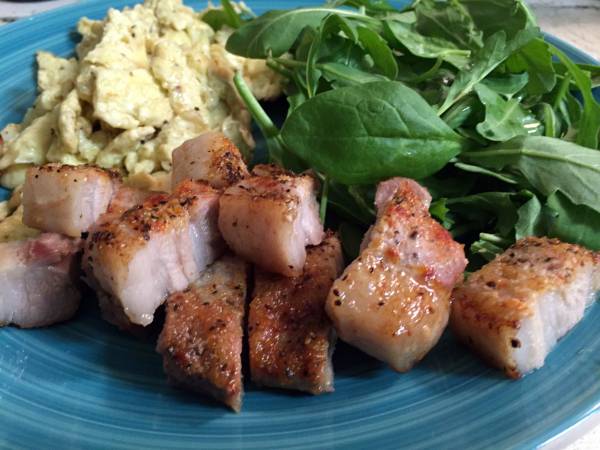 The above meals support a healthy lifestyle for the athlete in all of us, offering maximum benefit for minimal effort. Bon appetit!
Photos courtesy of PaleoBOSS Lady.