Can you believe it is September already? Where did the summer go? As a Jersey girl, I try to spend as much time outdoors as possible in the summertime, while the sun is warm and the days are long. Now that summer is coming to an end, have you noticed the stores are gearing up for fall with pumpkin-spiced everything? They even have M&Ms this year!
Pumpkin Treats: Not in My Macros
While I admittedly am a basic white girl who loves to face a crisp fall day with Ugg boots, a flannel shirt, and a pumpkin-flavored treat, I am trying to keep the sweets under control this year. (Let's just say I have gracefully transitioned from bodybuilder to strongman competitor by eating everything in sight.)
Did you know that a 16oz Pumpkin Spice Latte from Starbucks has 380 calories, 14g fat, 52g carbohydrates, 14g of protein, and 50g of sugar? Yikes! Prefer a baked treat? A pumpkin muffin from Dunkin' Donuts has 550 Calories, 24 g fat, 78g carbohydrates, 41g sugar, and 7g protein. Does that fit in your macros? It doesn't fit in mine!
Here are three protein packed, pumpkin-filled recipes to suppress your sweet tooth and ease you into fall while keeping your nutrition on track, so you can save room for those Oktoberfest beers.
1. Pumpkin-Spiced Latte Protein Shake
(Because basic bitches need gains, too.)
Ingredients:
8 oz milk
1 scoop vanilla protein powder
1 tsp pumpkin pie spice
2 Tbsp pumpkin
8 oz coffee – chilled
Sweetener of choice – optional, I left it out, but I don't like super sweet beverages
Method:
Brew 8 oz of coffee (leave it black). Place in refrigerator to cool.
Combine chilled coffee, milk, protein powder, pumpkin, and pumpkin spice in a blender.
Sweeten to taste.
2. Pumpkin Spiced Oatmeal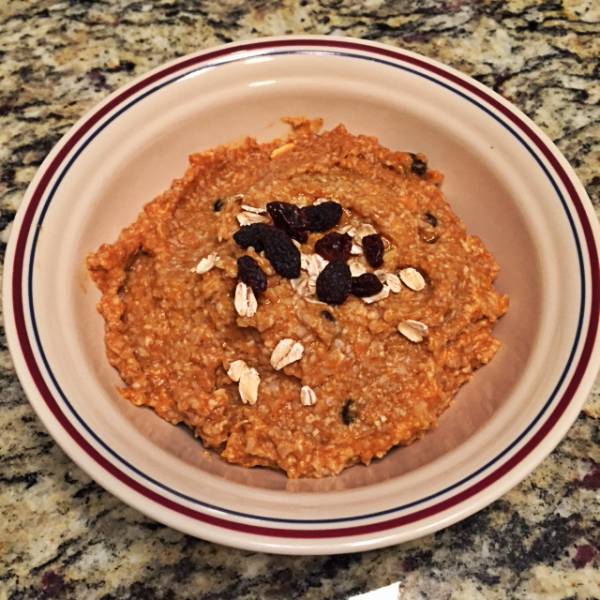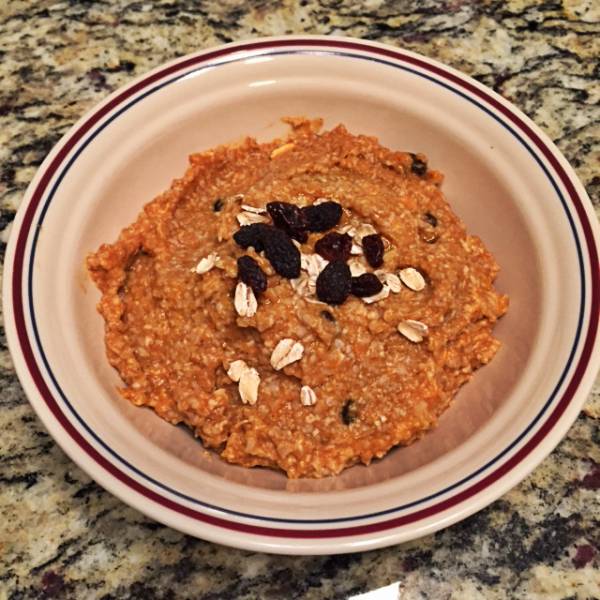 A protein-packed version of a cozy breakfast staple, spiced up for fall.
Ingredients:
¼ cup steel cut oats (I use quick-cook steel cut oats from Trader Joe's)
¾ cup water
½ cup liquid egg whites
⅓ cup pumpkin
1 tsp pumpkin pie spice
¼ cup mix-ins (raisins, nuts, chocolate chips, or whatever your heart desires!)
Sweetener of choice (I used about ½ a tsp of maple syrup)
In a small saucepan, bring water to a boil, stir in oats, and reduce to a simmer for 5-7 minutes. This may vary if you are using long cook steel cut oats, or you can use regular oatmeal if that's what you have on hand. Just follow the directions on the box.
In the last minute of simmering, gradually stir in liquid egg whites. Don't dump them all in at once, or you'll wind up with scrambled eggs!
Once combined, remove from heat.
Stir in pumpkin, pumpkin pie spice, and sweetener, if desired. I drizzled about ½ teaspoon of maple syrup on mine.
Fold in mix-ins of choice (I used ¼ cup raisins).
3. Casein Pudding Parfait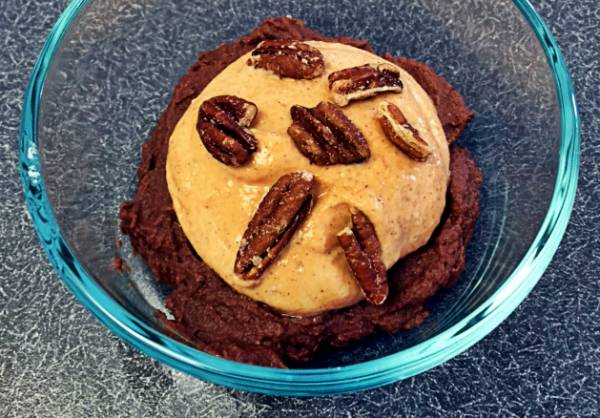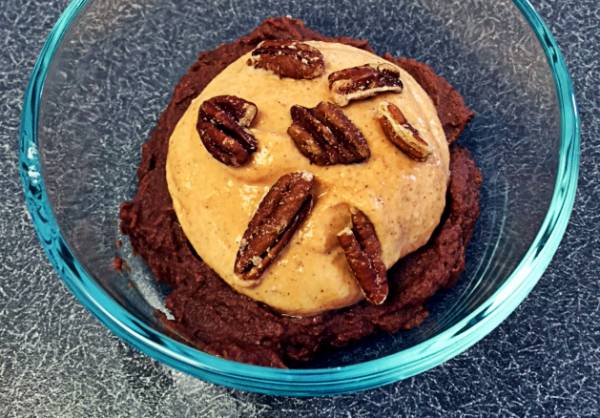 A fall-inspired, nutrient-dense dessert to curb your pie cravings!
Ingredients:
For pudding layer:
1 scoop chocolate casein protein
½ cup water
Pumpkin crème layer:
½ cup vanilla yogurt
2 Tbsp canned pumpkin
1 tsp pumpkin pie spice
Toppings:
Nuts, granola, chocolate chips, dried or fresh fruit
Method
Place 1 scoop casein protein in a bowl. Gradually add water and stir until pudding consistency.
In a separate bowl, combine yogurt, canned pumpkin, and pumpkin pie spice 3. Layer pudding and yogurt in a bowl, top with nuts, fruit, or granola (check out my super easy granola recipe here.)
More Like This: