Being a parent can make you better at life or it can make you worse. There is very little grey area. There are some things I've gotten worse at, like keeping up with the laundry and drinking coffee in moderation. But in other areas, I've improved, thanks to my three kiddos. One of those areas is running.
Me and my kids after my first 10K. I was happy because I ran the whole way and even finished third in my age group (Source: Nicole Crawford)
Running With Kids
When I first started running before I had children, I wanted to run fast. So I started doing things like hill sprints and plyometrics a few times a week. But all that did was give me chronic shin splints. Eventually those got so bad that I gave up.
"Since I started running with my kids, I have met many of my goals, like running a 10k and placing in my age group. But most of all, I've learned to slow down."
After I had two children, I started running again, more for mental reasons than physical ones. Running gave me a chance to have quiet solitude and focus. I would run in the evening after my husband was home, and it soon became a nightly habit. But I wasn't a good runner. I was in pain, and I was constantly fatigued.
I took a break from running during my third pregnancy. Now, two years later, I have three children, and I also have what I consider the most essential piece of fitness gear I own – a double jogging stroller. Running with a stroller has helped me make gains in my fitness and more importantly, it has taught me how to train sustainably.
A Lesson in Going Slow
But it hasn't always been rainbows and sunshine. My first run with the stroller was a rude awakening. Pushing a double stroller with fifty extra pounds through the Texas Hill Country (that name is accurate) was discouraging. It took me twice as long and I was twice as tired. The hills I normally ran without breaking a sweat were now so daunting that I had to slow to a walk. I didn't like that. But that run also taught me a valuable lesson that has helped me become a better runner. It taught me the value of going slow.
"'Go hard or home' might make for a good fitspiration Instagram post, but it doesn't always translate into long-term success."
Since I started running with my kids, I have met many of my goals. But most of all, I've learned to slow down. And because of that, I can finally say I enjoy running on every level – mental and physical. I no longer feel pain after I run, so I can do it five days a week. I've come to appreciate the importance and effectiveness of consistent, easy runs. "Go hard or home" might make for a good fitspiration Instagram post, but it doesn't always translate into long-term success or consistency.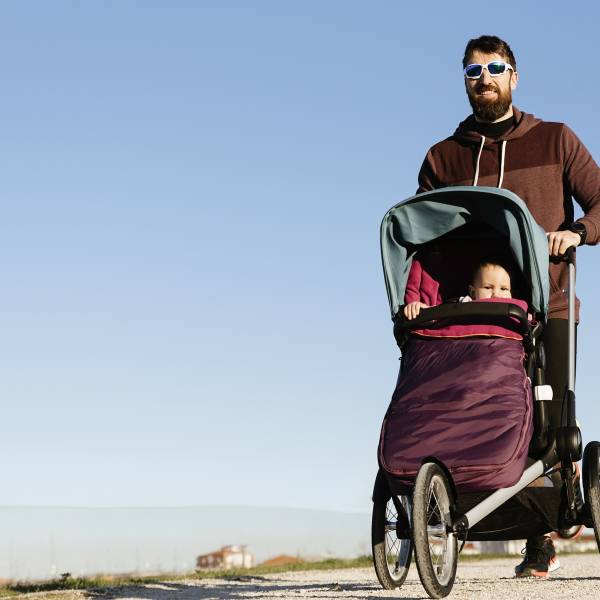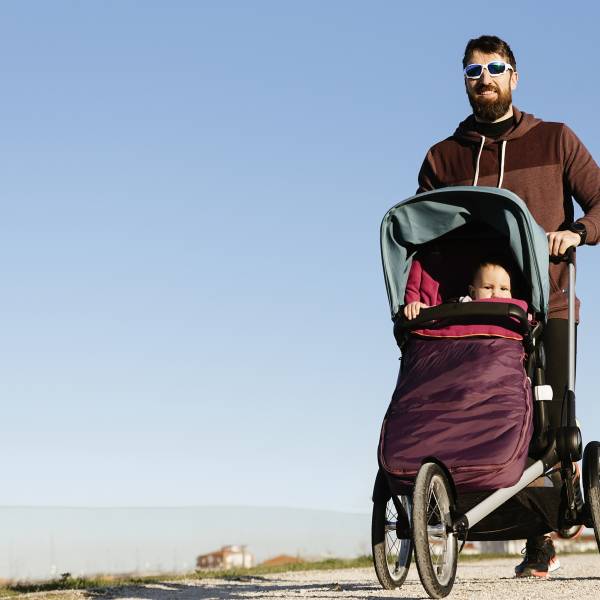 It's harder than it looks, but it's worth it.
Start With a Plan
What follows is a four-week plan for getting started with a jogging stroller. It's most appropriate for parents who already have a regular running habit and can easily run a 5K without stopping. If that's you, follow the plan as written.
You will probably notice this is a walk-run plan. You might think you're above this, but keep in mind you're adding a pretty heavy load to your runs. In his brand new e-book, Run Strong, coach Andrew Read explains the value of using a walk/run plan to ease into running and avoid injury:
The top minds in movement all say the same thing – develop mobility, stability, and proprioception, then strength and power, before finally adding endurance. But you can build mobility and stability concurrently while learning how to run at the same time. The best way to do this is a walk/run program.
I've seen huge benefits from taking this approach to running – with a stroller and without. The goal for these four weeks is to get you to the point where you can run comfortably for eight minutes with the stroller. If you can do that by the end of the four weeks, great. If not, repeat the cycle and add one minute to each of the intervals.
Listen to Your Body
If there's one thing you need to know before you start running with a jogging stroller, it's this: Your body makes the rules. This is always true, but it's especially important when you're running with your kids in a stroller. It might sound dramatic, but their safety is in your hands – literally. The last thing you want is to be on the verge of vomiting or blacking out on a hot day with two kids in the stroller.
But that's what I love about running with my kids: those little people are built-in self-regulation. Running with the stroller will teach you your true limits in a safe way, provided you train smart. And it's exciting to see your solo times get better by running with the kids three times a week. That's why Sundays in the plan are solo run days – so you can see what impact the stroller has on your personal records, even without the kids.
Here's the first week of the program as a sample. For the entire four-week plan, click the link below to download a PDF version.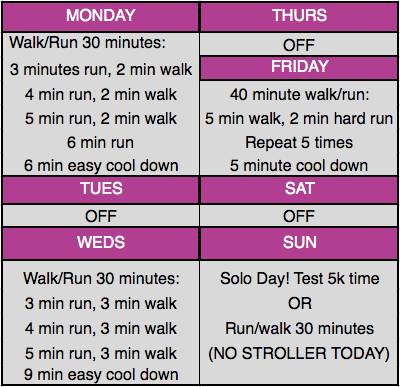 A few notes before you begin:
Use rate of perceived exertion to pace yourself during these four weeks. It's easy to do if you have conversational toddlers in the stroller, and it will keep you from pushing too hard. You should be able to muster a few sentences to your child without gasping for breath, and you should feel reinvigorated after your runs. If you get to the point that this becomes impossible, slow to a walk or slow jog until you get back to an easy to moderate pace.
You might find in order to stay at this RPE, you have to walk during the designated "run" periods. What is most important is not whether you are walking or running, but how much effort you are using. So some of the numbers in the plan might be different for you, depending on your fitness level. That's okay. Prioritize RPE over running/walking. If you can't run at a RPE of 4 or 5, slow down.
Do mobility work on off days (and on run days if you can). Regular mobility work will help you create a sustainable running habit.
Track time instead of mileage, with the exception of your solo runs. The Sunday solo runs will show you how your running is progressing.
For some pointers on form, read my article, 5 Tips for Running With a Jogging Stroller.
You'll Also Enjoy:
What's New On Breaking Muscle Today