There is only one month left before the local farmer's market closes for the year, so I'm preparing vegetables for the winter months. I've been freezing sauces such as homemade tomato sauce and roasting and freezing pureed squash in easy-to-use portions to add to dishes like this harvest shakshuka with quail eggs. Aside from the dried spices, all ingredients in this simple one-skillet meal are freshly picked at the peak of their deliciousness.
Shakshu-wha?
Shakshuka is a Middle Eastern preparation of eggs poached in a spicy tomato sauce. Adding pureed squash provides a more varied flavor perfect for fall. It also delivers an increased nutrient profile and added carbohydrates for post-workout recovery. Incorporating squash into tomato-heavy sauces is a trick I often use to decrease the acidity of the dish and deliver a slightly creamier sauce.
Conversing with the local farmers who are passionate about the foods they provide has been key to learning about new ingredients and how to prepare them. One such small-scale farmer had a basket of free-range quail eggs that I happily purchased to add to this dish based on his recommendation.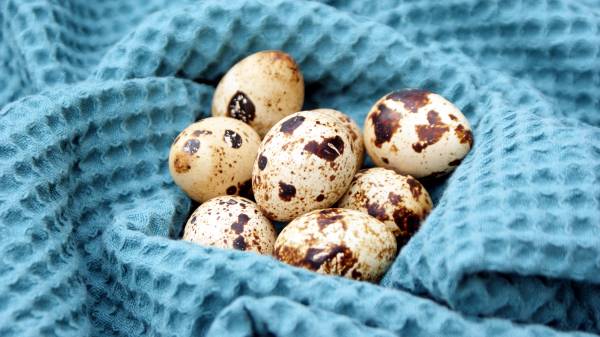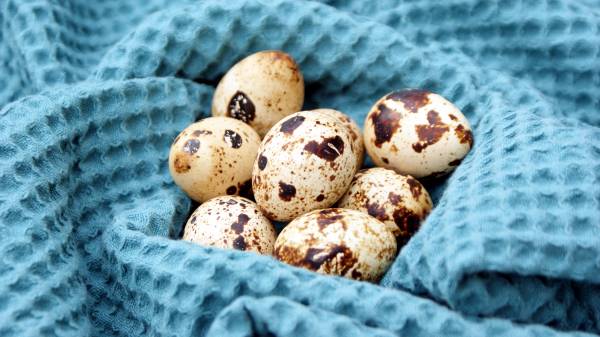 In terms of taste, quail eggs are nearly identical to chicken eggs. Nutritionally speaking, a serving of quail eggs is similar to a serving of chicken eggs, but they contain more B12 and more of the other B vitamins like riboflavin and folate. They also have more iron and slightly more protein. A strong assortment of B vitamins is critical for athletes, as the B vitamins play an important role in athletic performance.
Harvest Shakshuka With Quail Eggs
Prep time: 10 min
Cook time: 20 minutes
Yield: Serves 1-2
Ingredients:
2 Tablespoons olive oil
½ onion, diced
1 clove garlic, minced
1 spicy chilli pepper (jalapeño, serrano, anaheim), seeded and diced
½ red bell pepper, seeded and diced
½ teaspoon cumin
¼ teaspoon paprika
Sprinkle fresh ground black pepper
⅓ cup squash puree
1 cup fresh made tomato sauce (or use whole peeled canned tomatoes, pureed)
¼ teaspoon salt (omit or add to taste if tomatoes are already salted)
6 quail eggs (or use 2 chicken eggs)
Cilantro and feta cheese for garnish
Method:
Heat oil in a small skillet over medium-high heat.
Add onion, garlic, chili, and bell pepper and sauté until softened.
Add cumin, paprika, and black pepper and stir to combine.
Stir in squash puree, tomato sauce, and salt (to taste) and simmer until slightly thickened, about 10 minutes.
Gently crack quail eggs over sauce so they are evenly distributed.
Cover skillet with a lid and cook until yolks are just set, about 2-3 minutes (longer for chicken eggs).
Sprinkle with chopped cilantro and feta cheese.
Serve hot with salad, rice, or a crusty bread for dipping up sauce. This would also be great served over spiralized veggie "noodles."
More Like This:
New on Breaking Muscle Today
Photos courtesy of Kari Lund.