I am first and foremost a food guy, and I strongly believe the key to a healthy diet is variation and moderation. So even when cooking for a purpose like "post-workout," my goal is to produce and eat something pleasing, tasty, and satisfying.
RELATED: Eating to Recover: How and What to Eat Post Workout
For post-workout food, I change the emphasis to get plenty of protein to help build and repair muscle and connective tissue. The debate on whether or not we should be eating carbs, what kind we should eat, and how many to consume after exercise is not my field of expertise. I'm in charge of the grub. But I do think when you completely limit what you can eat at any point, you neglect an opportunity to get all the nutritional diversity you need.
"Even when cooking for a purpose like 'post-workout,' my goal is to produce and eat something pleasing, tasty, and satisfying."
My favorite post-workout meal is an omelette of some description, maybe with ham and a little parmesan or sauerkraut. It's a prime example of what I strive for: high protein that is instantly available. This means it needs to be quick to produce or, better still, prepared ahead of time.
Here are three of my favorite post-workout recipes:
Chocolate Mousse
My favorite fit-food recipes are the tried-and-tested classics that also happen to meet our needs, just like the best vegetarian recipes are recipes that don't happen to contain any meat. A classic French chocolate mousse is a fine example of this philosophy, made with whole eggs for high-quality protein, a little sugar for quick-release carbs, and every fit person's favorite treat: dark chocolate.
RELATED: 7 Articles for Chocolate Lovers
This recipe packs in about 22g of protein and 9g of carbs per serving. I'm pretty sure that comes close to the proportions recommended in at least one of the many definitive articles on the matter. I can guarantee it will be a lot more satisfying than any protein shake.
Yield: Serves 4
Ingredients:
200g dark chocolate, at least 70% cocoa solids
6 eggs, separated
A squeeze of lemon
20g caster sugar
Method:
Break the chocolate into small pieces and put in a large heatproof bowl. Set the bowl over a pan of simmering water (being careful not to let the water touch the bottom of the bowl) and leave undisturbed to melt.
In another large, clean bowl, whisk the egg whites with the lemon juice until they form soft peaks. Add the sugar and whisk a little longer until they are glossy and form stiff peaks.
When the chocolate has melted, remove from atop the pan and whisk in the egg yolks.
Using a metal spoon (the finer edge will knock out less air than a wooden one), put one third of the egg whites into the chocolate and fold in fairly quickly. When completely mixed, add the rest of the egg whites and again fold together.
Spoon into some retro floral glass mousse bowls or wine glasses, then place in the fridge to set for at least three hours. Voila – my favorite. Great with a nice cup of coffee.
Vege' Protein Snack Eggs
As someone wise recently mentioned, the best vegetarian recipes are the ones that just happen to not include meat. As you may have guessed, this recipe is one of those cases. I set out to come up with another egg recipe, but this time with a bit of carbs and more diversity in the protein source.
RELATED: 5 Easy Ways to Get More Plant-Based Protein
What I ended up with was like a Scotch egg wrapped in a kind of falafel mix, with the umami, salty hint of sundried tomato. In fact, that is exactly what it is. Below I have outlined how to make the fiddly, soft-centered egg, but you can also hard boil your eggs to make it easier if you prefer.
To achieve the gastro-style soft egg yolk, you must put your eggs into a pan with enough cold water to just cover, then place over high heat. When the water comes to a rolling boil, take the pan off the heat, cover, and set aside for three minutes, or five for medium and ten for hard boiled. The eggs become progressively easier to peel with time. After that time, remove the eggs from the hot water and place into a bowl of cold water to stop the cooking.
"What I ended up with was like a Scotch egg wrapped in a kind of falafel mix, with the umami, salty hint of sundried tomato."
When the eggs are completely cool, tap the rounded end on the edge of the sink and peel under a trickling tap, letting the water work between the egg and the shell. At the halfway point you should be able to tease the rest off with a teaspoon. From here on in, it's a doddle.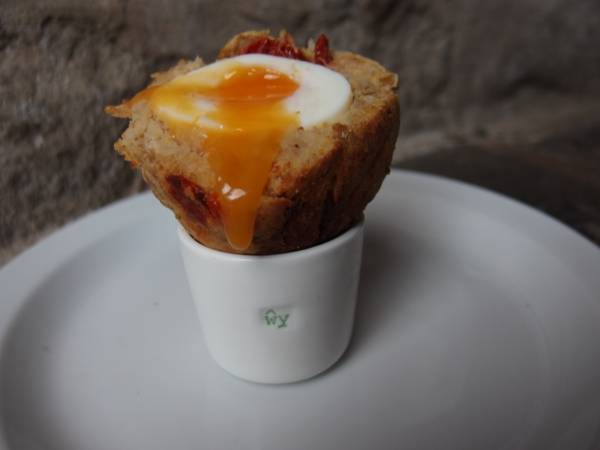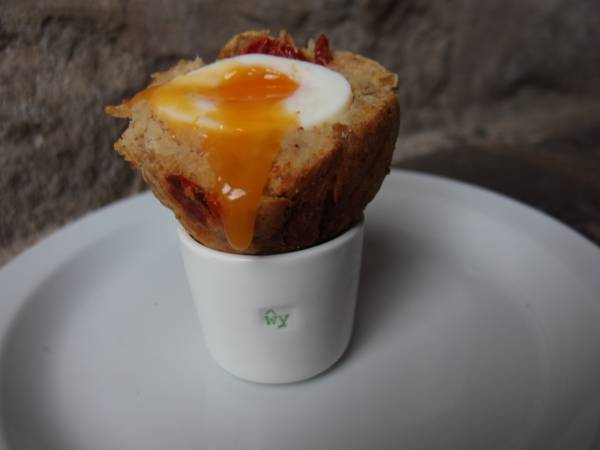 Ingredients:
2 x 400g cans chickpeas, drained and rinsed
Half of a small jar sundried tomatoes (about 5oz)
A pinch of salt
A twist of pepper
1 Tablespoon wholemeal flour
4 eggs
Method:
Cook the eggs to your preference as outlined above.
While they are cooling, put ¾ of the chickpeas and the flour into a blender and whizz until smooth. Then add the tomatoes and a little seasoning and whizz briefly again.
Divide the chickpea mixture into four balls. Place a ball onto a square of cling film and flatten out to make a roughly six-inch circle that is a bit thinner towards the outside (this is to avoid a massive pile of mixture at the top of the finished product).
Place a peeled egg in the middle of the circle of chickpea mixture. Gather up the edges of the cling film to completely encase the egg, then twist the top to wrap it tightly. Repeat with the next three eggs.
These can now be crisped up quickly under a hot grill so they're ready to go in your post-workout nosebag.
Mackerel with Brown Basmati Rice Salad
Fish is another good tasty source of dietary protein, which is probably why about a quarter of all of the recipes featured in fitness publications are for salmon. I've stayed away from salmon for two reasons:
I'm bored of seeing salmon recipes.
I think the king of fish should be reserved for special occasions.
A lot of people don't have the resources to eat wild salmon regularly, and the farmed varieties frankly fall below the quality standards of other underused, abundant, delicious fishes. Mackerel is lovely, and since I live in Wales I am never short of anglers offering me fresh, line-caught, wild fish. It is also readily available in the regular economy, and not just in the barter system of fishmongers.
RELATED: Why Simply Adding Fish Oil Doesn't Work
Again, I've diversified the sources of protein in the interest of varied diet, with a little rice accompaniment. In this recipe, I use the rice cold as a salad for convenience, so you will have to pre-cook it. Brown basmati rice is easy to cook, though. Rinse it off, then add to boiling salted, water and simmer for twenty minutes.
I also cure the fish a little, which firms up the surface and adds more flavor. You can make plenty of cure, as it will keep in an air-tight container for another time.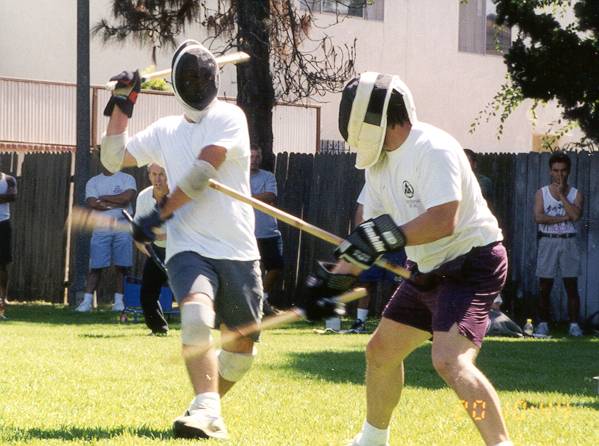 Yield: Serves 2
Ingredients:
For the Salad
4 mackerel fillets
150 g brown basmati rice, uncooked weight
1 small red onion.
1 small bunch fresh coriander, chopped
4 Tablespoons rice or white wine vinegar
2 Tablespoons olive oil
Ghee for frying
For the Cure
200g salt
1 Tablespoon coriander seed, bashed in a pestle
Zest of one lime
1 teaspoon black pepper, freshly ground
Method:
Mix all of the cure ingredients together, then sprinkle a thin layer of it onto a plate and lay the mackerel fillets flesh side down on to it.
Peel, halve, then slice the red onion and put it into a non-reactive container with the vinegar to pickle a little. You now have about half an hour to work out.
Workout done? Good. Put a large pan onto a medium-high heat then rinse and pat dry the fish. Put the rice into a bowl, take the onions out of the vinegar and add to the rice along with the coriander.
Add one dessert spoon of the vinegar and put a good-sized knob of ghee into the pan. Lay the fillets skin side down into it and turn the heat up.
When the fish filets are cooked to about half way through, flip them over and cook for another minute. Remove from the pan and serve with the wonderful palate-cleansing rice salad.
Photo 1 courtesy of Joe Purches of Aytonwest Studios.
Photos 2 and 3 courtesy of Tim Harrison.