We all know the importance of proper meal preparation. You devote one day out of your week to prepare the delicious, nourishing foods that keep your healthy lifestyle on track. You portion out your lunches, make sure breakfast is a quick reheat, and have dinners ready for the oven after your long weekdays.
While healthy meal preparation is crucial, I argue that planning for your treats can be just as important.
Make Sure You Get Dessert by Planning Ahead
I don't necessarily suggest that you fold one (or several) planned treats into your day. In this case, you may find yourself eating paleo-friendly cookies when you're not necessarily craving one. I do believe, however, that when a craving strikes, it's better to have a healthier option ready versus succumbing to the luring soft serve drive-through.
This Almond Butter Chocolate Freezer Bark is one of the easiest ways to stay on track. It comes together in a cinch. Melted chocolate (I prefer the dairy and soy-free brand Enjoy Life) is swirled together with some almond butter. You let it set in the freezer before breaking into pieces. If you're feeling extra special, I recommend you sprinkle it with a little coarse sea salt. The salty and sweet combination is completely satisfying.
Because this treat is pre-cut into bite-sized pieces, it is much easier to enjoy one nibble at a time. A couple pieces from your freezer may be the perfect minor indulgence for your sweet tooth. Unlike cobblers and cakes, the frozen nature of the bark insures there's no rush to consume it all before it goes bad.
Almond Butter Chocolate Freezer Bark
Prep Time: 5 minutes
Set Time: 1 hour
Yield: 2 cups
Ingredients:
1 bag (10oz) dark chocolate chips, melted
1 heaping tablespoon smooth almond butter, warmed
¼ teaspoon coarse sea salt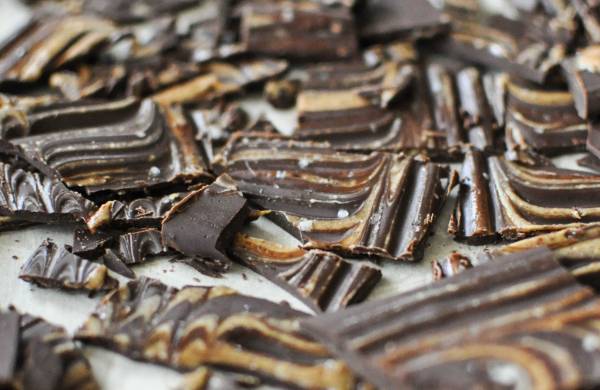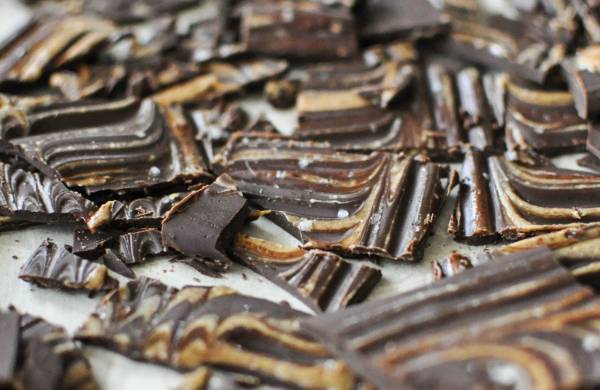 Directions:
Lay a piece of parchment paper over a baking sheet. Pour the melted chocolate on the paper and, using a spatula, spread out until it's about ¼-1/8" thin. Drizzle the almond butter over the chocolate. Run a fork over the almond butter and chocolate to create the swirl pattern. Let it set in the freezer for one hour.
Remove the bark from the freezer and, using a large knife, roughly cut into 1" square pieces.
Sprinkle with the coarse sea salt (optional), seal in a jar or bag, and place in the freezer to enjoy when you like.
Photos courtesy of Cassy Garcia.