We receive free products and receive commissions through our links. See
disclosures page
.


Strange as it may sound, one of the primary reasons I hesitated to start eating a paleo diet was my love for fermented foods. Before we started eating paleo, I loved making sourdough bread, and my husband and I always had some variety of beer brewing in our office-turned-brewing room. All that came to a halt when we started to make a concerted effort to eliminate grains from our diet. So when I received the book Fermented in the mail, I felt like I was reconnecting with an old friend.
Fermented is a must-have book for anyone who wants to have their fermentation/paleo cake and eat it too. Author Jill Ciciarelli, certified health coach and founder of the websiteFirst Comes Health, not only makes fermentation accessible, but also explains how it fits into a paleo/primal way of eating.
The first section of Fermented details the history of various fermented foods, their benefits, and even a bit of basic fermentation chemistry. Although fermentation is a simple process, it does require precision and knowledge of the basic reactions that take place. Jill removes the guesswork and intimidation factor in her thorough explanations of what fermentation entails.
Jill also discusses the issue of dairy, which I used to think of as a big stumbling block for paleo fermentation. After all, as Jill notes, "…a book on fermentation that is dairy-free would be incomplete, as it would largely ignore a significant subset of possible ferments as well as a very common ingredient for starting ferments – whey." Jill actually encourages consuming fermented foods that use whey for people who tolerate dairy. But keep in mind that if you are dairy intolerant, you will not be able to prepare all the recipes in this book.
The "Fermentation Basics, How-to, & Mother Recipes" section begins with a helpful overview of the ingredients and kitchen supplies you will need to get started. Then you get to the good part – the recipes! There are a lot of them, from sauerkraut, to kefir, to kvass, to corned beef. I had already made a few of these items before, but still benefited from reading Jill's recipes and tips. I liked that Jill included several different yogurt recipes, including coconut milk yogurt for dairy-free households, and mesophilic yogurt, which is made using a slightly different procedure from the yogurt I've made in the past. I tried Jill's recipe for a paleo, whey-free version of sauerkraut, and actually prefer it to the recipe I used before that contained whey. I'm planning to try my hand at real corned beef to celebrate St. Patrick's Day this year.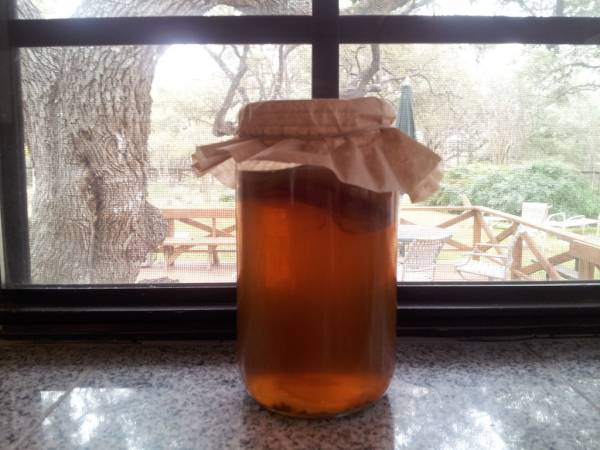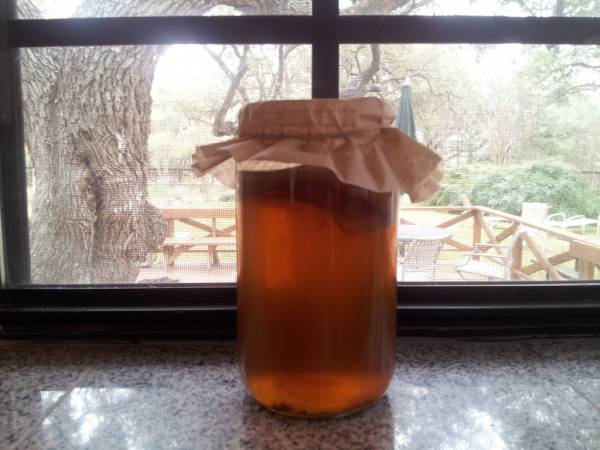 Jill's book even convinced me to make my first batch of kombucha. My husband loves kombucha and has been trying to convince me to make it for about a year now, but I kept making excuses about how difficult and dangerous it must be (after all, there are all those bacteria, just proliferating!). Fortunately, the first fear was totally unjustified, as it's the easiest ferment I've ever made. With the exception of finding a SCOBY, the only thing you have to do is brew some sweet tea, wait, and pour. Jill's book also includes instructions for doing a second ferment, which carbonates the kombucha. My first batch finishes in five days, and I can't wait to see how it turned out. Even if I fail and the kombucha is sour, I'll be able to try Jill's recipe for Kombucha Vinegar Salad Dressing, so I can't go wrong.
I also appreciated the book's layout and design. The photographs by Bill Staley are attractive and perfectly placed. Anyone who can make kombucha SCOBY look pretty must be a good photographer. The book has a helpful section in the back that provides information about websites that sell the equipment you need to get started. Additionally, each page is labeled by section, which makes it easy to figure out where you are in the book.
What makes this book so unique is the final chapter on how to combine fermentation with seasonal eating. This connection makes a lot of sense, especially since fermentation was originally used as a way to preserve foods for cold winter months when certain crops were not available. From an economical perspective, it also makes more sense to ferment foods that are in season, since they tend to be on sale and you might need to purchase them in large quantities. I've tried several of these recipes, including the Yogurt Herb Dressing with Cucumber Salad, Frozen Yogurt, and Fermented Salsa, which were all delicious.
Whether you're new to fermentation or want to learn how to add fermented foods to a paleo diet, Fermented will not disappoint. I highly recommend Jill's book for its accessible descriptions, delicious recipes, and unique approach.
"Fermented" is available for $20.44 at Amazon.com.