We receive free products and receive commissions through our links. See
disclosures page
.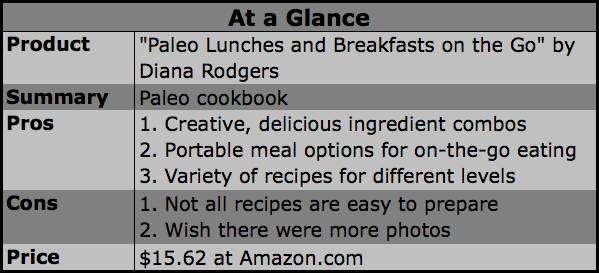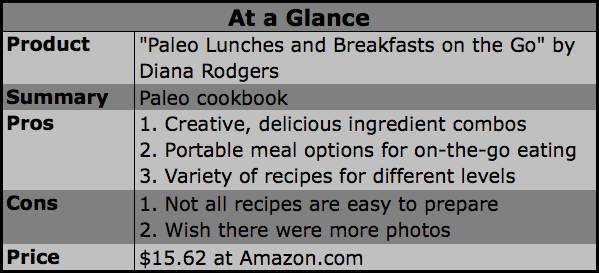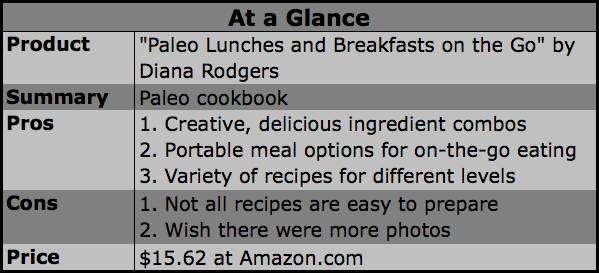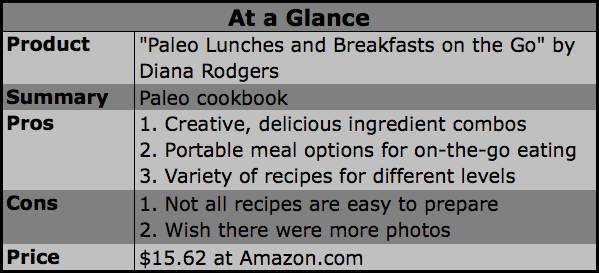 When my family first started eating paleo, I shied away from anything that seemed like "imitation" food. I thought the idea of lettuce wraps and so-called noodles made with squash was ridiculous. There's just no way I would have been able to replace a craving for my favorite greasy pizza with some paleo version made with fake cauliflower crust and nut cheese. Sorry paleo diet, but you are no match for Papa John's.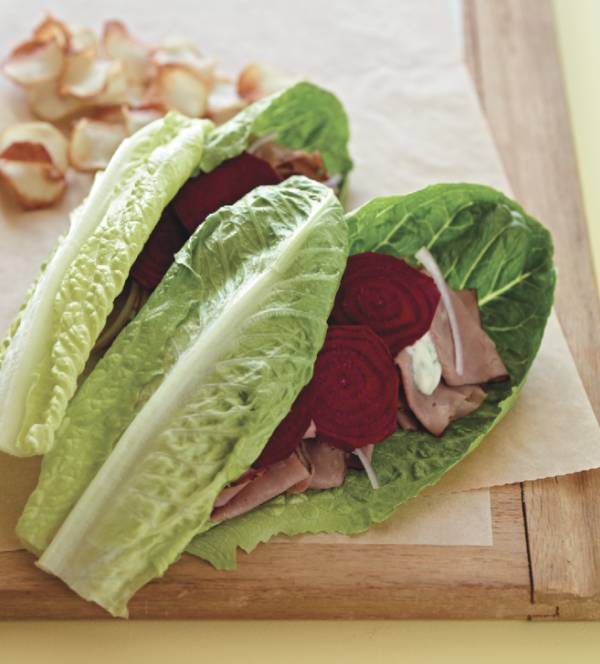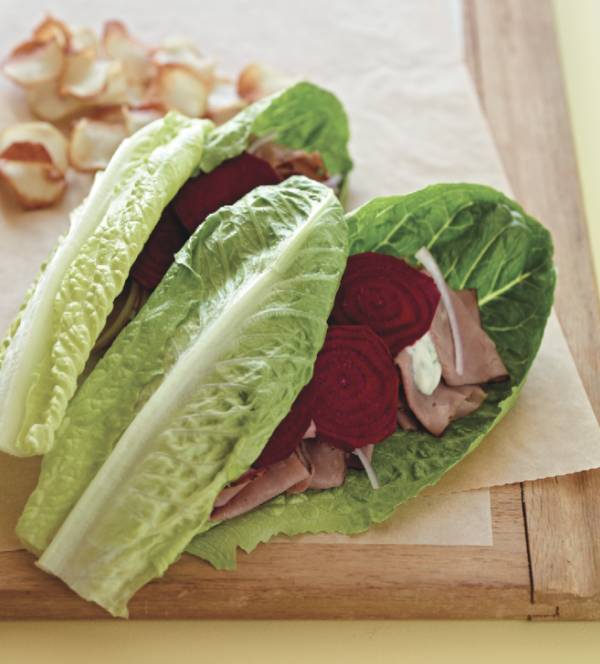 Since then, I've changed my mind about paleo recipes that imitate non-paleo foods, but I still had a chuckle when I received a copy of Paleo Lunches and Breakfasts On the Go by Diana Rodgers of Radiance Nutrition. There are several entire chapters devoted to lettuce wraps and paleo pancakes, both of which I had so stubbornly scoffed at in the past. However, contrary to my previous opinion, the recipes are delicious.
I give this book an A+ for inspiring morning and afternoon kitchen creativity. The problem with avoiding the common paleo imitation recipes was that I quickly found myself at a loss for meals to replace things like sandwiches and wraps, especially when it came time for breakfast and lunch. I've always found it much easier to prepare paleo dinners than to come up with creative ways to feed myself and my family for breakfast and lunch.
If you are in a similar bind, Paleo Lunches and Breakfasts on the Go will not disappoint. Here are a few of the recipes I've tried:
Turkey Apple Bacon Wrap with Lemon Herb Sauce
Chicken Cranberry Salad and Fennel Wrap
Pineapple Bacon and Chicken Wrap
Prosciutto and Fig Salad (make sure you include the hazelnuts!)
Asian Chicken "Noodle" Bowl
Cherry Tarragon Breakfast Sausages
Curried Green Eggs and Ham
Tortilla Espanola With Chorizo
Bacon, Lemon and Greens Egg Muffins
I've explored a good variety of paleo cookbooks at this point, and it's amazing to me how innovative the good paleo cookbook writersout there continue to be. If you're new to the paleo diet, Paleo Lunches and Breakfasts on the Go will help you jump in the deep end with creative recipes and ingredient combinations. Although it is a little on the short side, the "Entry-Level Essentials" chapter is full of ideas for simple, quick meals and snacks that are beginner-friendly.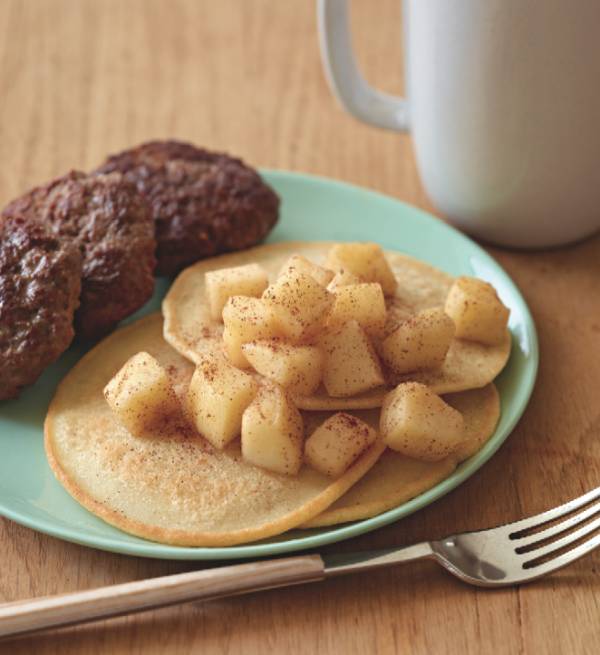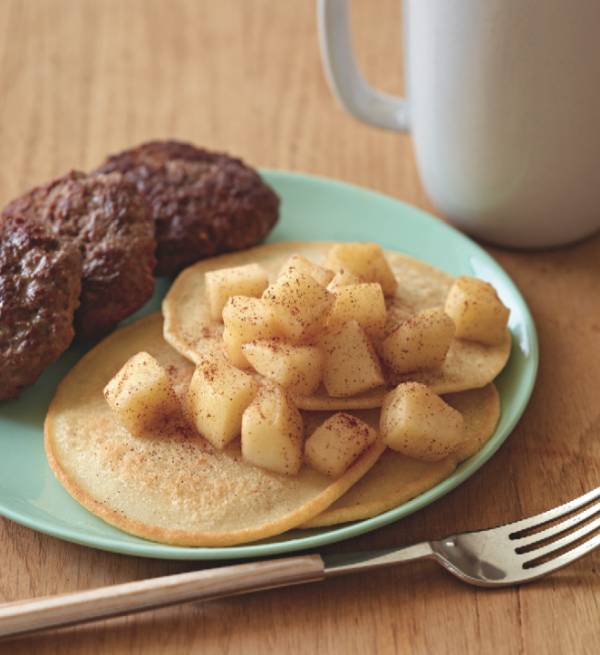 If you're a more advanced paleo cook looking for new ways to use new ingredients, I recommend this book as well, since the recipes tend to be on the more complex side as far as ingredients go. Many of the recipes use less common ingredients like duck, goat, or out-of-the-ordinary herbs and vegetables.
I have a few minor complaints about this book, but none of them are deal breakers. First, I wish there were more photos. Although the photos in the book are quite good, I found myself wanting to see more of them. Second, part of the title is "On the Go." Don't mistake that for "Quick and Easy." Although once prepared the recipes are easy to eat on the go, they're not necessarily easy to prepare for the novice cook.
Like I said, none of these considerations are deal breakers, though. I look forward to exploring more recipes from this book. Overall, if you're looking for a paleo resource to spice up your mornings and afternoons, Paleo Breakfasts and Lunches on the Go will not let you down.
"Paleo Lunches and Breakfasts on the Go" is available for $15.62 at Amazon.com.