Lately I've been paying closer attention to my food and working harder to minimize waste. I am also committed to saving money in a big way. Since I started buying more fresh produce, I find myself with lots of bananas every week and am always looking for creative ways to use them.
I love a good, sweaty workout, so I try to get potassium through food whenever possible. I also have problems with cramping and rigidity, and bananas have proven helpful. I used to love making paleo banana bread to finish my banana inventory, but I found myself eating the entire loaf in one day. That's not a good look, and I knew I needed a new one stat.
So for my next banana-saving trick, this is what I came up with. Each bite is deliciously perfect for any time of day. Let them sit out for about five minutes to optimize the "wow" factor. You can also store them in the freezer, although I would bet they won't last very long.
Dark Chocolate Cinnamon Frozen Bananas
Yield: 4 servings
Ingredients:
4 bananas, cut in half
2 oz. 100% cacao dark chocolate, melted
1 teaspoon cinnamon
⅓ cup crushed almonds
4 dates, cubed
1 teaspoon honey
Directions: 
Slice bananas lengthwise and lay on a parchment-lined cookie sheet.
Melt chocolate, stirring in cinnamon once melted.
Using a spoon, drizzle the melted chocolate and cinnamon mixture over the bananas, having fun creating your very own style.
Add crushed almonds and dates where you like, then top with a light honey drizzle.*
Place in freezer for 2-24 hours.
Remove five minutes before serving and enjoy!
*You can have all kind of fun with this, adding whatever toppings you desire. I have been thinking pistachio and cranberry would be a good pairing.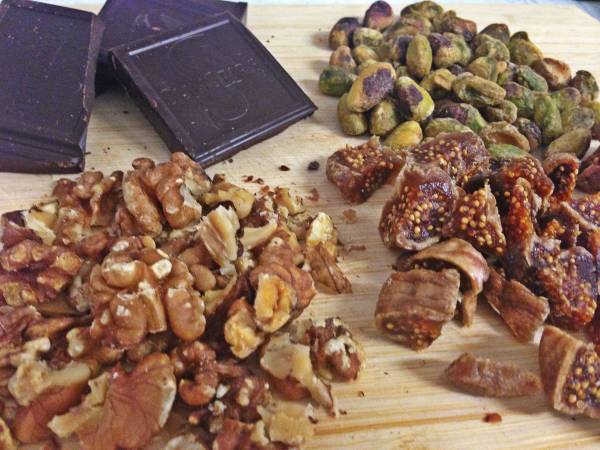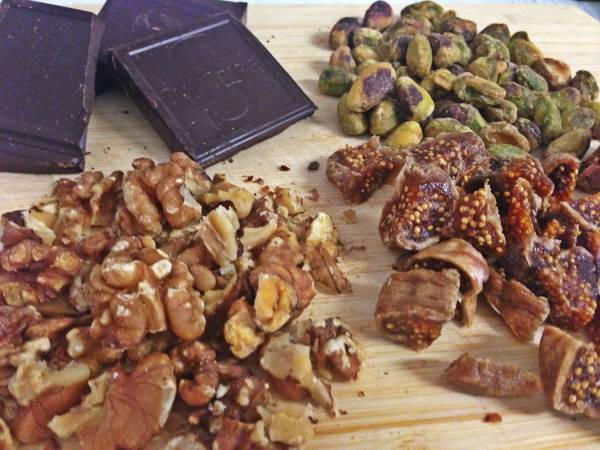 Here's another combo I tried: pistachios, walnuts, and figs.
I like to have a few bites after a sweaty work out. The bananas and dates quickly replace potassium, the almonds provide fat, and the chocolate is a good source of antioxidants. Simply perfect is my story!
Photos courtesy of V. Capaldi.