We receive free products and receive commissions through our links. See
disclosures page
.
Golf is a game of life. Golf is about facing a different dilemma every single time you step up to hit. Every situation in golf is completely it's own unique entity. Every shot, every variable from the pitch of the green to the weather is a factor.
Golf is also about life beyond the game – relationships, fathers and sons, and facing ourselves. In his books Tommy's Honor and Driven, Kevin Cook, the former editor-in-chief of Golf Magazine, breaks down the game from many angles, from golf's history and technology, to the family and money dynamics in and around the game. Both books are worthwhile and compelling reads.
Tommy's Honor
Tommy's Honor isn't really about the game of golf. It's about family, and more specifically, the relationship of father and son. While baseball is where a lot of young men, myself included, get to know that unspeakable bond with their dad, baseball usually ends with high school or taking in the occasional professional game. Golf, on the other hand, lasts a lifetime and that is in part what makes it so special. You can play golf with your dad at eight years old, and your dad can play golf with you at eighty. While I remember my dad teaching me the game of golf as a boy, mostly I cherish these recent years where I have been able to spend more time on the course with him.
In addition to being a father-son story that all of us can relate to, Tommy's Honor is also a coming-of-age story of golf being born into the modern era. The backdrop of the narrative is all about golf and the birth of the game from society's upper crust in Scotland. The game was originally a gentlemen's club, akin to hunting. In some circles it still is. Golf was also popularized in part because it's easy to bet on. Tommy's Honor is full of wonderful such tidbits, from the introduction of irons to the origination of the feather ball.The book is set amongst vivid descriptions of the birthplace of golf, Scotland, and the storied St. Andrews.
Ultimately though, the book is about a father and son – a young golf prodigy living in the shadow of his famous father. As young Tommy starts to compete with his father, Tom Morris, the book speaks of Tom's Sr.'s quiet approval of his son:
Tom may have feigned indifference when his son hit brilliant shots; may have offered only a handshake when the boy beat him for the first time…may have scolded Tommy later for making a show of himself. But Tom was equally pleased. The boy wasn't afraid to win.
Many of us can relate. Still, Tommy's Honor, while a heart-warming story in some aspects, is also a heart-breaking tale of a father outliving his son and his quest to honor his son's name through his work.
Driven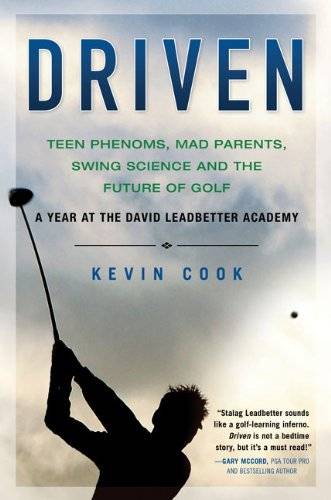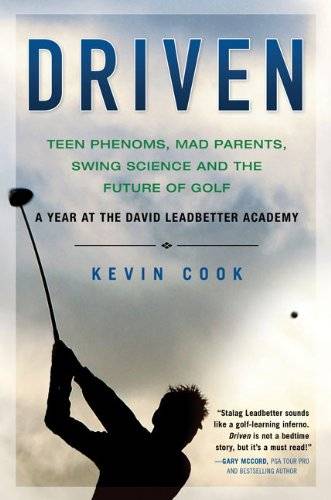 If Tommy's Honor is the tale of a child dying too young, Driven is the story of children growing up too fast. In contrast to the rather simple times in 1800s Scotland, Driven takes us to the present day landscape of golf. The one Tiger Woods helped usher in. A passage in Driven points out, "In 1995, the year before Woods turned pro, the PGA Tour's purse was 63 million. Ten years later it was $250 million." It's this component – money – that has created a new sort of family dynamic, a dysfunctional one.
Driven, in contrast to Tommy's Honor, is a book about the new golf. The golf where golfers aren't just rich, overweight, and playing cards in the clubhouse. Golfers nowadays are just as likely to be in the weight room as they are on the putting green. Driven points out that the age-old debate used to be "are golfers athletes?" But the question should have been "are athletes golfers?"
These days athletes are indeed golfers. It used to be that the fit-looking athlete was the exception and the pudgy golfer in the plaid pants was the norm. However, in the new golf, you are hard pressed to find a PGA or LPGA player who isn't fit and looking the part. Golfers these days not only practice their golf swing, they work out with their private trainers and sport psychologists.
And kids aren't just learning golf from their dads. They are lining up for junior golf at an earlier and earlier age in order to be the next Tiger. Driven is a book about these kids and their parents. Specifically, the kids who show up each year to enroll at the prestigious David Leadbetter Golf Academy (run by IMG sports management). The Leadbetter academy in Bradenton, Florida, took a page from the adjacent Bolliteri tennis academy which had it's heyday in the Agassi era.
Now golf is the new tennis, with both the athletes and the drama. Lots of people want in on the action. With this in mind, parents shell out top dollar for their kid to have a crack at becoming the next golf prodigy. When all is said and done, the Leadbetter academy costs upwards of $100,000 a year (tuition, room and board, tournament fees, private lessons, etc.).
But here's the rub – it doesn't necessarily make kids golf champions. Driven points out that of the ten boys who were junior All-Americans in 1997, not one was on the PGA tour in 2007. David Leadbetter has worked with some of the biggest names in golf – the two Nicks (Price and Faldo), Michelle Wie, and Ernie Els, to name a few. His resume is indeed impressive, and Leadbetter has worked tirelessly for decades breaking down every nuance of the golf swing.
But while Leadbeatter and his army of instructors can help develop talent and refine the golf swing, they can't necessarily develop a winning golfer. Champions are driven, as the title of the book suggests. That isn't something you learn in a golf lesson, or even in a golf academy.
Golf is a lot of things. It's many talents wrapped up into one game. While skill and talent are important, golf is almost all mental. A passage in Driven reads,"In each five hour round, the golfer spends less than two minutes actually swinging the club. The other 298 minutes are for walking and thinking." That's a lot of time to be alone with your thoughts. With that time, it's also a place to develop relationships and lasting bonds.
Whether you are a serious golfer, or – like me – you just like to take in the occasional round with your dad, Tommy's Honor and Driven are two compelling, fact-filled, and quick reads on the game of golf and beyond.
"Tommy's Honor" is available for $13.27 and "Driven" is available for $13.50 at Amazon.com.