We receive free products and receive commissions through our links. See
disclosures page
.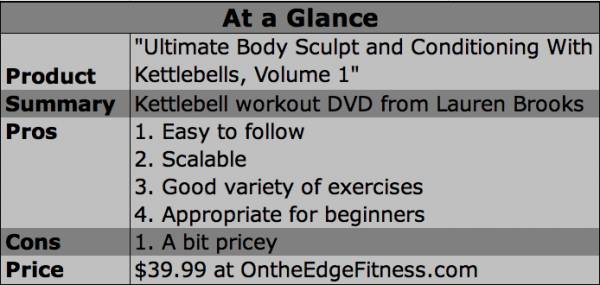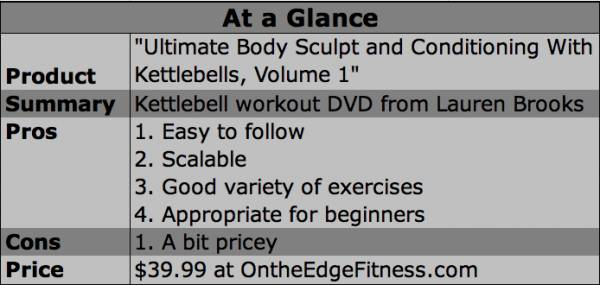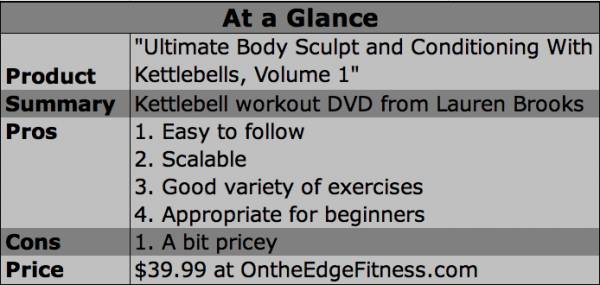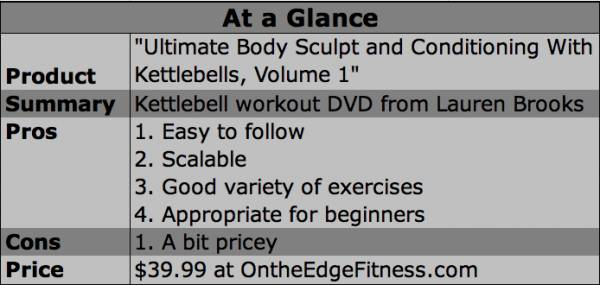 After having done Lauren Brooks' 3-part Ultimate Body Sculpt and Conditioning with Kettlebells DVD series for several months now, I'm still not sick of them. I would highly recommend the series for anyone who is interested in kettlebell training and wants solid at-home workout instruction as well as awesome workouts. Lauren's DVDs are no frills but user-friendly, simple but effective, challenging but scalable.
Since there is a lot of variability between the three DVDs in the series, today I'll just talk about Volume 1. Lauren starts off with some introductory information about getting started with kettlebells, precautions, and other information you typically find in fitness DVD introductions. Lauren also gives advice about kettlebell size here. If you've trained with kettlebells before, there's probably nothing new in the introduction, but for beginners, it's a good intro.
The next menu item is the kettlebell demo exercises. Lauren demonstrates proper form for 15 kettlebell exercises. I was relatively new to kettlebell training when I started doing this video, and I used Lauren's demonstrations to get started. I still use it sometimes to double check my form on certain exercises that I don't do as frequently as others. Here are the 15 exercises Lauren demonstrates in this segment:
Deadlifts
Suitcase deadlift
Kettlebell swing
One-handed swing
Overhead swing
One Arm Clean
Front Squat
Kettlebell Pushups
One Arm Row
Pullover to Crunch
Mountain Climbers
Back Lunges
Squat Thrust
High Pull, Catch and Squat
Now we come to the best part of the DVD – the workouts! After a brief joint mobility warmup, Lauren gives you two options here: the short workout or the longer one. The first workout is called the "Fat Blast Workout." This workout is one of my favorite workouts ever. I actually have it memorized. Lauren combines basic kettlebell exercises with bodyweight moves like mountain climbers and squat thrusts. There's a 30 second rest interval between each set of exercises, with a menu that tells you what's coming next.
I do have to use a heavier bell to get the most out of this workout, however. If you're used to working out with kettlebells, I would advise you use at least a 25lb. bell to get the most benefit. It's a pretty quick workout, and I usually do it 2 or 3 times if my children will let me.
The second workout is a bit more challenging, with longer, more intense sets (and longer rest intervals). Lauren combines the 15 exercises she demonstrated at the beginning of the exercise for a total body workout that runs about 40 minutes. Again, you can increase the challenge here by using a heavier kettlebell.
Another little thing I liked about Lauren's DVD is that she has snippets about the history of kettlebell training during the rest interval segments. I like learning the historical background of different fitness trends, and the kettlebell legacy is one of the most interesting to me. I checked out a few of Pavel Tsatsouline's books after doing the DVDs and have enjoyed learning more about kettlebells and the history of the RKC. This is just one more reason Lauren's DVD is an excellent introduction to kettlebell training.
What I love most about Lauren's workouts is their simplicity and efficiency. I also like that they're not overly flashy. Lauren doesn't pitch your typical fitness instructor cues ("You're almost there! Get those abs pumping!"), but instead focuses on telling you what you need to hear. I don't do this DVD when I want a fun workout; I do it when I want a efficient one based on common sense training. And I usually end up having fun while I'm at it.
The Ultimate Body Sculpt and Conditioning with Kettlebells DVD, Volume 1 is available at OntheEdgeFitness.com for $39.99
Curious about the other DVDs in the series? Read our reviews of Volume 2 and Volume 3.