We receive free products and receive commissions through our links. See
disclosures page
.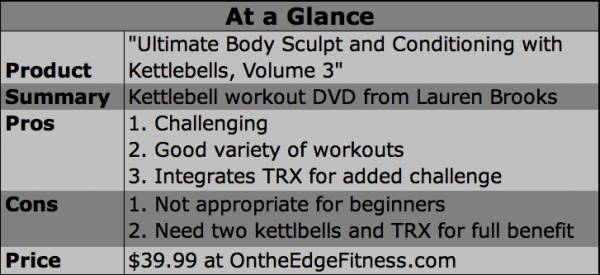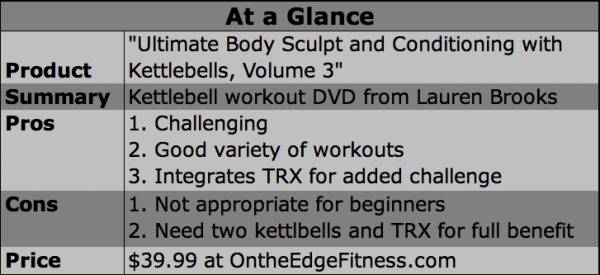 "Welcome to the Ultimate Body Sculpt, Volume 3. My name is Lauren Brooks, and this DVD is not designed for the beginner." Lauren makes it clear from the start that The Ultimate Body Sculpt and Conditioning With Kettlebells, Volume 3 s a challenge, and she's right.
If you're considering purchasing this DVD, keep in mind there is some basic equipment you will need to really get the most out of it. When I first started, I only had one kettlebell and no TRX, so I did the workouts with one kettlebell, substituting exercises if necessary, and skipped the suspension exercises. Even if you have more equipment than I did, modifying the workouts in this way is an effective way to adjust the intensity of the workouts if you are not quite to the point where you can do them with two bells. However, for maximum intensity and results, it's best to have two kettlebells and access to TRX for the suspension training.
If you only have the kettlebells and not the TRX, however, this DVD still provides a challenging workout. Lauren introduces 16 double kettlebell exercises in the final volume:
Double Sumo Dead Lift
Pushups on 2 kettlebells
Sumo Squat Thrusts on 2 kettlebells
Double Floor Press
Double Bent Over Rows
Double Windmills
Double Swings
Double Cleans
Double Press
See Saw Military Press
Double High Pull
Double Snatches
Double Front Squats
Alternating Double Cleans
Back Row
I would highly recommend this DVD to those who have access to kettlebells and TRX. Lauren's Kettlebell/TRX workout is a challenging combination of alternating or double kettlebell snatches, TRX single leg squats, suspended lunges with a kettlebell press thrown in there, and more. Lauren also provides instruction for several TRX exercises, including the single leg squat, chest press, roll out, bicep curl, and tricep press. A few months after I started these DVDs, I joined a gym that has TRX and realized how awesome these workouts really are. Both kettlebells and TRX challenge the whole body, and although some exercises allow you to focus on one muscle group, you still build overall strength and balance at the same time.
Like her second DVD, Lauren also provides workouts that focus on the upper and lower body, which only use kettlebells, as well as an 8-minute core workout that combines TRX exercises like rollouts and suspended crunches with kettlebell drills, like Russian twists. This workout requires a good foundation in core stability, so if you have any lower back issues or other concerns that might compromise core strength, I would not advise it. If you've mastered the ab workout in Volume 2, you'll be happy with the challenge this DVD provides.
As always, Lauren provides helpful cues throughout and has a way of motivating her audience without just being flashy. The first time I did the workouts, I wondered why she sat out some of the exercises. She explains at the end of the DVD that she tore her ACL just before production, but decided to go ahead with the filming anyway. Now that's dedication! At the end of each workout, Lauren also provides helpful recommendations for how to combine them with the other workouts on the DVD. I also like that Lauren's DVDs are filmed in an outdoor setting, rather than a Hollywood studio.
I'd also like to take a moment to consider the series as a whole, since this is the final volume and all. Combined with the first two DVDs, this series epitomizes a good trilogy. Unlike some trilogies, that have blockbuster first and second parts, only to end with a whimper (this may be blasphemous to some, but I have The Godfather Part III in mind), Lauren's final installment really is on a completely different level than the first two DVDs. If you start with the first volume and end with the third, you will have made serious progress. If you're looking to turn over a new leaf in your fitness habits, just get the whole series, do them faithfully, and you will see results.
The Ultimate Body Sculpt and Conditioning with Kettlebells DVD, Volume 3 is available at OntheEdgeFitness.com for $39.99. You can also get all 3 volumes for $109.99.
Curious about the first two DVDs in the series? Read our reviews of Volume 1 and Volume 2.