We receive free products and receive commissions through our links. See
disclosures page
.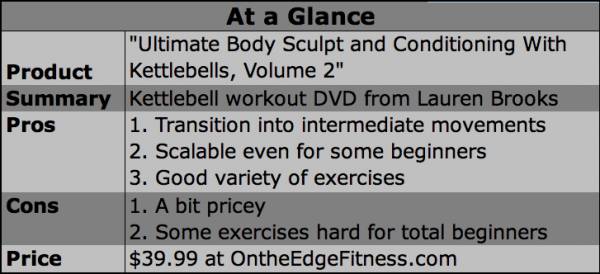 I don't usually like sequels, but Lauren Brooks' second kettlebell DVD is an exception to the rule. Like the first volume of her three-part DVD series, The Ultimate Body Sculpt and Conditioning With Kettlebells, Volume 2 is another source of effective, challenging exercises, and one that should belong to your library if you are looking for at-home kettlebell workouts.
What really impressed me about Volume 2, however, was the way that it flows so organically from Volume 1. Nerd that I am, I was very careful to get comfortable with Volume 1 before I went on to Volume 2, and I'm glad that I did. Just when I thought I had gotten this kettlebell thing down, Lauren threw in some new and exciting exercises to mix things up, including three of my favorite kettlebell exercises ever:
The Turkish Get Up: Lauren uses get ups throughout the video. This video was my introduction to the get up, as well as the TGU Squat Style.
The Overhead Squat: It wasn't my first time doing an overhead squat, but it was the first time with a kettlebell, and I was amazed at how different it was. Lauren uses a lot of overhead squats during the second workout, aptly called "The Smoker."
The Snatch:  Lauren provides really solid instruction on how to execute the snatch properly. She uses snatches in the short workout called "The Finisher," which is a great way to end any kettlebell workout.
These aren't the only exercises Lauren introduces in Volume 2. Here are the other exercises that she demonstrates:
Kettlebell Diamond Pushups
Kettlebell Diamond Burpees
Windmill
Single Leg Deadlift
High Pull
Tactical Lunges
Push Press
Single Kettlebell Plank
Lauren also includes a short Bonus Ab Workout. This is another one of Lauren's workouts that I have committed to memory because it's so simple yet effective. This workout also has a special place in my heart because it was one of the first challenging ab workouts I was able to do after having a c-section with complications last year. When I first started, I could only do the exercises unweighted, and it was great to slowly progress until I could do them with a heavier bell.
This brings me to another bonus about the DVD: although the cover says it's an intermediate/advanced workout, it's also suitable for beginners who want a challenge. If you've mastered the exercises in Volume 1 but can only do them with a lighter kettlebell, don't be afraid to move on to Volume 2. Although a lot of the exercises are more difficult on a technical level, they can be easily scaled down by using a lighter bell, or even doing them unweighted, like I did when I first started the ab workouts. That being said, Lauren did choose some more challenging exercises than those presented in Volume 1.
Like in the first volume, Lauren provides good cues throughout and encourages you to challenge yourself without compromising technique or being overly flashy. I always find myself thinking during these workouts: "Hmmm, Lauren Brooks only lives about seven hours away from me. Maybe I could drive out for a weekend training session." Must be a good workout.
In The Ultimate Body Sculpt and Conditioning With Kettlebell, Volume 2, Lauren Brooks takes the foundation she laid in Volume 1 and builds on it. You know that saying from Girl Scouts, "Make new friends but keep the old"? Think of the kettlebell swing as the old and the snatch as the new. Lauren introduces you to the new without dismissing the old, and that's what makes this DVD a rare example of a good sequel.
The Ultimate Body Sculpt and Conditioning with Kettlebells DVD, Volume 2 is available at OntheEdgeFitness.com for $39.99.
Curious about the other DVDs in the series? Read our reviews of Volume 1 and Volume 3.