Ingredients:
3 avocados
2 cups Red Pepper Hummus (recipe follows)
6 large eggs
Olive oil
Salt and pepper
Parsley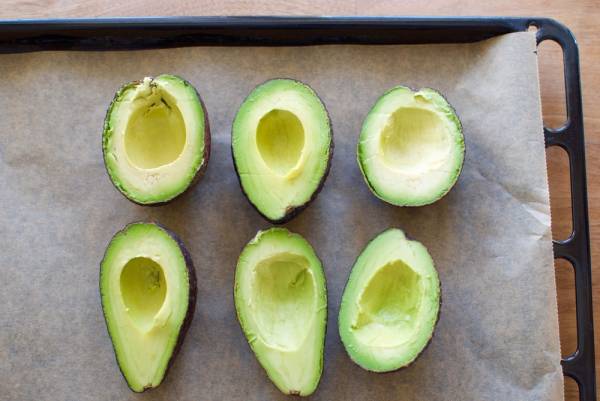 Instructions:
Preheat oven to 350F.
Lay out parchment paper on cookie sheet.
Cut avocados in half and remove pit.
Place avocados on cookie sheet.
Fill each avocado half with 1 tablespoon of red pepper hummus (store bought or follow recipe below).
Add one cracked egg to each avocado half.
Add salt and pepper to taste.
Drizzle olive oil on top.
Bake 15 minutes or until egg is set.
Garnish with fresh parsley.
Red Pepper Hummus
Ingredients:
1 can chickpeas (about 1 ½ cups), drained and rinsed
⅓ cup roasted bell peppers
¼ cup fresh lemon juice
3 Tbsp tahini
4 Tbsp olive oil
1 clove of garlic
½ teaspoon sea salt
½ teaspoon ground cumin
Ground cayenne for garnish
Instructions:
Mix all in food processor until smooth.
Drizzle with olive oil.
Top with ground cayenne as garnish.
More avocado for your system: