Avocados have long been prized as a source of nutrition for athletes. They are low-carb, loaded with fiber, and high in potassium. The phytochemicals contained within an avocado are also a natural fuel source for your body. Avocados and avocado oil are high in monounsaturated fat. This heart-healthy fat keeps you satiated and enables the body to absorb more nutrients, which helps to maintain energy levels. Finally, avocados have anti-inflammatory qualities, making them an ideal food to aid in recovery.
One great way to incorporate avocados into your meal or healthy snack rotation is to mash them into a rustic guacamole. Guacamole is used most often as a dip for tortilla chips or fresh vegetables. For variety, I've included a few other ways that use up any leftovers.
Rustic Guacamole
Prep time: 10 minutes
Ingredients:
4 avocados, skin and pit removed
½ red onion, diced (or use 1 shallot)
3 garlic cloves, minced or finely chopped
3 hot peppers, seeded and finely diced (I used 1 jalapeño and 2 red Fresno peppers but feel free to alter this depending on your desired spice level)
2 Tablespoons lime juice
1 Tablespoon cilantro, finely chopped
½-1 teaspoon pink Himalayan salt depending on taste (or try smoked salt for a slight smoky flavor)
Method:
Place avocados in a bowl and loosely mash with a fork. It's okay if there are a few chunks.
Add all other ingredients (start with only ½ teaspoon of salt) and stir into mashed avocados.
Sample it and add additional salt to taste. The amount of salt will depend on what you are serving it with. For example, serving with salted chips versus unsalted veggies may require less salt in the guacamole.
Use the guacamole as a traditional dip for tortilla chips, veggie chips, fresh vegetables, or see other fun ideas below.
Notes:
Store leftovers by laying a piece of plastic wrap directly in contact with the guacamole. This will prevent oxidation and keep it green and fresh.
Got Leftovers?
Here are some ideas to incorporate this full-flavored guacamole into snacks, easy lunches, as a condiment, or even as a salad dressing.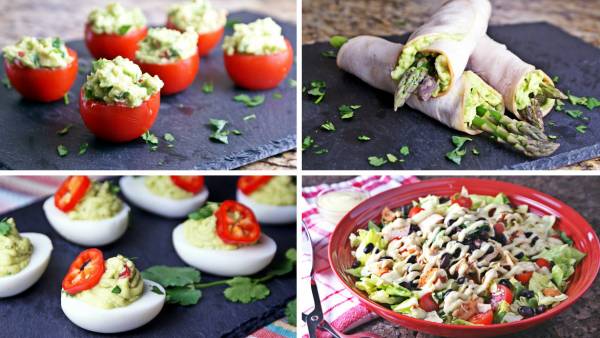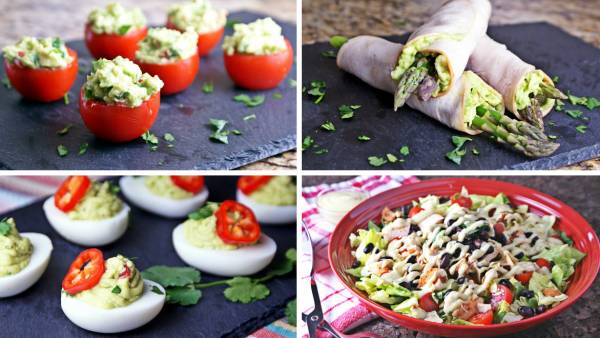 Upper left: tomato and guacamole bites; Upper right: turkey, guacamole, and asparagus rollups; Lower left: guacamole deviled eggs; Lower right: guacamole salad dressing.
Tomato and Guacamole Bites: Cut off the stem of a few cocktail tomatoes and using a teaspoon, scoop out the seeds. Fill the inside with guacamole and top with cilantro.
Turkey, Guacamole, and Asparagus Rollups: Spread a layer of guacamole onto a slice of turkey deli meat. Place two spears of fresh asparagus on one end. Gently roll up into a log.
Guacamole Deviled Eggs: Slice three hard-boiled eggs in half. Remove yolks and place in a bowl with 3 Tablespoons guacamole. Add 1 teaspoon lime juice and ¼ teaspoon salt. Spoon guacamole/yolk mixture back into the center of each egg. Top with cilantro and additional peppers if desired.
As a salad dressing: Combine ¼ cup guacamole with ¼ cup water, ¼ cup plain Greek yogurt, 1 Tablespoon avocado or olive oil, 1 teaspoon lime, and ¼ teaspoon salt into a blender. Blend until smooth and drizzle over salads.
As a soup: Combine ½ cup guacamole with ½ cup chicken or vegetable broth. Add 2 teaspoons lime, ½ teaspoon salt, and fresh ground black pepper to taste. Add diced grilled chicken and crumbled tortilla chips if desired. This soup is delicious hot or cold.
This guacamole is also delicious as a topping for loaded baked potatoes instead of dairy, and as a condiment to spread on burgers, tacos, enchiladas, and inside sandwiches in place of mayonnaise.
You'll Also Enjoy:
New on Breaking Muscle Right Now
Photos courtesy of Kari Lund.