Thank you to everyone who spread the word and submitted their entries for our Holiday Recipe Contest! For this month's contest, readers submitted their best paleo holiday recipes and a photo of the finished product. Here are the winning recipes:
FIRST PLACE: "Ghoulish Green Sunflower Coconut Cookies"
Submitted by Gabriella Makstman
Ingredients:
1 ¼ c. sunflower seed flour
1 c. unsweetened shredded coconut
½ c. arrowroot powder
½ tsp. baking soda
¼ tsp. baking powder (corn free)
⅛ tsp. Bright Earth Foods Himalayan salt
6 T. Bright Earth Foods vanilla coconut oil
6 T. unsweetened apple sauce
½ tsp. lemon zest
25-30 drops of stevia
Process:
Mix all dry ingredients in a food process orwith an s-blade, pulsing for 90 seconds. Add wet ingredients and mix until a lump of dough is formed. Remove ball of dough and refrigerate for 1 hour. Either roll out dough between two sheets of unbleached parchment paper to desired thickness or using a small ice cream scoop create walnut sized balls. If rolling dough, use a cooking cutter to cut out shapes. If using walnut size balls, then press down until flat on parchment paper. Bake at 350 for 10 minutes and let cool. Cookies will turn green once they cool. Enjoy!
SECOND PLACE: "Pumpkin Pie Protein Bars"
Submitted by Kylie Gamelier
Ingredients:
2 c. unsweetened pumpkin puree
1 c. alternative flour that is paleo (almond, coconut, etc)
1 ¼ c. unsweetened applesauce
2 scoops protein powder (I used About Time vanilla)
¼ c. nut butter ( I used sunbutter)
¼ c. maple syrup
1 egg and 2 egg whites
1 tsp. pumpkin spice
2 tsp. cinnamon
2 T. vanilla extract
Directions: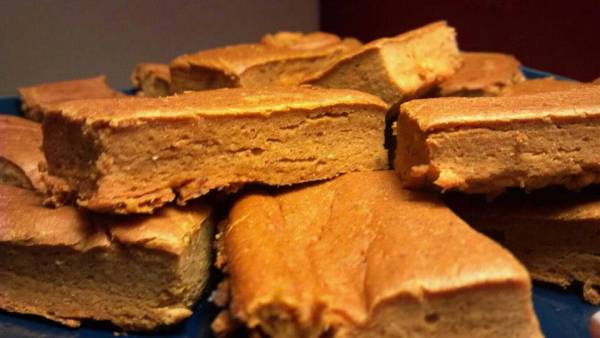 Preheat oven to 350 degrees. Spray a 9 x 13 pan. In a food processor or blender, process pumpkin, apple sauce, flour, and nut butter until smooth. Add maple syrup, eggs, protein powder, vanilla, cinnamon, and pumpkin pie spice. Process until blended then pour batter into pan. Bake for 40-45 minutes until cooked through and set.
THIRD PLACE: "Paleo Carrot Cupcakes"
Submitted by Meagan Polesky
Cake Ingredients:
3 c. almond flour
1 tsp. kosher salt
1 tsp. baking soda
1 T. cinnamon
1 tsp. nutmeg
5 eggs
½ c. agave nectar (or honey)
¼ c. coconut oil
3 c. carrots (freshly grated)
1 c. raisins (optional)
1 c. walnuts (chopped)
Cake Directions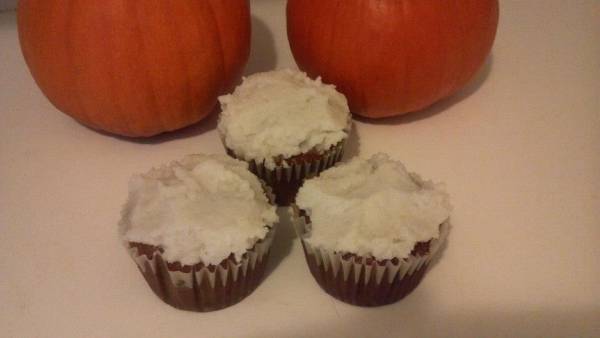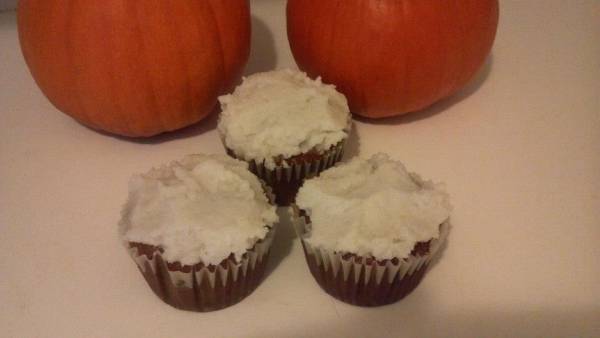 Preheat oven to 350 degrees. Prepare cupcake pans. In a large bowl, combine flour and spices (including baking soda). In a separate bowl, mix the eggs, honey and oil. Add the dry ingredients to the wet and fold together. Mix in the carrots. Finally, add the raisins and nuts, if using. Pour into prepared pans and bake for about 20-25 minutes or until an inserted toothpick comes out clean. Let cool for about ten minutes in the pan and then remove and let cool on a rack.
Frosting Ingredients:
1 c. coconut milk
½ c. raw organic honey
Dash sea salt
2 T. arrowroot powder
2 T. water
1 ¼ c. coconut oil (melted)
Frosting Directions:
In medium saucepan add coconut milk, honey and salt over medium heat mix well. Reduce heat and simmer for 10-15 minutes, constantly stirring. In separate bowl combine arrowroot paste with water and make paste. Combine arrowroot paste with mixture at medium heat mix well until mixture thickens (approximately 1-2 minutes). In separate bowl remove mixture from saucepan and slowly stir in coconut oil. Until mixture thoroughly blended and smooth. In covered container place in freezer for 30-45 minutes. Remove from freezer and stir until thick. Frost carrot cake. If desired, top frosting with crushed walnuts, pecans, shredded coconut or carrots.
Congratulations to the winners! You will receive the following prizes:
Look out for an email from us so you can claim your prize. Don't forget to check back for other upcoming contests and giveaways!