The holidays are a time filled with sugar-filled parties and gifts. It's easy to fall into sugar's death grip and not even try to get out. Sugar does have a part to play in providing the athlete with energy. But it is critical to consume the right sources and not empty calories.
Athletes require more energy than sedentary individuals. Athletes who expel energy in thirty-second to two-minute bursts use the glycolytic system to fuel exercise – think soccer players or basketball players. This process does require glucose (i.e., simple sugars), which means it is critical for athletes to consume enough sugar before and during activity to maintain lasting energy, especially during competition.
Natural sugars (such as fructose and lactose) will break down slowly, while refined sugars will break down quickly, and dramatically increase your insulin and blood sugar levels. It's important to understand that added sugar doesn't necessarily mean refined sugar. The American Heart Association defines added sugar as follows:
Any sugars or caloric sweeteners that are added to foods or beverages during processing or preparation (such as putting sugar in your coffee or adding sugar to your cereal). Added sugars (or added sweeteners) can include natural sugars such as white sugar, brown sugar and honey as well as other caloric sweeteners that are chemically manufactured (such as high fructose corn syrup).
Added sugars can be hiding in many of your common daily foods, particularly packaged foods in your pantry. Take a close look at the ingredients list of your foods to see if they have different forms of added sugars. For a complete list of different names, refer to this list.
As you tackle those holiday party invitations and the sugary temptations coming your way this month, consider bringing these two healthier treat options to your party. Both recipes have 1-2 teaspoons of agave – added, but not refined sugar. The rest of the sweetness comes from the natural sweetness of the fruits.
Pomegranate Orange Fruit Dip
Version 1: Ricotta (good protein and fat content for macros, zero sugars)
Version 2: Mascarpone (best for "sweeter" spreads)
Version 3: Greek yogurt (high protein content)
Ingredients:
1 cup of ricotta, mascarpone, or Greek yogurt
2 tbsp pomegranate seeds
1 tbsp orange zest
Juice from half an orange
2 tsp agave nectar
Method:
Add all ingredients together in a small bowl.
Use a hand mixer to whip together ingredients. It is okay if some of the pomegranate seeds pop and add some color.
Serve cold next to berries or any of your favorite fruits in season.
This dish can be enjoyed for dessert as an alternative for ice cream or anything with whipped cream. You can also enjoy a small spoonful on your morning toast for a dose of protein with breakfast.
Pear Popover Tarts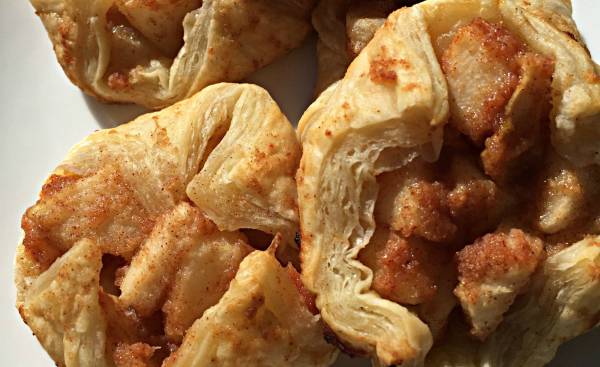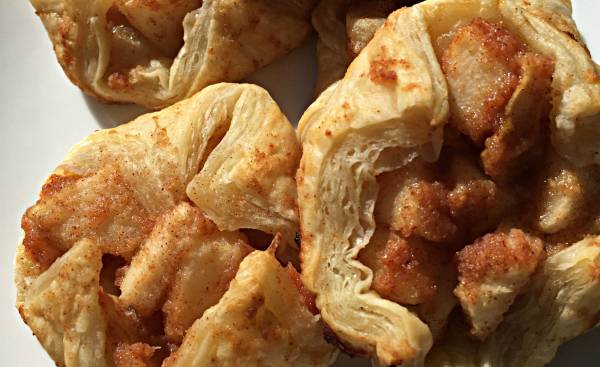 Prep Time: 10 minutes
Cook time:10-12 minutes
Yield: 6
Ingredients:
Crust:
Trader Joe's frozen Puff Pastry Dough, thawed (optional to make your own puff pastry or pie crust)
Filling:
2 pears, peeled and chopped
¼ tsp cinnamon
1 tbsp coconut flour
Juice from half a lemon
1 tsp agave nectar
½ tbsp melted ghee/clarified butter
Method:
Preheat oven to 375 degrees Fahrenheit. Grease a large cookie sheet or cover with parchment paper.
In a small bowl, mix together filling ingredients. Blend until all pears are coated.
Cut 6 2×2" squares of puff pastry. Lightly brush both sides of each pastry square with ghee and place on cookie sheet with 2 inches between squares.
Place about a tablespoon of the filling in the center of each square. Use fingers to pinch corners of pastry square together to make a small cup for the filling. You can also make a triangle fold over with the pastry. Leave some air pockets to release steam if this is the case.
Bake in the oven for 10-12 minutes or until pastry is golden brown.
Serve warm or at room temperature.
The above recipes will allow for a guilt-free dessert with only a few teaspoons of added sugar and no refined sugar. Smaller pastries encourage moderation with desserts and less stress about cutting an even slice for everyone at the table. Have a happy holiday season, and enjoy those sweets in moderation!
You'll Also Enjoy:
New on Breaking Muscle Right Now
Teaser photo and photo 1 courtesy of Shutterstock.
Photos 2 and 3 courtesy of Kristina Goldman.