We receive free products and receive commissions through our links. See
disclosures page
.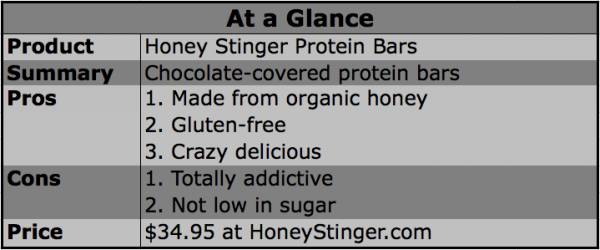 Chocolate-covered, honey-filled, gluten-free goodness. That is how I would summarize Honey Stinger Protein bars. For more specifics, you can read further, but really, how much more do you need to know? Okay, maybe that some of them are dark-chocolate covered, as opposed to milk chocolate. You should know that, too.
But seriously. These things are great, and if you're looking for energy during a long training session or for quick, post-workout nutrition, they're a great option. Because Honey Stinger Protein Bars are not only full of tasty goodness, but also full of protein. Each 42g bar contains 10g of whey protein and, on average, about 15-16g of sugar.
RELATED: 10 Things I Know About Protein That You Don't
About the Company
Honey Stinger has long been known in the endurance crowd for their chews, bars, gels, and waffles, so it's nice to see them venturing into the protein bar market. All of their products are based around their own organic wildflower honey.
The honey tradition runs deep with Honey Stinger, in fact. The CEO, Bill Gamber, is the son of Ralph and Luella Gamber, who founded Dutch Gold Honey, the largest family-owned honey company in the United States. They are also the creators of the now ubiquitous honey-bear bottle.
Honey Stinger uses it's own honey source, though. According to their website:
Honey Stinger Organic Wildflower Honey is a product of Brazil and is True Source Certified. True Source Certification is a 3rd party verification/certification that our honey is truly organic and is in full compliance with U.S. and international trade laws.
RELATED: What You Need to Know Before Eating Artificial Sweeteners


Ingredients
When it comes to ingredients, there aren't too many in these bars. Most of the ingredients include all the vitamins and minerals (including the electrolytes: sodium, potassium, and magnesium) that are packed in. On all the protein bars, you'll see that chocolate and honey are the two main ingredients, so you're getting exactly what's advertised with these snacks.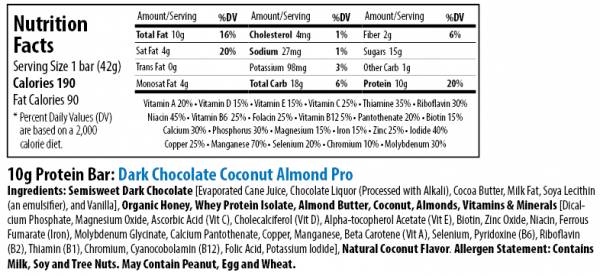 Facts about Honey Stinger Protein Bars:
Over 30% of each bar is certified organic honey
Contains 10g of whey protein
Contains 22 vitamins and minerals
Free of GMOs
Gluten free
Free of trans fats


Honey Stinger Protein Bar Flavors
Dark Chocolate Mint Almond Pro – Not too sweet, with a slight almond crunch. This flavor is refreshing and minty, without too much nut flavor. It's a bit like eating a healthier Peppermint Patty. You do have to like mint to like this flavor, though.
Milk Chocolate Peanut Butta Pro – Tastes like an all-natural peanut butter cup. This one is obviously not paleo, but if you're down with peanuts, this flavor is great and not too sweet. It's definitely nutty and buttery, and even a bit salty.
Dark Chocolate Mocha Cherry Pro – Definite cherry flavor, but not sweet or syrupy. This one has more of a dried cherry flavor. It tastes rich, but the cherry flavor is light. On the whole, there's not as much depth to the flavor on this one, and it's a little chewier than the others. On the upside, this is the only caffeinated flavor. Yes, that's right, this one has caffeine/coffee inside. How much of which is unclear though, as the Honey Stinger product page lists "30mg caffeine" in one place and "30mg of coffee" per bar in another.
READ: 10 Caffeine Articles to Pore Over
Dark Chocolate Coconut Almond Pro – My favorite of all the flavors. This one has a light coconut flavor with no yucky sweetness. It's just a well-balanced experience of rich dark chocolate and coconut. In addition, you can feel the texture of real coconut when you chew it. This adds a nice variety and makes it not chewy or gummy.
Dark Chocolate Cherry Almond Pro – A slight crunch of almonds adds to the texture of this one. Here, the cherry taste is more present and a bit sweeter than in the Mocha Cherry flavor. This one is more like a chocolate-covered cherry with a little crunch and is definitely the sweetest flavor.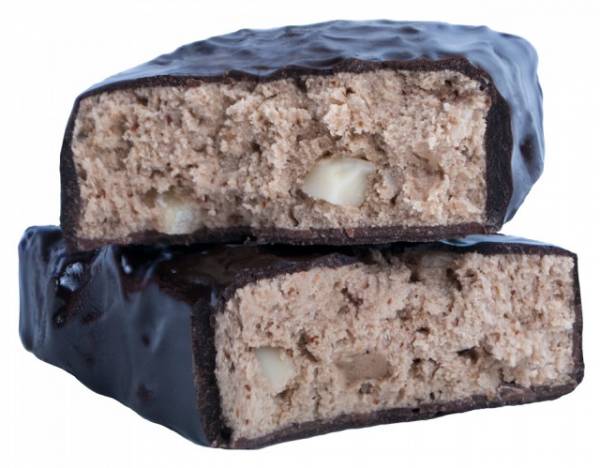 Notes on Allergies and Ingredients
Honey Stinger Protein Bars are made from gluten-free ingredients, but they are not manufactured in a gluten-free facility. So for those of you who are intolerant of even trace amounts, be aware of that.
The same goes for peanuts. While only the Peanut Butta flavor contains peanuts, there may be trace amounts in the others due to the manufacturing process. The bars also contain whole milk and soy lecithin.
Honey Stinger Honey
Honey Stinger also sent me a couple bottles of their organic honey. I used it in the making of some of the best macaroons ever known to man, and I credit the Honey Stinger honey for being at the root of that. (The recipe was from Against All Grain, by the way.) My husband and I have regularly been using the honey in our tea, as well, and have truly enjoyed it.
My Conclusion on Honey Stinger Protein Bars
Mostly my conclusion is that I'm sad they're all gone. They've been my afternoon snack for a while now, and my pantry is now empty. I enjoyed every single variety, but, for me, the Dark Chocolate Coconut Almond Pro was the hands-down winner.
I feel good about the ingredients in these bars and I feel great about the flavor. If you're looking for a post-workout snack or a little treat to take the edge off, then these are a recommended option.
Honey Stinger Protein Bars are available for $34.35 per box (fifteen bars) at HoneyStinger.com.