We receive free products and receive commissions through our links. See
disclosures page
.


Having a way to carry your gear around is important for any athlete. Jaco, primarily a clothing company, has created a versatile bag that is perfect for athletes.
I've been using the Jaco Compact Convertible Equipment Bag, the smallest of the bag options, for a few months now. The bag is convertible and can be used as a backpack or extended into a small duffel bag to suit your needs or preferences. My experience with my bag so far has been great.
Features
Here's a list of the bag's features from their website with some of my own notes:
Durable 840 Denier Ballistic Poly construction
Note: True to claims, the bag is proving, so far, to be ridiculously tough. It includes double stitching in most places (not heavy like a judo or BJJ gi, but it holds up), thick materials, and large zippers.
Oversized main compartment holds training gear and clothes
Note: Large enough to fit clothes and shoes, and I have size thirteen shoes. The compact version, which I have, doesn't comfortably fit a gi.
Expandable mesh compartment provides extra storage and allows wet post-training clothes to dry fast.
Note: This is just a cool feature because it lets your clothes air out. Possible downsides are that everyone can see – and smell – your gear. However, for most people the mesh is purely advantageous.
Insulated side cooler pocket
Note: The pocket looks tiny from the outside, but expands into the main compartment. It's large enough to fit a fully loaded foot-long sub.
Side storage pocket with internal organizers
Note: On the reverse side of the cooler pocket is a regular pocket that is the same size. Inside it has small mesh pockets where you can put loose items that might be easy to lose track of, like keys, chapstick, and vitamins.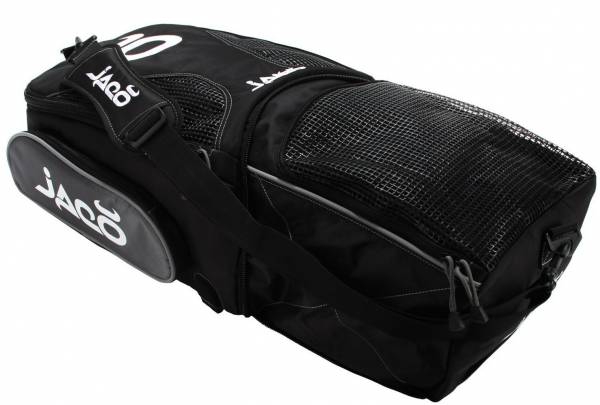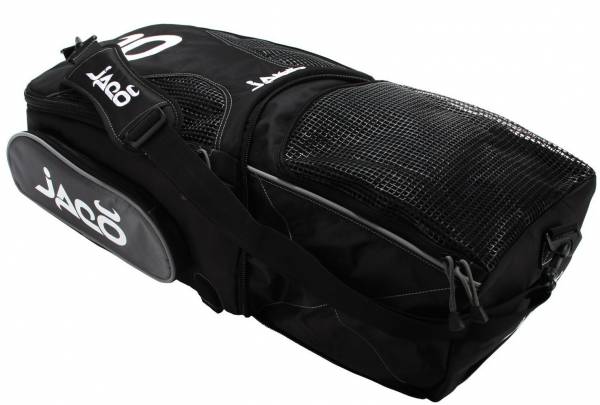 Rear compartment fits most 15" laptops
Note: I carried my laptop in my Jaco bag to a coffee shop to write this review. My laptop is pretty big, so it just barely fit on my second attempt even with an empty main compartment. It's a soft compartment, however, lined with a fleece-like material to help cushion your laptop and keep it dry. It's also located on the back, so when worn as a backpack it should keep your computer safe from rain.
Stowable backpack straps, quick release hardware, and duffle strap allow the bag to be converted from a backpack to a duffle bag with ease
Note: This is exactly what it says. The backpack straps release at the bottom and can be put right into their own compartment when used as a duffle bag. It's a pretty neat feature to keep the straps out of the way when not in use while not risking losing them, or needing to find storage space for them.
Hard shell valuables pocket for sunglasses, phone, etc.
Note: Like the other side compartments, this one is larger than it looks. It comfortably fits sunglasses and almost feels like a glasses case. If the bag is loaded and heavy with items other than clothes, and you drop it directly on this compartment, it's possible your stuff might still break, but short of that your items will be safe.
Rubberized bottom with grommets for durability and ventilation
Note: What they said.
Reflective piping accents for increased visibility
Note: Great for wearing the backpack when it's dark out to help improve visibility.
My Experience
As a further note, be aware that the side compartments expand a little into the main compartment. If everything is jammed full, they might not hold as much food or smaller items.
Although the compact bag appeared to me to be a little too large when I first put it on in its backpack form, it wasn't when I actually used it. I thought public transportation or squeezing through tight spaces might be a little difficult, but I didn't have any more troubles than I do with my normal backpack. This was perhaps an illusion because of the boxy shape of the backpack, which is in fashion these days.
My only issue with the bag was the clunkiness of its operation. The heavy duty construction seem to inhibit speedy access to some of the compartments. The hard shell case, for example, always takes several attempts to open. This isn't a particularly troubling concern, as I'd rather have zippers that take a few tugs to open and close than ones that come apart when I load up my bag, but it's worth noting.
The Jaco Compact Convertible Equipment Bag is perfect for athletes and lifters who need a versatile tool to carry their items with them. It's heavy-duty and does pretty much everything a bag can do.
The Jaco Compact Convertible Equipment Bag is available for $109.99 at JacoClothing.com.