We receive free products and receive commissions through our links. See
disclosures page
.

Who hasn't fantasized about a protein drink made with real coffee? Be honest. You know you've tried to mix some crazy concoction of your own. Thankfully, the people at Nature's Best must have also had this fantasy because they've created JavaPro.
Now, I will freely admit to being a Nature's Best fan before I received my sample of JavaPro in the mail. I will also freely admit to being an even bigger Nature's Best fan now. I've used their Isopure unflavored natural protein for years because there's absolutely no junk in it. So I was excited to see they'd combined their protein with real coffee to make this fun new product.
The Ingredients
Each serving of JavaPro consists of "roughly" one and a half scoops of powder, which amounts to 110 calories, 2g of carbs, 1.5g of fat, and 20g of protein. Plus, the oh-so-lovely 80mg of caffeine sourced from real coffee.
Obviously if you are considering purchasing protein powder, then you don't have a problem with the idea of eating whey protein. According to the packaging, JavaPro includes whey protein concentrate, isolate, and hydrolysate, although like most protein powders there's no telling what percentage of each. Aside from the protein powder and a vitamin-mineral-amino acid blend, the only other ingredients in JavaPro Espresso are coffee, sucralose, and soy lecithin.
The impact of soy lecithin has been debated, but most reliable sources say unless you have a soy allergy, then there's no reason to worry about the tiny amounts of soy lecithin in supplements. For me, I don't mind sucralose and find it to be the one artificial sweetener that I can tolerate with no problem. If you prefer to avoid all artificial sweeteners, however, then JavaPro isn't for you.
Packaging Isn't the Strong Point
Well, to be clear, the packaging is quite clever. It's made to look and feel like a large bag of coffee beans. The problem being, you don't typically try to stick your fist and a protein scoop into a coffee bag, even a large one.
Both my husband and I struggled a bit with getting the scoop in and out of the bag without making a mess, and the whole rolling down the top and crimping the tabs thing got a bit old as well. Thankfully Nature's Best did also include a Ziploc seal on the bag, so if all else fails you can just press it shut.
Note: I haven't tried it out, but I've been informed by JavaPro that they have a new bag with a wider opening, in order to make it easier to get the scoop in and out of the bag.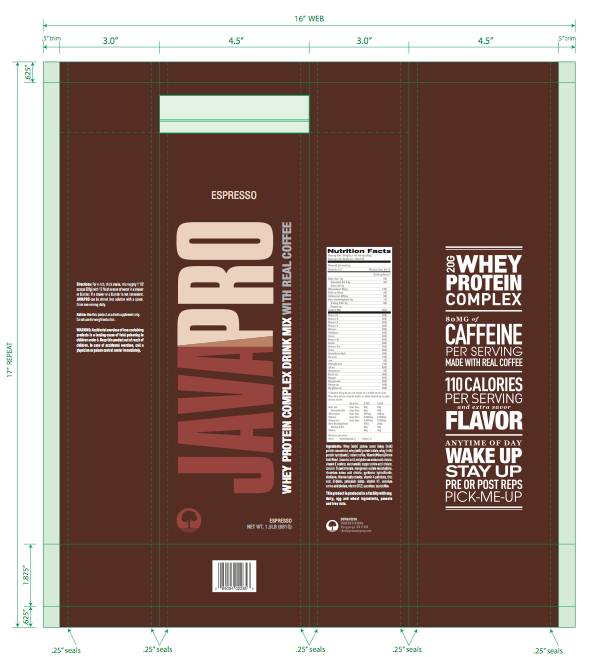 Price Is Worth It for a Treat
The price point for a bag of JavaPro is about $26.00-$27.00, depending on which website you buy it from. Each bag is 1.5lbs, which comes out to 22 servings. So, at roughly $1.18 per serving, it's not the least expensive protein powder you can buy. But it's also not the protein powder you're going to mix into your pancakes, your fruit smoothies, or most other things. And if you're buying natural, high-quality protein powders, you might actually be used to paying more than this anyway.
It's Just Fun
I find protein powders like JavaPro fun when I'm cutting back on my calorie intake. It curbs my appetite, tastes great, and the added caffeine gives me a little boost. It makes for a great mid-morning or mid-afternoon snack for me. For others it might work well as part of a pre-workout concoction or a quick breakfast.
JavaPro also comes in French Vanilla, Latte, Caramel, Mocha, and Hazelnut flavors. These other flavors do have "natural and artificial flavors" listed as the only additional ingredient beyond those in the Espresso version.
In conclusion, my husband and I were sad when we reached the bottom of our JavaPro, bag and I'm probably going to buy all five of the other flavors now.
JavaPro is available for $26.99 at Vitacost.com.