We receive free products and receive commissions through our links. See
disclosures page
.


In a world full of boring, plain-faced day planners, Gracie Mag journalist, photographer, and BJJ purple belt Erin Herle brings you the Jiu-Jitsu Journal. Erin has traveled the world in her jiu jitsu journey and recently completed a degree in English and Creative Writing at California State University.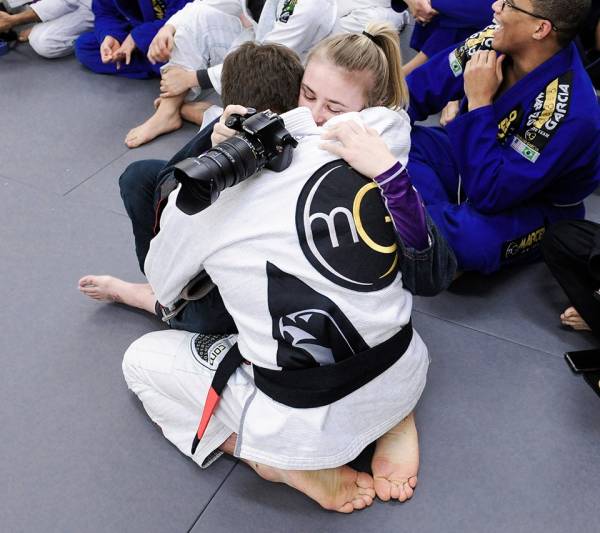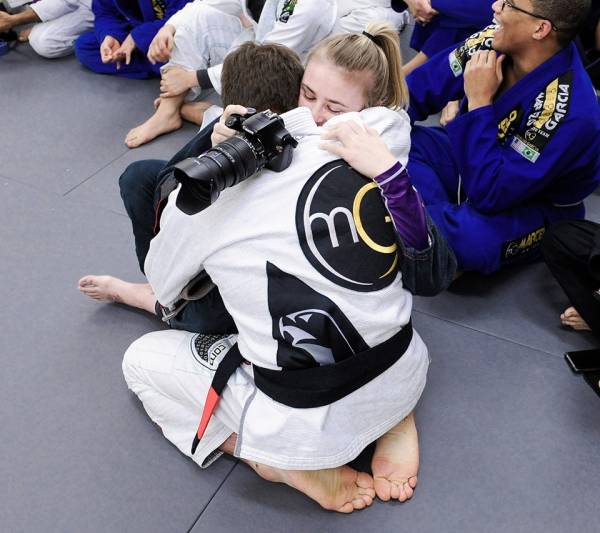 Erin also helps her boyfriend, BJJ black belt Gianni Grippo, to plan his hectic competition and seminar schedule. Just reading her Facebook newsfeed is exhausting:
July 30, 2014: "Being the girlfriend of a Jiu-Jitsu athlete means being PR woman, travel agent, personal assistant, and personal nagger all in one. Six seminars, two tournaments, four hotel bookings, one car rental, three seminar flyers done/planned. I think."

July 30, 2014: "I need more things to do in LA. Why am I here again?"

July 28, 2014: "Any photographers available Aug. 9-10 for the IBJJF Chicago Open?"

June 11, 2014: "I just got tucked in with two blankets and a pillow on a comfy couch by a gym owner while the group trains their morning session here in Sweden. Now I wish I could rent a cat to sleep at my feet and I'd be in my own version of heaven!"
How does she keep track of it all? With her Jiu-Jitsu Journal, of course!
Features
Stiff paper cover featuring Meerkatsu octopus design
Weekly schedules with goal, drill data, errands, and notes sections
Monthly calendar pages
Priority ranking outline
Short- and long-term goal planner
Mind maps for several long-term goals
Inspirational messages from BJJ personalities
Quality and Style
My first impression of the Jiu-Jitsu Journal was that it was really cool-looking. The cover features a Meerkatsu-designed BJJ octopus juggling kettlebells, books, water, a jiu jitsu gi, and protein powder.
However, I was concerned that because the cover wasn't very sturdy, it would become tattered and ripped in no time. Well, it turns out I was worried over nothing. I've carried the journal in my gym bag for the past six months and the only damage I've noticed was minimal curling at the corners of the cover. Additionally, when I checked the website today, the description indicated that the journal has a plastic cover, so the product has apparently been updated since I received my copy.
It is clear that Erin has researched goal planning and time-management strategies in the creation of this journal. The result is an easy-to-follow system that walks you through the planning process. What are your priorities in life? What does a typical week look like? Does your time management support your goals? Think about it and write it down in the journal. Are you satisfied? Yes? Cool. No? Plan your changes. And then track them.
The price of the journal is a little on the high end for a paperback book, but a lot of thought went into its design. Since it is not pre-populated, its usefulness won't cease at a set date. If you start and then stop again in the pursuit of your goals, the journal will last you a long time. If not, it will last you a year.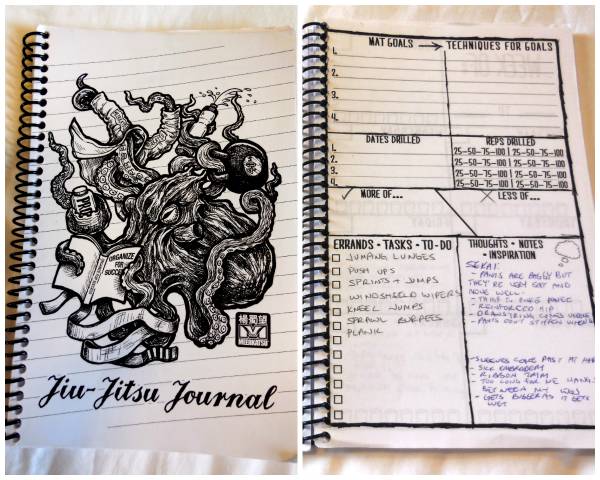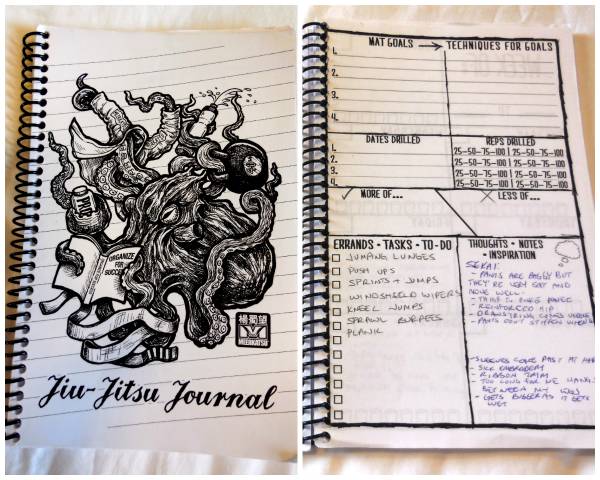 Functionality
I work full-time as an auditor, so my week is typically always the same unless I'm on the road. I do have a day planner for work purposes, and I typically require a full page for notes on my daily tasks, telephone messages, meetings, and time-tracking for a busy day. The size of each square in the Jiu-Jitsu Journal probably wouldn't be big enough for me to record my work functions.
There was enough room in the journal to cover my BJJ life, however. When I received the journal, I had a knee injury and used it to track my physiotherapy, exercise, and the effectiveness of the BioSkin knee brace I was reviewing at the time. I also kept track of how particular gis I was reviewing felt during training.
For my women's BJJ program, I noted areas we could work on for the next class. For instructors who follow a curriculum, this would be an excellent tool to use to schedule each class and note any areas of difficulty or indicate where changes could be made.
Overall, I'm not much of a note-taker or planner when it comes to jiu jitsu or life. I usually keep track of what I'm doing in my head and enter important dates into my phone for reminding. Back when I lifted weights every morning, I had a little book that I used to keep track of reps, sets, and weight used. Logging the results from my heart rate monitor, in addition to times and volumes from specific exercises would also be a great way to keep my schedule on track and monitor my strength and conditioning progression. This journal would have been great for keeping track of all that.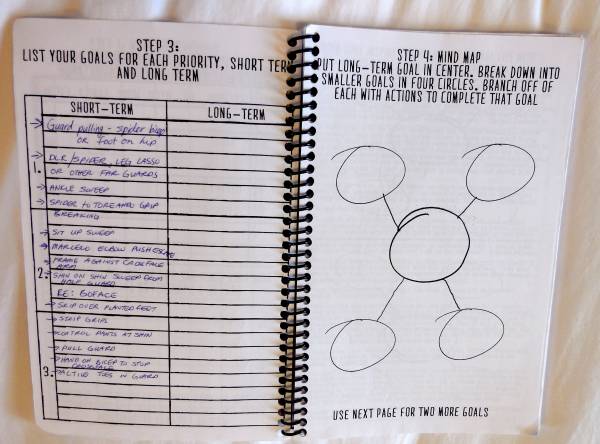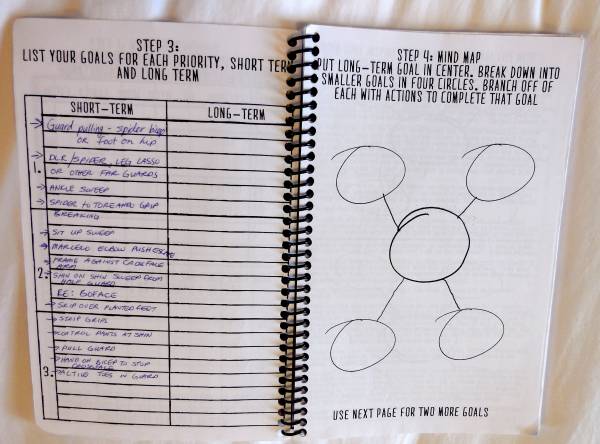 I didn't compete or train for any tournaments during my review of the journal as I had hoped. If I were planning to compete, I would likely use this journal in addition to Joel Jamieson's Ultimate MMA Conditioning and Conditioning Blueprint to map out a conditioning block.
Your technical game plan could also be mapped out and tracked with this journal. People who are cutting weight could record scale data and adjust accordingly. Since you enter your own dates in this journal, it can be strictly used to track training over several tournaments, with no wasted, empty space between them.
Conclusion
In conclusion, the Jiu-Jitsu Journal is a great idea for those who want to keep a log of their training and track their goals. Since the dates are not pre-populated, it's the perfect time for students to buy one and plan their BJJ and school schedules for the year. You can also follow the Jiu-Jitsu Journal on Facebook for product updates, time management tips, and stories from the mats.
Jiu-Jitsu Journal is available for $29.99 at TheJiuJitsuJournal.com.