Twitter Chat with Nick Horton – Tuesday, September 10 at 11:00am PST (2:00pm EST)
On Tuesday, September 10, don't miss the chance to chat with Nick Horton, Olympic weightlifting coach and blogger at the Iron Samurai. We'll be taking audience questions for our monthly #RealKnowledge chat starting at 11am PST (2pm EST), and the floor will be open for questions for one hour.
If you've read Nick's articles here at Breaking Muscle or his blog, you know he's got a lot to say about everything from squatting to Star Trek. Plus, he wears cowboy boots and jeans while he squats:
Not only is Nick answering reader questions, but he's also giving three particpants a membership in the Mastermind program. Here's what Nick had to say about this program and his own background in Olympic lifting and athletics:
1. Tell us a bit about your own athletic background.
I was raised to be an artist, trained to be a mathematician, then became a jock by accident. I never intended to be a weightlifting coach. But as John Lennon famously stated, "Life is what happens when you're making other plans."
As a kid I messed around with lots of sports, from martial arts to gymnastics, track to baseball, but nothing stuck until I met my first barbell at fourteen years old. That was love at first lift.
I went off to college to first study music, then study mathematics, and all along I competed in the different strength sports (bodybuilding, powerlifting, weightlifting, Highland Games, strongman), coached others; and set in motion a huge rolling snowball, the effect of which is this crazy monstrosity of a coaching career I could have never predicted.
2. What attracted you to Olympic weightlifting and how did you get started as an athlete and as a coach?
I like things that are hard.
I've taught myself how to play multiple instruments, went to music school, switched, and got my undergrad and masters degrees in mathematics. I've competed in nearly every strength sport there is, have been lifting for 21 years, and have coached thousands of people to reach all kinds of varied goals over the last seventeen years. Challenges are what make me tick. I even do all of the website design/development for all of our online properties.
I think it was inevitable that I'd fall in love with Olympic lifting. It's got all of my favorite things: physical challenges, mental challenges, chalk…
But above all else, I love teaching weightlifting. And that has been one of the greatest
challenges, and most rewarding endeavors of my life.
3. What are three tips you have to offer for people getting started in Olympic weightlifting?
If there were only three things (I like the rule of three, too!) that I want any beginner to take to heart it's the following:
Don't believe the hype
Be more like the Karate Kid
Smile more – it's supposed to be fun
Let me explain those a bit.
FIRST
Don't believe the hype! Weightlifters are notoriously elitist. There are a lot of lies and myths floating around about the sport that are perpetuated by weightlifters because it helps to boalster their sense of superiority. The most notorious are, "
snatching is one of the hardest things to do in all of sports
," and "it will take you 10,000 hours (or reps, in some versions) to become even remotely good at weightlifting."
What a load of crap!
Here is what is true:
To become great at weightlifting will take you (more than) 10,000 hours/reps.
The snatch/jerk performed at the level of a champion is one of the most amazing feats in sports.
However, you can learn to snatch in less than thirty minutes. No joke. A good teacher can get you doing a competition-legal, performance-enhancing, and safe snatch in less than one hour at the absolute longest.
It just isn't anywhere near as hard as it is made out to be.
SECOND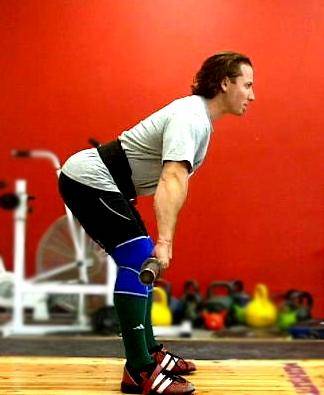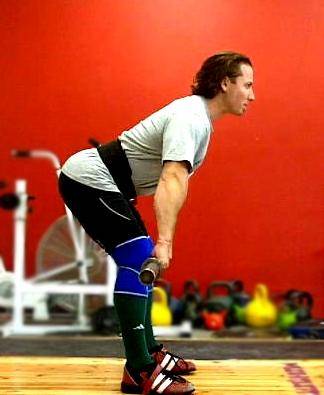 Be more like the
Karate Kid
. I want you to take very seriously that the basics are going to account for 90%+ of your progress.
My three rules for the snatch are:
Lockout.
Hit the hip.
Why? Because if you can do those three things – not simply understand them, but actually do them – on every lift, you will go far. If you fail to do any one of them, you will fail to be a weightlifter. Period.
Drill the basics like your life depends on it. That's the only way to get the girl at the end of the movie.
THIRD
Smile more – it's supposed to be fun. It's true that this stuff is hard. It's also true that I just told you stop being a wimp, which could be misconstrued as a kind of militaristic-seriousness about the task at hand.
The truth is that we are a bunch of adults screwing around playing a sport in our spare time. Never forget that nothing here is life and death. If weightlifting is adding stress to your life, change something, or drop it altogether. It should be lowering your stress.
We do weightlifting for fun, to increase our sense of accomplishment, to learn things about ourselves (and what is possible) so that we can then translate them into the rest of our lives. Anything less is purely selfish and self-destroying.
Never stop searching for the deepest answers to the question, "why?"
4. Tell us about the Mastermind program and why it's awesome.
Mastermind is an online private coaching, accountability, and support group for Olympic weightlifters. United by passion, the members are a very eclectic bunch with totally different backgrounds. We have members who are rank-beginners, and others who we have helped qualify for national-level competition.
Tamara Reynolds (my co-founder and fiance) and I run it like a small group tutoring class. You get daily feedback on your workouts, weekly live chats, access to archives and member-only lesson materials, premium support (I'll literally call you on the phone if you need me to), and anything else you need to succeed.
That last point is critical. We treat this is our "results-guaranteed" club. We will bend over backwards for every member to ensure that your goals are met.
Right now, Mastermind is only $49/month. Because of how far we're willing to go for each member, we are going to have to raise that a lot in the future. But for this Breaking Muscle Giveaway, we're giving one person three months for free. That's a $147 value.
We're also giving away a second 2-month membership for free. And a third 1-month membership for free.
That adds up to a whopping $294 dollar giveaway!
Mastermind is our "crown jewel" at Weightlifting Academy, and we're very excited to take on board three new dedicated athletes.
Thanks Nick! Got questions of your own? Join us for a live Twitter chat!
If you want to learn more about Nick's approach to Olympic weightlifting, join us on Tuesday, September 10th for a Twitter chat where you can ask all your questions.
Here's how to get in on the conversation:
Log into Twitter on Tuesday, September 10th at 11am PST/2pm EST.
Follow the hashtag #RealKnowledge and direct questions to @TheIronSamurai
Ask away! The floor will be open for questions until Noon PST/2:00pm EST. Be sure to end your question with the hashtag #RealKnowledge to lock into the chat.
Be sure to stay tuned for future Twitter chats with coaches from every discipline!