Athletes who are looking to build muscle or to maintain a strong, lean appearance benefit from eating meals that contain a higher ratio of protein than carbs and fats. Consuming clean, lean proteins help you feel satiated longer after a meal, leading to less overall hunger and potentially less caloric intake. Eating a diet rich with lean protein is also associated with less belly fat to help you maintain that lean physique.
Proteins are present in the structure of all body tissues. Getting plenty of lean protein in your diet aids in weight loss, boosts energy, and results in faster, stronger muscle building. Maintaining protein levels through clean eating will also accelerate the repair of all body tissues should injury occur.
It can be confusing to figure out which cuts of meats are appropriately considered a lean protein. Ideal lean proteins come from the loin cuts (sirloin, tenderloin, round, chops, or ground meat from those cuts) in red meat animals and the breast portions in poultry. Wild game tends to be considerably leaner than domesticated animals. All fish are considered a lean protein, with the leanest being wild-caught rather than farmed.
Animal protein sources have a high nutrient value. Eggs are considered one of the most nutritionally complete proteins if you also eat the yolk. The egg yolk, however, does account for all of the fat within an egg so if this concerns you, skip the yolk and eat just the whites.
Healthy fats are an important player in your diet to absorb the abundant nutrients found in lean proteins. These fats also support brain and body functions, so don't go overboard with trying to remove all fat from your diet. Instead, focus on lean proteins paired or cooked with healthy fats like olive oil, coconut oil, and the fats found in nuts and avocados to allow for full assimilation of nutrients.
It's easier than you might think to put together a clean and lean protein meal that fits these parameters. Think of your meal in layers of protein. Pick your main protein, in this case, a lean meat. Flavor the main protein with another protein source, like yogurt or a nut crumble, and complete the meal by serving a high protein side dish such as quinoa and beans, or top it with a protein containing sauce like one made from yogurt or thinned hummus. Green cruciferous vegetables are a good pairing to increase protein content without adding fat into a meal as well.
Pecan Crusted Venison, Mushroom Wild Rice, and Charred Cherry Tomatoes
Photo credit: Kari Lund
Calories: 574, Protein 49g, Carbohydrates 42g, Fat 24g
Prep time: 15 min
Cook time: 60 min
Yield: Serves 4
Ingredients:
1 pound venison tenderloin or steaks (you can use beef tenderloin or any other lean meat)
1 cup plain Greek yogurt
½ cup beef broth
¼ cup stone ground mustard
Salt and pepper to taste
1 cup pecans, finely chopped but not crushed
1 cup cherry tomatoes, halved
Mushroom Wild Rice Ingredients:
1 cup wild rice
3 ½ cups beef broth
8 oz mushrooms, diced
Salt and pepper to taste
Preparation Instructions:
Combine the yogurt, ½ cup beef broth and mustard in a blender and blend until smooth. Reserve ½ cup of this yogurt-mustard sauce and set aside to be used as a topping. Pour the remaining yogurt-mustard sauce over the venison and let marinate in the fridge for one hour or up to 24 hours.
Combine wild rice and beef broth in a saucepan and bring to a boil.
Turn rice down to a simmer. Cover and simmer 55-60 minutes.
In a sauté pan, toss mushrooms with a small amount of olive oil and cook until they have reduced and browned.
Add the sautéed mushrooms to the rice and continue cooking rice until rice is done.
Remove venison from marinade and shake off any extra liquid.
Roll venison in pecan crumbles to coat.
In the same sauté pan used for the mushrooms, add a little more olive oil if needed and cook venison on medium low heat on all sides until desired doneness. Be careful not to burn the pecans.
When venison is nearly done, slide it to one side of the pan (or remove it and keep warm) and add the tomatoes to the other side.
Let tomatoes cook until lightly charred and softened.
If any of the pecan bits fall off during cooking, just add them as a topping or add into the wild rice.
Serve venison with the reserved yogurt-mustard sauce.
Mediterranean Baked Cod with Lentils, Salsa Rossa, and Broccoli Raab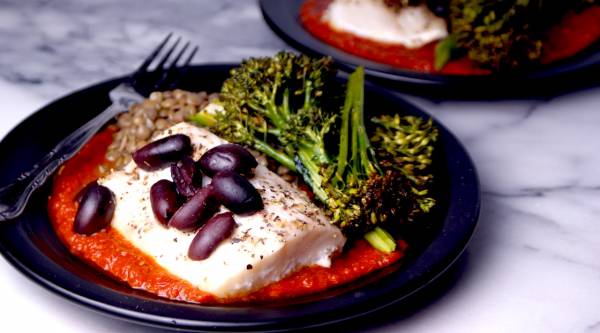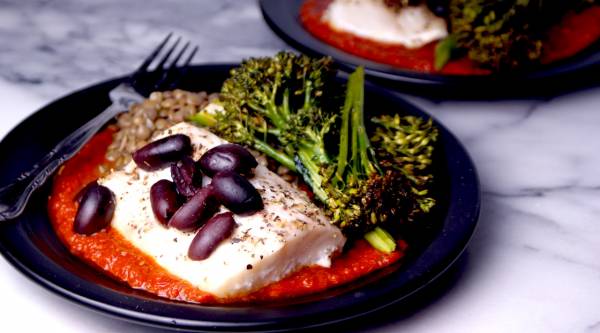 Photo credit: Kari Lund
Calories 528, Protein 40g, Carbohydrates 50g, Fat 17g
Prep time: 20 min
Cook time: 30 min
Yield: Serves 4
Ingredients:
4 cod filets
2 tablespoons lemon juice
20 kalamata olives, halved
1 tablespoon olive oil (for greasing the baking dish)
1 bunch broccoli raab
Salt and pepper to taste
1 cup lentils
4 cups chicken broth
Salsa Rossa Ingredients:
3 oz julienned sun-dried tomatoes (not oil packed)
1 ½ cups water
1 red bell pepper, roasted
1 red chili pepper, roasted
1 clove garlic, minced
¼ cup chopped pickled hot peppers
¼ cup brine from the pickled pepper jar
¼ cup red wine vinegar
2 tablespoons olive oil
1 teaspoon dried oregano
Salt and pepper to taste
Preparation Instructions:
Preheat oven to 350 degrees.
Season cod with salt and pepper and place in a lightly greased baking dish.
Sprinkle with the lemon juice and Kalamata halves.
Place broccoli raab on a baking sheet and drizzle with olive oil. Season with salt and pepper to taste.
Bake cod and broccoli raab at the same time for about 30 minutes or until cod flakes easily with a fork and broccoli raab is roasted.
While cod and broccoli raab are baking, prepare lentils and salsa rossa.
Place lentils and chicken broth in a saucepan and simmer about 20-30 minutes until lentils are tender.
For the salsa rossa, boil the water and add the sun dried tomatoes. Let sit 15 minutes until tomatoes are softened.
Add the sun dried tomatoes along with their soaking water plus all other salsa rossa ingredients into a blender and puree until smooth.
Warm salsa rossa in a saucepan before serving.
Serve the cod, lentils, and broccoli raab with salsa rossa on the bottom for flavorful dipping.
Comparision of Proteins
For your conveniece, the following is a comparison of common lean cuts of meat and eggs with their corresponding protein and total fat values per 3oz serving, excess fat trimmed and cooked*:
Beef Sirloin: protein 24.8g, fat 8.2g
Bison Sirloin: protein 23.8g, fat 4.8g
Pork Top Loin/chops: protein 25.6, fat 3.9g
Venison Loin: protein 25.9g, fat 2.2g
Turkey Breast: protein 25.6g, fat 1.7g
Chicken Breast: protein 19.5g, fat 1.1
Salmon Filet (Atlantic, wild caught): protein 21.6g, fat 6.9
Sea Bass Filet (Chilean, wild caught): 20g, fat 2.2
Cod Filet (Atlantic, wild caught): protein 19.4g, fat 0.7
Whole eggs (2 large eggs): protein 12.5, fat 8.9g
Egg whites (3 large egg whites): protein 10.8g, fat 0g
The following is a comparison of protein heavy sides with their corresponding protein and total fat values per 1 cup, cooked*:
Lentils: protein 17.8g, fat 0.3g
Black Beans: protein 15.2g, fat 0.9g
Kidney Beans: protein 15.3g, fat 0.8g
Quinoa: protein 8.1g, fat 3.5g
Wild Rice: protein 6.5g, fat 0.5g
Brown Rice: protein 5.5g, fat 1.9g
The following are vegetables sides and other toppings that have more than 2g of protein per 100g portion or portions as noted*:
Kale: protein 4.28g, fat 0.93g
Brussels sprouts: protein 3.4g, fat 0.3g
Broccoli raab: protein 3.2g, fat 0.5g
Spinach: protein 2.8g, fat 0.4g
Broccoli: protein 2.8g, fat 0.4g
Asparagus: protein 2.2g, fat 0.1g
Plain lowfat 2% Greek Yogurt: protein 10.2g, fat 2g
1% Cottage Cheese: protein 13.2g, fat 1g
Hummus (per 1 Tbsp): protein 2g, fat 3.5g
Almond crumbles (¼ cup): protein 5.7g, fat 13g
Walnut crumbles (¼ cup): protein 5g, fat 20g
Pecan crumbles (¼ cup): protein 3g, fat 20g
*all nutritional data collected from USDA National Nutrient Database
More lean protein meal ideas: