Very few soups are more Italian and more loved in my family than wedding soup. It's pure, unadulterated Italian comfort food. This soup with the little meatballs makes everyone smile.
Once I began my paleo journey, I knew the holidays would be a problem. Many of the meals of my Italian culture are filled with gluten and dairy. I felt it was important for this BOSS Lady to figure out how to honor my familial roots while respecting my body.
This version of Italian Wedding Soup is a dream come true for the fall and winter months. Every bite is filled with pure goodness. The bone broth base offers a paleo-perfect combination of nutrients, and each bowl is filled with high levels of vitamins C and K. The little meatballs make it a family favorite, and the additional chicken makes this dish a hearty meal.
Paleo Italian Wedding Soup with Meatballs and Chicken
Yield: Serves 8
Ingredients
Ghee or coconut oil
2 bunches escarole, cleaned and torn into bite size pieces
.5lb each of ground beef, pork, and veal (if you don't have all three, it is fine to use any combination or just one)
Chicken broth (ingredients and directions for homemade bone broth below)
7 heads of minced garlic
2 large onions, finely chopped
4 eggs, beaten well
1 tsp fresh parsley
1 tsp fresh oregano
Salt and pepper
Bone Broth
Ingredients
One whole chicken (3-4lbs)
2 large onions
2 carrots
2 Tbsp ghee or coconut oil
Salt, pepper, spices to taste
2 Tbsp apple cider vinegar
Additional vegetables as desired
Place whole chicken in the slow cooker with onions, carrots, and ghee. Add spices to your liking and cook on low for six hours.
Once chicken is done remove all meat from the chicken, shred, and put aside. Place all bones back in slow cooker; add filtered water to top and any additional veggies you want and two tablespoons of apple cider vinegar. Now cook on low for 24 to 48 hours.
Drain broth and add to pot. This will be the base for your soup. Add filtered water if needed.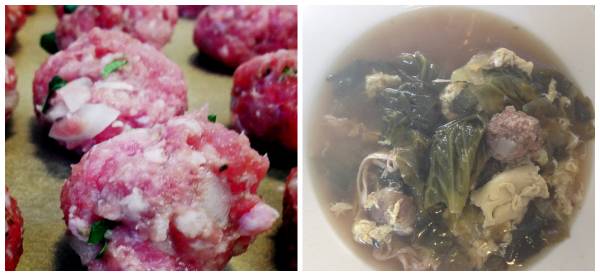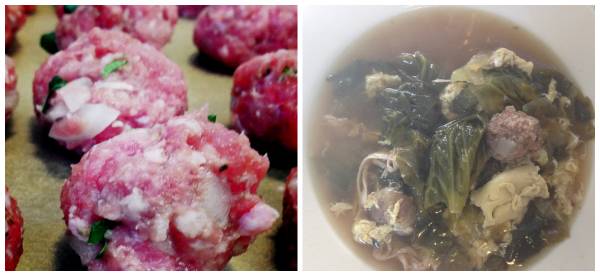 Meatballs
Take the meat out of the refrigerator one hour before preparation to bring it to room temperature.
Add meat into a bowl with one teaspoon of parsley and oregano, finely chopped.
Add one egg and half of the chopped onion.
Now add two heads of the finely chopped garlic and salt and pepper to taste. Mix well. I recommend getting your hands in there and squeezing it all together.
Roll the mixture into half-inch size meatballs.
Fry the meatballs in oil or bake in the oven at 350 degrees for about fifteen minutes – whichever you prefer. Put the meatballs aside and begin the soup.
Soup
In a large pot, add about three tablespoons of oil, as well as the remaining minced garlic and onion.
Sauté onions and garlic over low flame, being careful not to burn the garlic.
Once the garlic starts to turn a nice golden yellow, add the escarole to the pot.
Now add the chicken broth to cover the escarole and increase the flame to high until the ingredients begin to boil.
Lower the flame and add the meatballs and shredded chicken.
Cover and simmer for about 45 minutes.
Beat the eggs together and pour them into the soup, stirring constantly. Cook another few minutes and serve!
Photos courtesy of V Capaldi, aka "PaleoBOSS Lady."