We receive free products and receive commissions through our links. See
disclosures page
.


One of my first comments upon eating a cherry vanilla dark chocolate truffle from Eating Evolved was that it didn't taste like candy to me. Of course, that made me laugh out loud when I noticed the Eating Evolved slogan is, "It's food, not candy." I swear I hadn't seen that before I said the words, and to me it speaks to the company achieving their goal. These chocolates taste amazing, but they don't taste like any association I have with candy – syrupy, artificial, or overly sweet. They taste just like what they say they are.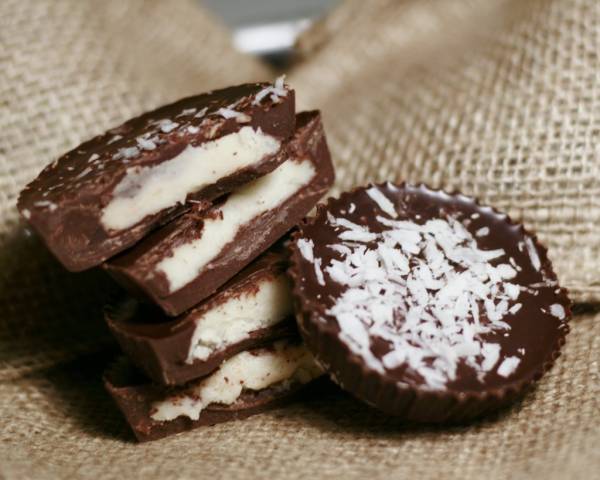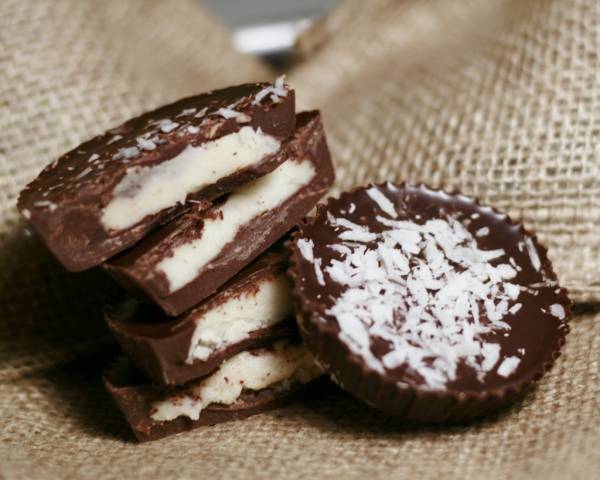 The philosophy behind Eating Evolved's chocolates is to get back to the true essence of chocolate, without adding flavoring, dairy, or sugar. All the ingredients are organic, the salt used is Himalayan sea salt, and the chocolate itself is all Fair-Trade dark chocolate. All the products are handmade and are gluten free, dairy free, and soy free. The coffee beans used in the mocha and latte flavored chocolates is Upgraded Coffee from the Bulletproof Executive.
I was sent the following products to sample:
Coconut Butter Cups
Coconut Almond Squares
Vanilla Latte Squares
Bacon Sea Salt Truffles
Cherry Vanilla Truffles
There are many more flavors of squares and truffles available, including maple bacon mocha truffles, black garlic and fennel truffles, cayenne Aztec squares, and orange cacao nib squares. There's over a half-dozen more I'm not even listing here. So pretty much however your taste in chocolate runs, whether it be sweet, savory, or spicy, Eating Evolved has a flavor concoction for you.
The coconut butter cups currently come in two varieties – the standard dark chocolate coconut butter cut and a pumpkin spice coconut butter cup, which is apparently seasonal. I sampled the standard butter cup and it was lovely. It is 72% chocolate and the filling is made of coconut, honey, vanilla, and sea salt. Whenever I see the words "butter" and "cup" I can't help but daydream about Reese's Peanut Butter Cups. These are not those, and you shouldn't imagine that they taste anything like those. They do, however, taste wonderful, light, and coconutty, and if you're going to splurge on a treat, these have to be infinitely healthier than anything Reese's has to offer. And again, you can really taste the ingredients as opposed to just tasting sugar, which at first is a little disarming, but that feeling is quickly followed by satisfaction.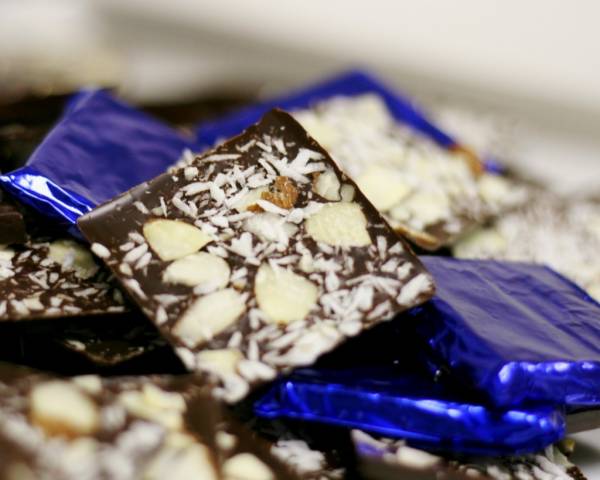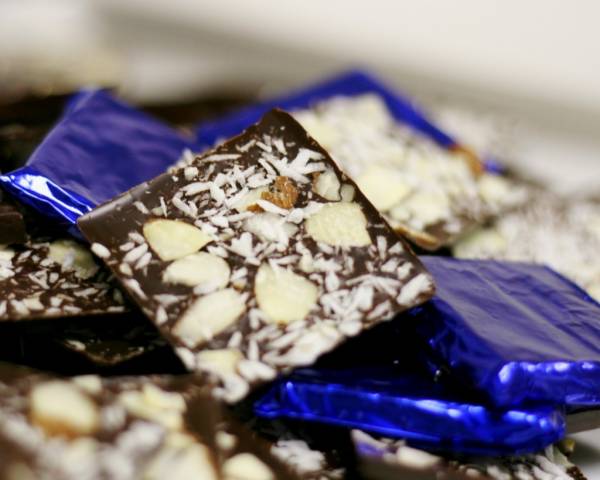 As I mentioned at the beginning, I had a similar experience when trying the cherry vanilla truffles. I typically don't like "cherry flavored" things as they taste quite, well, flavored, as opposed to tasting like actual cherries. That is not a problem with these chocolates at all. The cherry flavor comes from a real cherry and the truffle is light and natural, although I personally would have like more of a presence from the vanilla. The bacon sea salt truffles are salty enough to be tasty, with a little crunch of bacon, but not so salty as to overwhelm the experience of the chocolate. Eating Evolved is also conscientious about the source of their bacon, sourcing theirs from U.S. Wellness Meats.
The truffles and squares both come in packages of six. They are small in size, but really, it's exactly the amount you need. The coconut butter cups come in pairs. The truffles have a date filling and are made of 72% chocolate. The dark chocolate squares range from 72-100% chocolate.
Currently, Eating Evolved only ships to the United States. They do, however, take great care with their shipping. My package included a cold pack to insure the safe delivery of my chocolates. The packaging of the chocolates themselves is also impressive, coming in what looks like tiny little egg containers or burlap-looking bags. These are totally something I would buy for a chocolate-lover friend for a gift (or request in my stocking come holiday time – hint, hint), as the packaging is stylish and impressive without being glitzy. It should also be noted that despite the stylishness of the packaging, it is entirely compostable.
In the end, I would say Eating Evolved has a great product. They have carefully sourced their product, from start to finish, and it tastes fabulous and light, while remaining a totally satisfying chocolate experience. And, if you manage to keep yourself to just one or two, they're not even that big of a caloric hit. (I ate mine strategically as a post-workout treat.) So, given that chocolate is also a great source of powerful antioxidants, you might want to keep a few of these on hand. You know, strictly for use as a supplement, of course.
Eating Evolved Chocolates are available at EatingEvolved.com in the following varieties: