We receive free products and receive commissions through our links. See
disclosures page
.


In her interview with Seymour Yang in 2010, Fenom founder Triin Seppel explained her brand name. "Fenom is a play of two words – female plus phenomenon. People typically refer to a highly-skilled person in martial arts or any other sport as a phenom. Women and girls' grappling is a pretty phenomenal thing, so the word play just made sense to us."
I bought my first Fenom gi about four years ago when I was still a white belt and far from a phenom. I loved the idea of supporting a company that was founded by women, for women, in a sport that is male dominated. Said Seppel, "Men outnumber women and girls on the mat ten-to-one for a number of reasons. Part of our mission is to help tip that scale and attract more women and girls to BJJ."
Brands like Tukano Kimonos have overlooked the serious female athlete in their marketing campaigns and instead feature women as decorative objects. I thought a guy would have to be at least a brown belt to have a naked woman referee his match, but apparently a blue belt is good enough. Painted ladies for all!
There are a lot of companies who create gear for both men and women, but since female grapplers are still a minority demographic it is comforting to have an option just for women. In addition to offering quality gear for women, Fenom has developed a world-wide community of women helping women using its Powered by She blog and social media platforms including Facebook, Twitter and Flickr. They sponsor tournaments, women's open mats and the Women's Jiu Jitsu Championships.
Features
· 550g pearl weave top
· Rubberized collar
· Slim-cut 100% cotton rip stop pants
· Knee to ankle double layer ripstop on the front of the pants.
· Two belt loops
· Rip stop drawstring
· Embroidered logos
· Made in China
Quality and Style
Fenom Kimonos provided me with one of the new Pearl Weave gis to review and it's become the grey t-shirt of my gi collection. (I have too many grey t-shirts, which I wear too much). Anytime a gi is priced under about $140, reviewers say it's a great quality gi for the money. If the Fenom Pearl Weave gi were $140 I would make the same claim, but at $90 it's an absolute steal. When I asked Triin why her products were so inexpensive, she explained: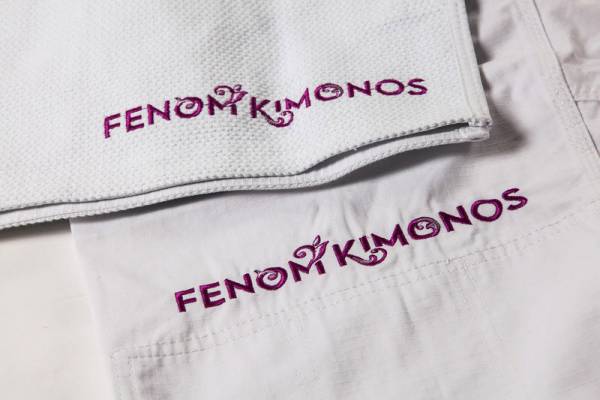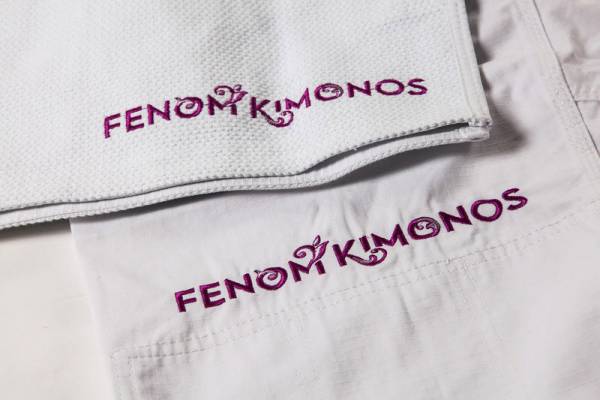 It's part of our mission to offer affordable gear to women. Most gi manufacturers choose to mark their products up 300%. We choose to keep the prices low. We want to show that affordable gis are just as good as expensive ones. We do not have a retail store so our overhead costs are low as well.
At this price, the mats should be full of these gis. Every female grappler should have at least one version in her closet.
I've never been a huge fan of the "F" logo but there are several different versions to choose from. Triin explained the design process to Seymour Yang: "The logo went through dozens of iterations in terms of design. We wanted to convey a slightly tribal warrior vibe with a feminine touch." The purple and silver embroidery on the Fenom gi is flawless and beautiful.
Fit and Comfort
The jacket is cut specifically for the female form, offering a slimmer fit in the shoulders and torso. The collar is stiff and thick but I was still choked numerous times with it, which was frustrating. I'm still waiting for the gi that has a collar so thick it replaces defense technique. During rolling, I found the jacket to be light and comfortable. I barely noticed it at all, which is what I look for in a gi.
The pants are cut slim and even with my skinny legs and tiny hips, I found them a little restrictive during rolling. I was still able to move freely but I was aware that they were a little tighter than I'd like for training. Many gi pants are designed with four belt loops, but I didn't have an issue with the reduced number of belt loops on the pants. Although I don't have a preference one way or the other, many people prefer the knee-to-ankle knee padding, as they feel it offers more protection for the knee during kneeling. I always wear knee pads under my gi pants for when I'm spastic and accidentally knee my partners, so it didn't matter to me. (Remember, your knee pads aren't for you – they're for your partners!)
Something I've never liked about white gis and especially lightweight white rip stop pants is that they are slightly transparent when dry and even more so when wet. I generally prefer blue or black gis.
In terms of sizing, the tops and bottoms are sold separately so it's easy to find the perfect sized gi for any body type.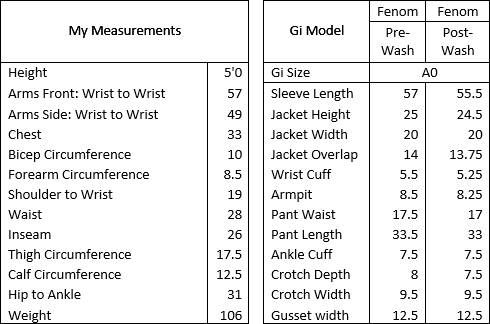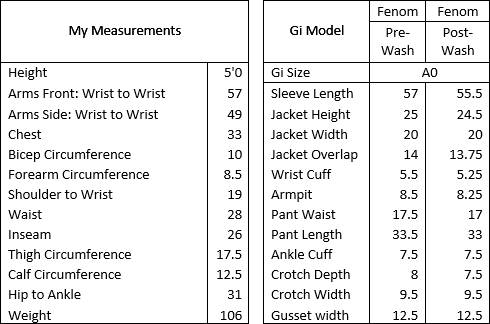 Customer Service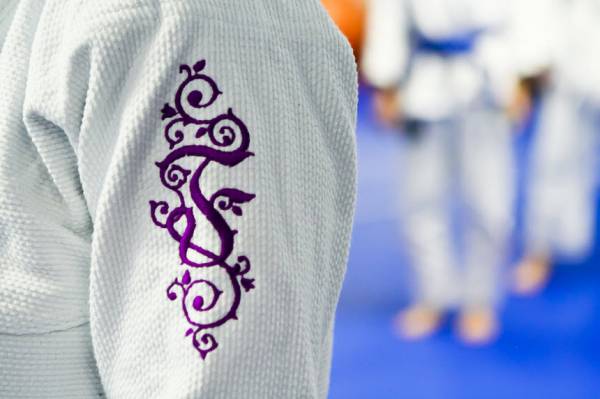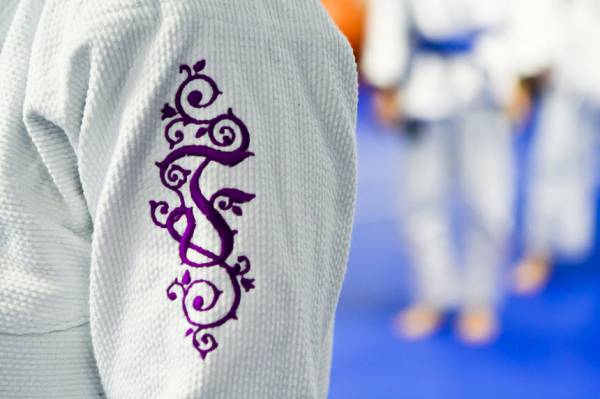 Triin Seppel's customer service is consistently top notch. She's always been easy to reach and she knows her product inside and out.
Shipping
Shipping to Canada is a little too expensive – about $40.95 – but since the gi is so inexpensive, I bit the bullet and bought it anyway. I calculated the shipping in the United States (zip code 90210 because it's the only one I know) and it's about $13 per gi, which is much more reasonable. Orders from Fenom have arrived to Canada between five to seven business days.
If you're a woman in Brazilian jiu jitsu or the parent of a daughter in the sport, you can't go wrong supporting Fenom Kimonos. I love that Triin is always developing new styles and products and I look forward to watching her brand grow.
While writing this review, I sold myself on a Fenom navy blue pearl weave gi. This is why I don't have a television – too many commercials. It's a serious problem. I'll tell you what though, you can never have too many grey t-shirts or Fenom Kimonos.
The Fenom White Pearl Weave Gi is available for $90.00 at FenomKimonos.com.