We receive free products and receive commissions through our links. See
disclosures page
.


OK! Kimonos is an up-and-coming fightwear brand founded by BJJ purple belt and Gi Reviews creator Brendan Hufford. Hufford has collaborated with designer Seymour Yang, also known as Meerkatsu, to create a cute and cuddly tiger logo for his kimonos that appeals to young and old(ish) alike. Recently I was sent the OK! Kimonos Tora spats to review. They are the first pair of spats released by the brand and also feature the cuddly little tiger.
When I asked Brendan why he chose the fun and ferocious OK! tiger to represent his brand, he said, "I want kids to know that it's alright to be silly, nerdy, and dorky and then step on the mat at a tournament and hit a flying armbar in six seconds." Training hard with confidence and assertiveness are key, but Brendan doesn't want to promote unnecessary aggression.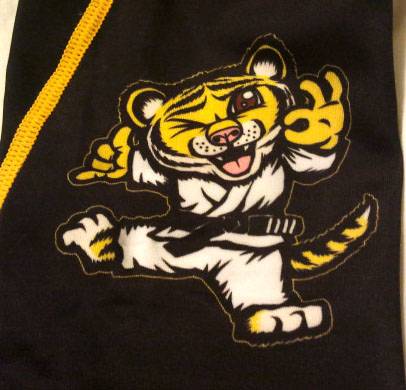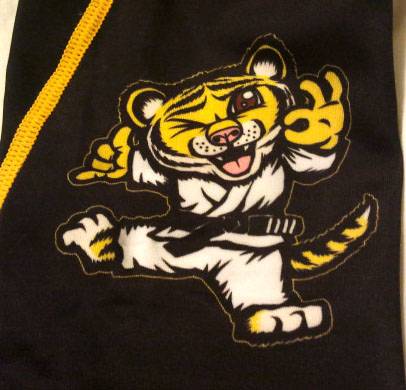 Features
100% sublimated graphics
Custom artwork by Meerkatsu
Flatlock stitching
Compression fit
Elastic waistband with drawstring
Quality and Style
The spats' fabric is thicker and has more of a compression quality than the Pony Club Grappling Gear "The Yang" spats and although the fabric is similar in thickness, it is silkier than the lululemon Luxtreme crops. I would compare the fabric to the 93 Brand Mandrill 2.0 rashguard. Since I gain weight at my waist rather than my legs and bum, I can't say this from experience, but I assume that these spats can smooth out lumps and bumps even better than lululemon.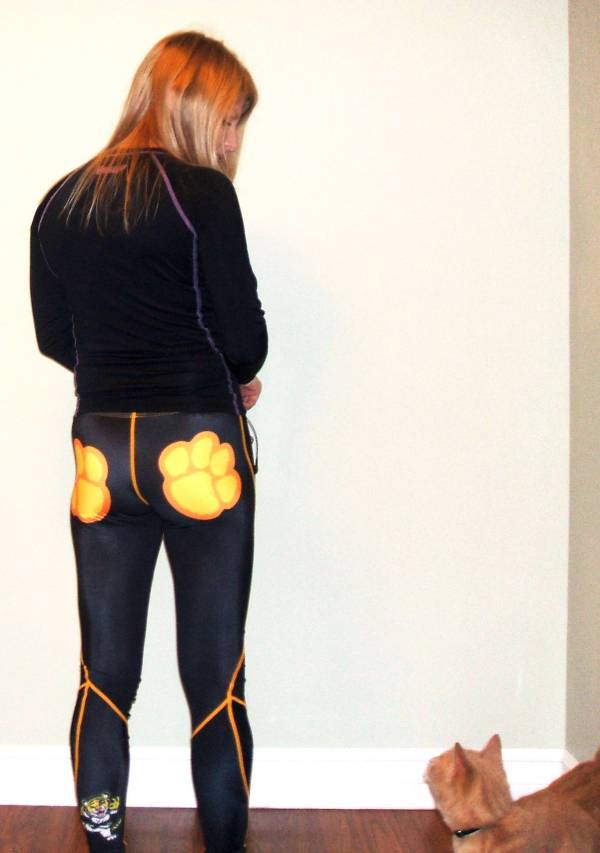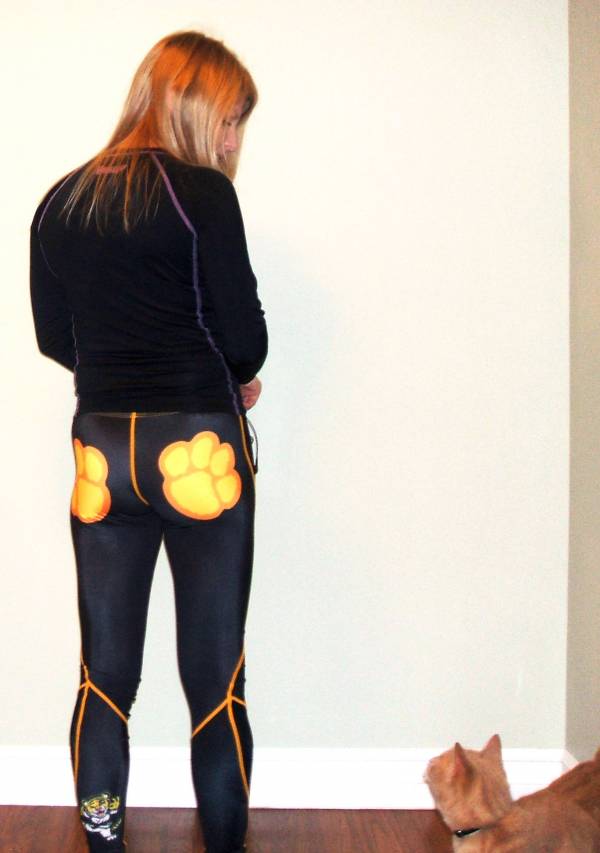 However, a bend-over transparency test showed that skin and underwear color are slightly visible when the fabric is stretched to capacity. An example of this transparency can be seen in this video. Ronda's training partner is bent over and her UFC brand tights are slightly transparent. When Ronda is bent over, her lululemon spats are not transparent, although newer versions of lululemon running tights are transparent as well. To combat transparency, seamless boy shorts could be worn under these spats.
The stitching on these spats is flat and flawless. There were no loose threads or weak seams. I love the Meerkatsu-designed winking tiger at the left hip and the back of the calf, as well as the black and orange color scheme. Seymour Yang did an amazing job creating the perfect logo for this brand. I'm not a fan of the paw prints on the bum, however. I think they're a little big and I don't like to draw attention to that area. I think the little tigers alone would make these spats perfect for anyone.
Fit and Comfort
The Tora spats are designed to be unisex. I have small hips and a wide waist and I found that although they fit very well in the legs in both length and compression, they were tight and a little uncomfortable around my abdomen and waist. During class I found myself frequently pulling at the waist trying to stretch it out and I was self-conscious about the muffin top caused by the tight elastic waistband. I've found that most grappling spats and a lot of women's tights have this issue.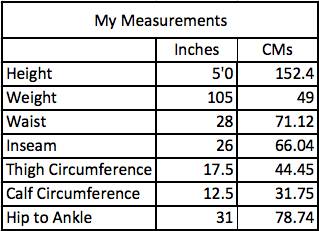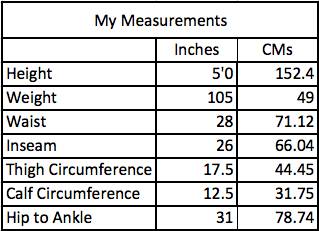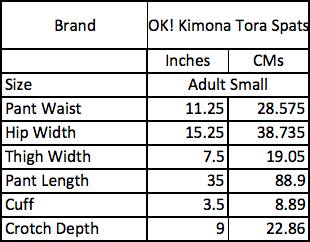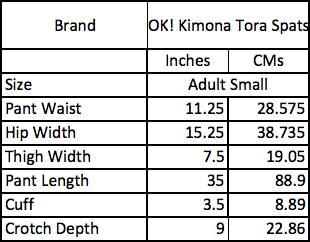 My suggestion to designers is to use a thick waistband that sits lower at the waist and add a couple of inches to the circumference. The Tora spats have a drawstring, so if a wider waistband made them too loose, you could adjust it by tying the drawstring tighter. I've included a photo to show the difference in fit at the waist in size small Under Armour capris with a thicker, lower waistband and the size small Tora spats. There isn't a huge difference in appearance, but the difference in comfort is significant.
For people who have a wide waist like me, there is no room for adjustment in the Tora spats. Trying to keep the tight waistband at the smallest part of my waist made the crotch ride up a little, although not enough to cause camel toe. I think this fit would be better suited to people who have more of an hourglass figure or less padding around the waist than I do.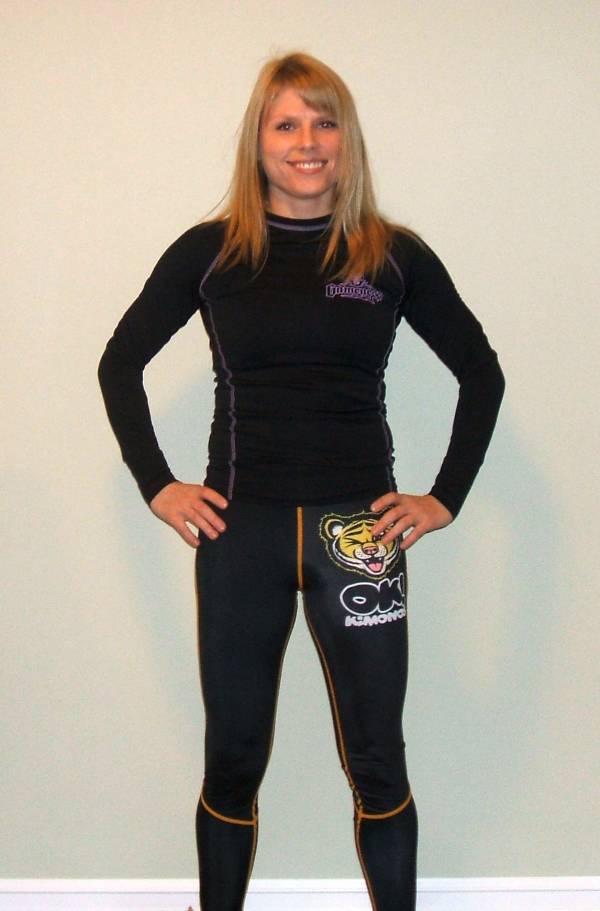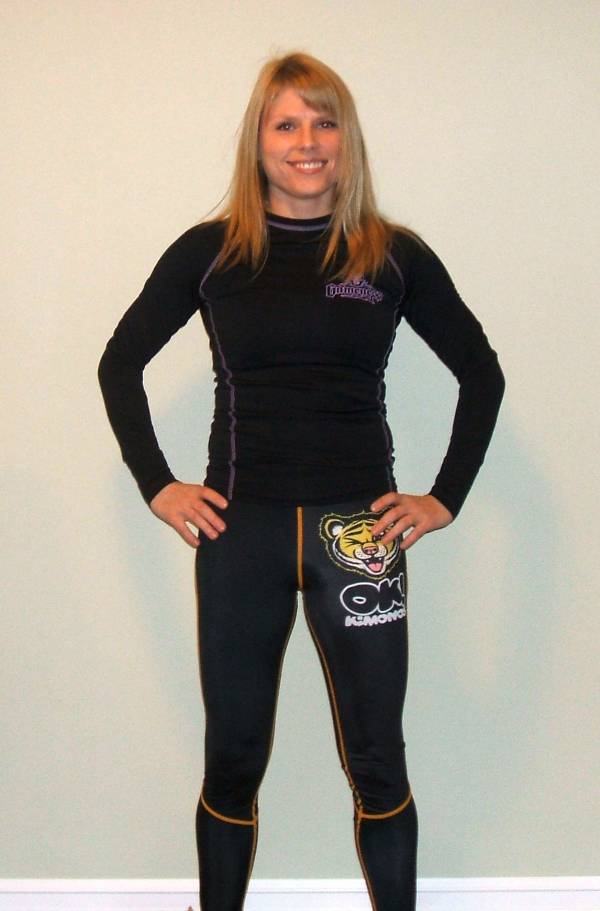 I've seen lots of reviewers posting pictures of the Tora spats, so keep your eye out for what people of all different shapes and sizes have to say about their experience. I always have a hard time finding clothes that fit because of my body proportions. Blogger Julia Johansen also wears the Toras and they fit her perfectly. She does not have the issue with transparency that I had, so I may be too big for the small and too small for the medium.
Customer Service
When I mentioned to Brendan at OK! Kimonos that the spats were too tight at the waist, he sent me a pair of size medium to try as well. The medium was way too big on me, though, so I chose to review the size small and gave the size medium as a prize at a local tournament OK! Kimonos sponsored.
The spats were delivered in a custom OK! Kimonos box and Brendan had written a personal note inside to say he hoped I enjoyed wearing the spats. OK! Kimonos has been a generous sponsor of BJJ tournaments and events and is coming out with a new line of gis very soon, so follow them on Twitter, Facebook and Instagram to keep up to date. In the meantime, check out my interview with owner Brendan Hufford about what inspired him to create the brand.
OK! Kimonos Tora spats are available at OKKimonos.BigCartel.com for $59.00.