We receive free products and receive commissions through our links. See
disclosures page
.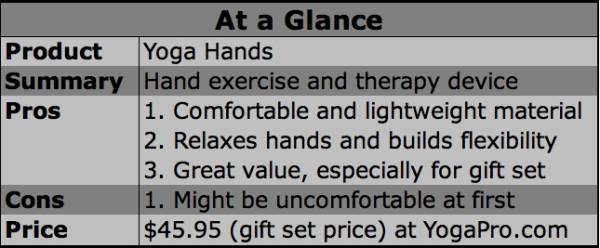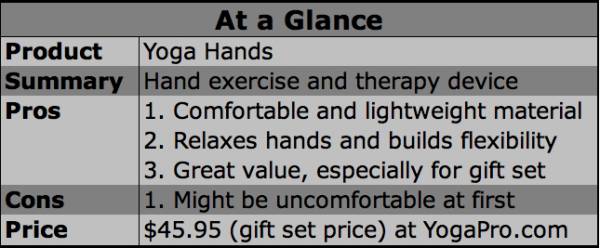 If you're a serious athlete, you probably (or hopefully) do some kind of flexibility work. You may know a variety of stretches for your quads, hip flexors, hamstrings, and other areas that athletes have a tendency to stress. However, you might be ignoring a less obvious, but just as crucial body part: your hands.
You would think it would be a no-brainer to give your hands a little stretch every now and then. Our poor hands get a beating with heavy lifting, pull ups, and other exercises that use and abuse them. Add to that the hours most people spend typing and texting every day, and it makes sense that your hands need some restorative exercise, too.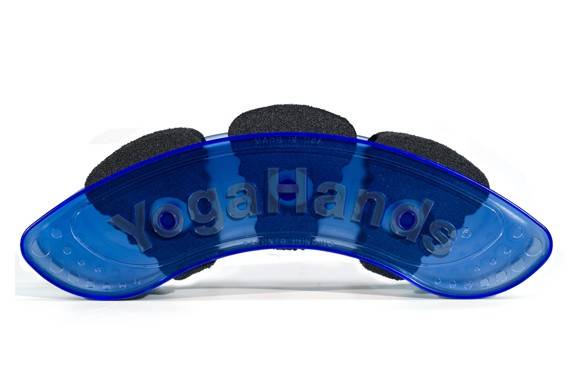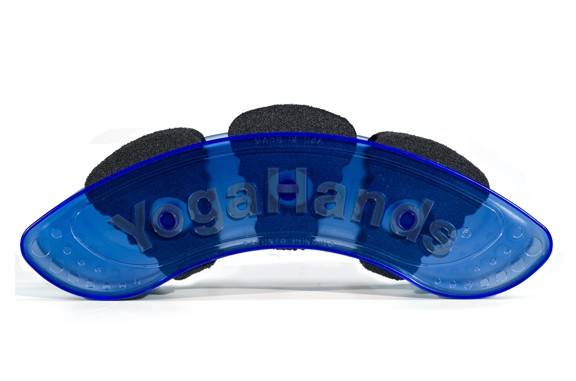 Enter Yoga Hands. We've reviewed Yoga Toes here at Breaking Muscle before, and this new product from Yoga Pro is just as effective and high-quality. Yoga Hands provide a convenient, effective way to stretch your hands and prevent cramping. As a full-time computer worker, I've definitely reaped the benefits of Yoga Hands. Before I started using them, my hands would cramp up frequently throughout the week, particularly after a longer work day or a workout with a lot of grip-heavy exercises. I'm still working on building flexibility in my hands and fingers, but I've noticed a significant improvement both in flexibility and in cramping since I started using them regularly.
The first time you use Yoga Hands it might feel a little weird and even uncomfortable. I think a lot of this is because we're just not used to stretching extremities like our hands and toes. I started by wearing Yoga Hands for about five to ten minutes at the end of the day and worked my way up to longer stretches (no pun intended). The product is made of lightweight material and will fit any size of hands, since you can adjust the width of the finger wedges.
This product is great on its own, but I recommend purchasing the Yoga Hands gift set for maximum benefit. It doesn't cost much more than the Yoga Hands on its own, but you also receive a few bonus items:
Celery Stick: The Celery Stick is a restorative blend of arnica and celery seed oil. Arnica is well-known for its anti-inflammatory properties, and celery seed oil is an antiseptic that also relieves pain and discomfort due to arthritis, rheumatism, sciatica, and neuralgia.
Organic Intense Hand/Foot Salve: This organic moisturizer contains shea butter, coconut oil, coconut butter, sunflower oil, jojoba oil, tamanu oil, and other luxurious oils to moisturize and rejuvenate the hands and feet.
The cost for the Yoga Hands gift set is $45.95, which is only $6.00 more than the Yoga Hands alone, so it's a great value. Yoga Hands also come with a 30-day money back guarantee, although I doubt this service is used very often. All in all, Yoga Hands is a must have for anyone with tired hands, whether the fatigue and cramping are due to office work, athletics, or both.
Want to win a pair of Yoga Hands? Leave a comment below and like the Yoga Hands Facebook page to be entered into a giveaway! We'll select one winner and announce the results on Facebook and Twitter. Entries will be taken until Monday, June 17 at 12pm PST/3pm EST.
The Yoga Hands Gift Set is available for $45.95 at YogaPro.com.