Most of us who admire Ricardo Almeida do so because we've witnessed his accomplishments in Brazilian jiu jitsu and MMA and think he's a cool guy. Now retired, his MMA career included fights in the UFC, Pride FC, and Pancrase. He is a two-time Pan American Champion, two-time Brazilian Championships winner, and has a stack of ADCC medals.
In his new role as an MMA Judge for the New Jersey Athletic Commission, Ricardo is trying to bring more practical knowledge to judging and improve the scoring system for the fighters. Additionally, he is a world renowned coach and assists in the careers of fighters like former UFC lightweight champion Frankie Edgar.
Ricardo Almeida: Life After MMA
Ricardo's children, Renzo, aged eleven, and Flavia, aged nine, think all of that is fine, but they value their dad for his other skills, which include cooking their meals, taking them out for bike rides, and buying them ice cream. When Renzo was around four years old, he displayed difficulty in interacting with others and had an unusually limited vocabulary for his age. Concerned with his development, the Almeidas sought medical advice. Doctors diagnosed Renzo with an autism spectrum disorder (ASD).
When Renzo was diagnosed, the Almeidas did their research and chose to try a gluten- and casein- free diet (although ice cream is still sometimes required). According to Autism Canada:
The most studied theory is that eating gluten leads to high levels of protein by-products, called gluteomorphines, in some children with autism. These by-products may then affect behaviour like a drug would. Specifically, in these children, gluteomorphines could reduce their desire for social interaction, block pain messages, and increase confusion. If gluten is taken out of the diet, the idea is that this will reduce the level of gluteomorphines, and behaviour will improve as a result.
I've recently had the opportunity to talk to Ricardo about his son's condition and was surprised to learn how profoundly the diet affects his son's behavior. Ricardo said he sees a huge difference since they imposed diet restrictions, not only in Renzo but also in other children who have done the same. The improvement is so marked that Ricardo can tell when a child with autism is not following the diet. Agitation, nervous ticks, aggression, and lack of focus are all dead giveaways to the inclusion of gluten in the child's diet.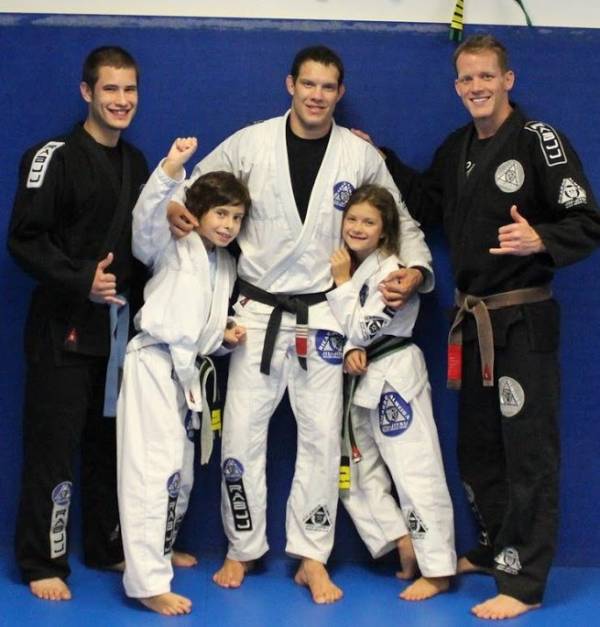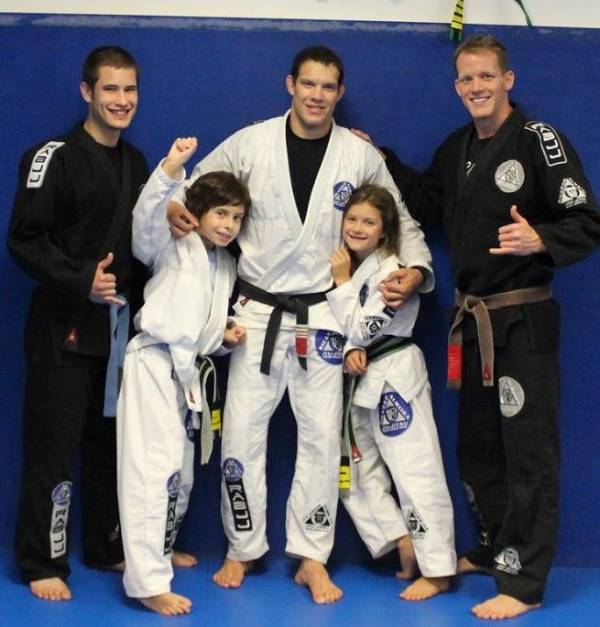 In support of Renzo, once Ricardo dropped weight classes in the UFC, he too went gluten and casein free. Because of the health conscious attitude Ricardo's father instilled in him as a child, the transition wasn't as difficult as it would have been had he been raised on a diet of processed foods like some of his friends. Ricardo believes that disease is diet triggered, and after seeing people he loved pass away from cancer and diabetes, he is grateful for his father's guidance and the example Carlos Gracie Jr. provided with the Gracie Diet.
Renzo and Flavia have also begun training BJJ at Ricardo's academy, Ricardo Almeida Brazilian Jiu Jitsu (RABJJ). Renzo's coordination and athletic ability has improved so much that other parents of ASD children have taken notice. There are now five or six children with autism enrolled in RABJJ children's program, which is the largest in the area with a membership of over 150 students. The children are motivated by belts and competition, but mostly they love training because they've built strong friendships at the school and have a lot of fun.
Fun is always the goal but Ricardo has a very structured children's program, which he developed to help all children learn more efficiently. Children with ASD find comfort in following a routine and knowing what to expect. The class starts with a warm up, and then there is technical training and a cool down.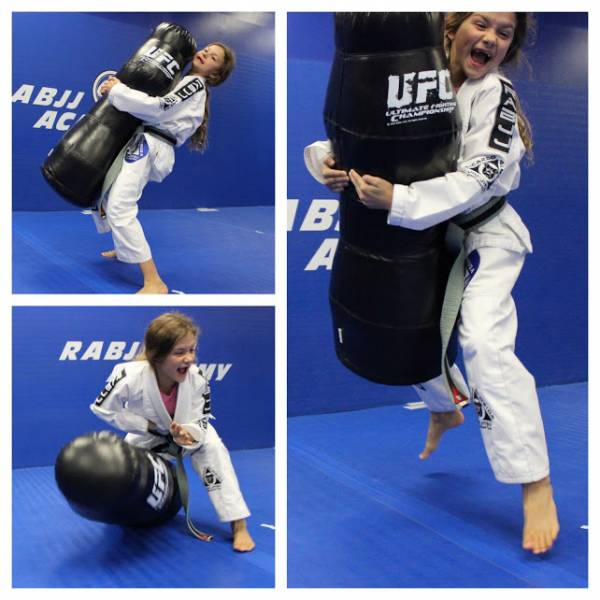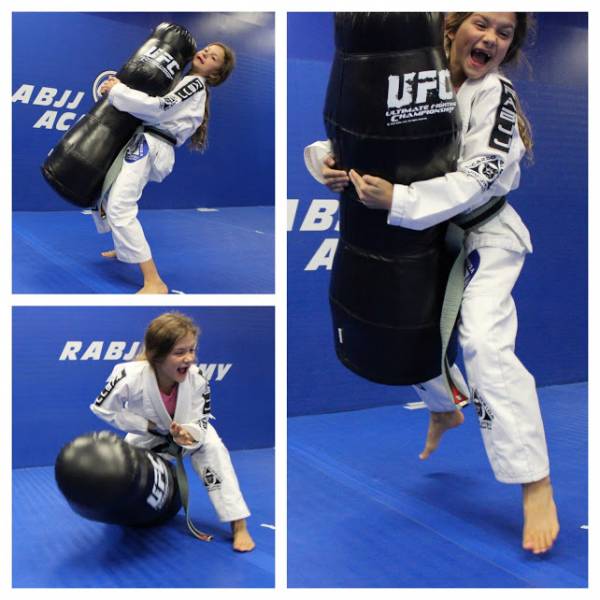 Flavia also enjoys her training at RABJJ. Her athleticism was apparent in previous gymnastics training and Ricardo feels she has the potential to excel at BJJ. She sometimes becomes distracted from what's happening in class, though, because she's peeking over her shoulder to see how Renzo is doing. Children who are raised with friends or family members who have special needs grow up just a little faster in the sense that they realize much earlier they are not the center of the universe. These children seem to develop a deeper empathy for those around them. Although it is Ricardo's hope that Flavia will love jiu jitsu and become a competitor, he does not push her towards that choice. He wants his children to choose their own paths.
When I asked Ricardo which lessons he feels are most important, he said he would like his children to know that anyone can focus when they feel good and are having fun, but it's more important to develop the ability to focus when things aren't going your way and to keep trying. As they have learned more and more techniques, Ricardo's children have developed a certainty in their ability to perform tasks. Renzo is incredibly resilient and when he sees his sister easily perform a task that troubles him, he won't give up until he can do it, too. If Flavia can fly across the monkey bars and Renzo can only make it across one or two, he'll keep trying until he can make it all the way across, even if his hands are battered and bloody.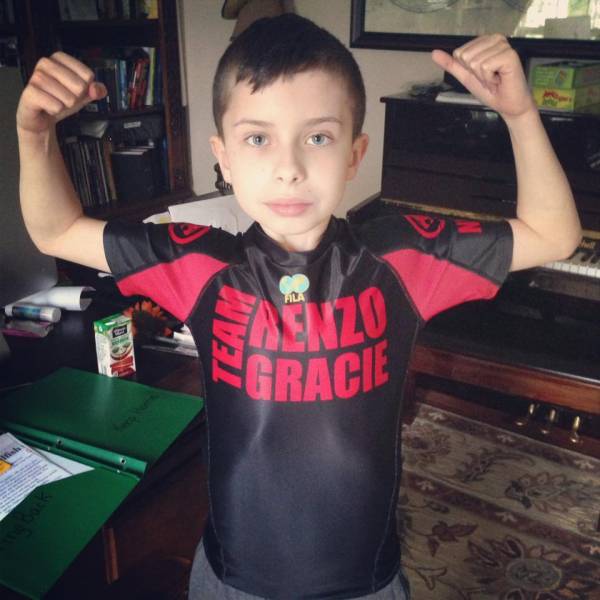 Watching his son's determination and success has caused Ricardo to raise his expectations for his other students, but Ricardo remains an observer as his children make their own way through jiu jitsu. He does what he can to prepare his fighters for competition but he never pushes anyone to do anything they aren't interested in. Some schools expect all of their students to participate in tournaments and there is a lot of pressure to represent their team in competition. Ricardo feels if a student competes for anyone but themselves, it could end up breaking his or her spirit. Competitors who are there for the wrong reason are more likely to quit when the going gets tough and he believes when that neural pathway is formed it can affect all areas of the person's life. Ricardo said, "I've had the privilege to train jiu jitsu gi and no gi world champions, in MMA from amateur belt holders all the way up to UFC. The common trait all these athletes have had is that they decided to become champions first. All I had to do was show them the way and most importantly stay out of their way."
Although Ricardo leaves the teaching of the children's program to his amazing instructors, Renzo and Flavia have something that others would pay big money for, one-on-one instruction with their dad. As Master Renzo Gracie has done for him, Ricardo is not only teaching his children about jiu jitsu, he is teaching them about life.
If you would like more information about the Ricardo Almeida Brazilian Jiu Jitsu Academy or would like to keep up to date on what's happening with the Almeida family, connect with Ricardo on Facebook, Twitter, Google+ and Instagram. Thank you so much to Professor Almeida for sharing his family's story with us. We wish you the best of luck!