Hello beautiful readers! Savannah from Primal Revolutions here. You may have seen my photographs featured in Breaking Muscles infographics, and I'm sure you'll continue to see them popping up here and there. I'm a commercial photographer specializing in Paleo food, CrossFit, and yoga photography. In 2013, I worked with Paleo Magazine on their first three cookbooks, and since then I've been styling and photographing my own food whenever the opportunity strikes. My goal is to inspire others by living a primal lifestyle while documenting and creating art along this journey. Now, in addition to my photo work, I'm ecstatic to be on board with Breaking Muscle as a regular recipe contributor.
So, without further ado, I give you…
Roasted Squash Soup
Snow flurries swirl and dapple the distant sunlight. The giant star, Sun, he glows from above layers of clouds and snowflakes. His light has dimmed to offer no warmth, only to reveal a light orb in an endlessly white snowscape. Sun mocks you. He laughs, as if to say, "Yes, I'm here, just far enough out of reach." A reminder of the warmth trapped behind the curtains of cloud.
Those are the days when I want to bundle up in a pile of blankets with a good book, cup o' tea, a furry friend, and – you guessed it – a creamy bowl of piping hot soup. Squash has a strong place in autumn cuisine, and what could be a more suitable vegetable to add a dash of color to a white landscape? After spending a day tramping through fluffy snowdrifts, each flake melting against your rosy cheeks, almost nothing equates to finding a bowl of soup in your hands as you venture indoors.
Enjoy this delicious winter soup – there will be plenty of leftovers to go around! And even though these squash are often associated with the cooler months, particularly transitional autumn, you can bookmark this recipe to make in the summer, just leaving it to cool for later.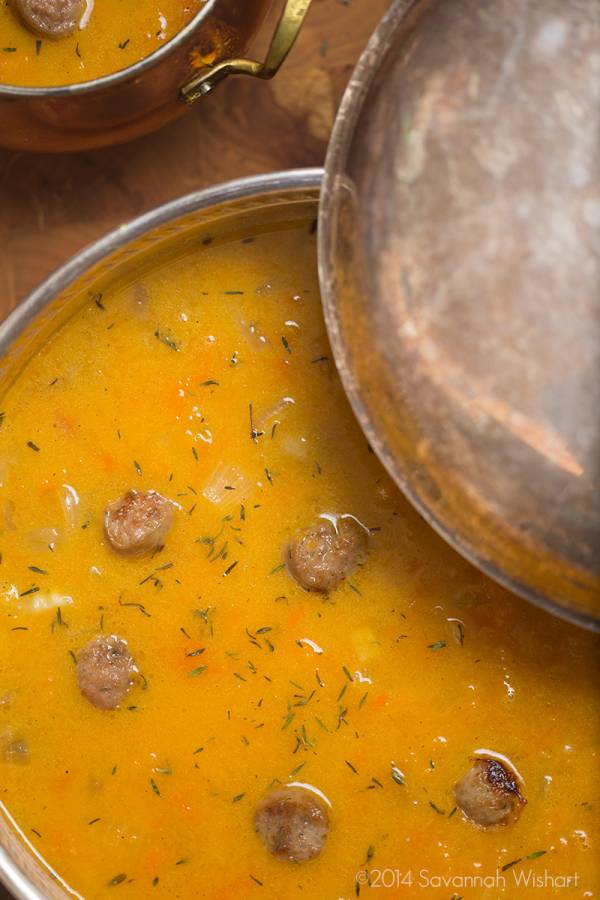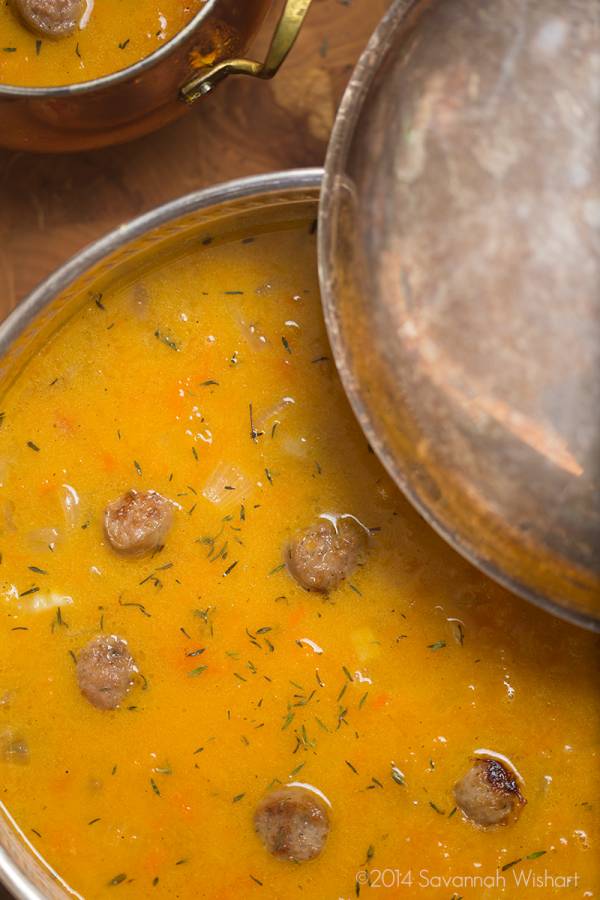 Ingredients:
3 medium butternut squash
2 tablespoons butter or coconut oil
2 small onions or 1 large
2 medium carrots
2 tablespoons whole-leaf dried thyme
8 cups water or chicken stock
4 sausages
Pepper and salt to taste
½ can coconut milk
Directions:
Preheat oven to 425F.
Cut the squash in half and place cut-side up on a baking sheet.
Salt and pepper generously. Rub the squash meat with butter or coconut oil.
Cook for 50-60 minutes or until soft.
While the squash is baking, dice the carrots and onion(s). Fry in the butter until they turn translucent. At this point, you can set the pan aside and wait for the squash to finish. Then add the squash to the onions and continue to cook with the spices.
Or you can continue to let the squash cook, and add water or stock to the vegetables and season.
On the side, fry the sausages in butter until cooked thoroughly.
When the squash is ready, let it cool. When the halves are cool enough to handle, use a spoon to scoop the meat out and into the pot.
Cut the sausage into bite-size pieces and add to the soup.
Cook until the flavors blend together, about 15-20 minutes.
About 5 minutes before the soup finishes cooking, add the coconut milk.
Voila! You can leave the soup as is, use a potato masher to partially blend the soup, or add the soup to a blender for a smoother texture.
Photos courtesy of Savannah Wishart.