Whether you're the foodie or you know someone who is, edible gifts and kitchen gadgets make great small gifts or stocking stuffers. I'm not usually a "gadget girl" when it comes to the kitchen as there are many tricked up gadgets out there that end up adding to the cooking chaos rather than making it easier. There are, however, a few items that have become indispensable for me and I know anyone who cooks a lot would appreciate them. All of these items, I personally have and use in my kitchen and would love receiving. These items make cooking or cleanup faster and easier so I've listed these rock-stars as gift ideas for your foodie friends and family.
Kitchen Gift Ideas
A good quality chef's knife (I prefer carbon steel).
Silicone baking mats (like Silpat) – use these on your baking sheet and these make clean up after roasting veggies a breeze.
Swedish dish cloths – these little wonders are like a sponge cloth mashup. They are biodegradable, reusable, machine-washable and can absorb 15 times their weight in water.
Mandolin – makes slicing veggies fast and easy.
Hand Held Spiralizer – used to make "noodles" out of vegetables.
Microplane – perfect for zesting citrus, grating fresh nutmeg or grating firm cheeses like parmesan.
Measuring spoons/cups – when you cook a lot, you need multiple sets of these as they are always being washed.
Kitchen towels – Lots of cooking leads to much hand washing and towel use. It's great to have a ready supply of fresh clean towels.
Wooden kitchen utensils – these don't scratch your cookware and look cute, too.
Fun serving spoons – Because sometimes, we foodies just want to show off our amazing creation by serving it with a cute spoon.
Immersion (stick) blender – this is one of my most used items. I use to puree sauces, soups, smooth out gravy, and make homemade mayonnaise and dressings.
Gift Card Ideas
Olive Oil Bar – a place to pick your own fancy infusions for cooking or dipping.
Grocery Coops – or other grocer that focuses on whole foods assortments.
Kitchen Stores – Williams Sonoma, Crate and Barrel, Sur La Table
Cooking Classes
A subscription to a CSA for next summer
Edible Gift Ideas
Small edible gifts are also perfect for stuffing stockings or giving as gifts for your personal trainer, cross fit companions, teachers, hair stylists, your mail carrier, or for anyone else you want to wish a happy healthy holiday season. Edible gifts are a gift of whimsy and are often something that the recipient wouldn't splurge on or make for themselves. Commercial edible gifts are often laden with extra sugar, preservatives and are over-processed. Instead, give something that you will feel great giving and your recipient will love to eat knowing you've chosen something healthier that will leave them feeling great, too.
Festive edibles can be fancy, like an infused olive oil or unique salts to cook with, or they can be thrifty delights like a homemade salsa or jam which also won't break your holiday budget. Thoughtful gifts like these make it fun to spend time cooking in the kitchen, and homemade healthy treats make everyone's holiday season just a little brighter.
Small Edible Gifts
Those with an asterisk indicate a recipe included below:
Infused olive oils – these are uniquely delicious for dipping, drizzling and cooking.
Dried jerky in fun flavors – look for all natural, no preservatives, no MSG containing brands like Country Archer, Nick's Jerky, Field Trip, The New Primal, Think Jerky, or Biltong.
Wild Honey or Real Maple Syrup – these are essential clean eating sweeteners for many sauces and baking.
Salsas – look for all natural, no preservatives brands or make it homemade.
Unique Bottled Sauces – barbeque, hot sauces, harissa sauce, fancy mustards. Look for all natural, no preservative containing brands.
Dried Spices – essential for adding flavor to cooked dishes.
Salts (Himalayan pink, French grey, black Hawaiian sea salt, smoked salts, truffle salt, etc.) – these add and enhance amazing flavor to any dish and are especially great sprinkled on steamed or sautéed vegetables.
Farm Fresh Eggs – look for a local farmer or someone who has a backyard flock to supply you with eggs from pasture-raised or free range hens.
Chocolate drizzled nuts or dried fruits*
Granola*
Pickled Hot Peppers*
Taco Seasoning Mix*
Buttermilk Ranch Seasoning Mix*
Fruit preserves* – look for low-sugar or sweetened with honey. Delicious with rice crackers or nut flour crackers.
Teas and Coffee Assortment
Chocolate Truffles – decadent melt in your mouth truffles are a real treat.
Dried kefir grains (available as milk kefir or water kefir grains) – your recipient will then be able to make easy homemade super-healthy probiotic kefir.
Chocolate Drizzled Nuts or Dried Fruits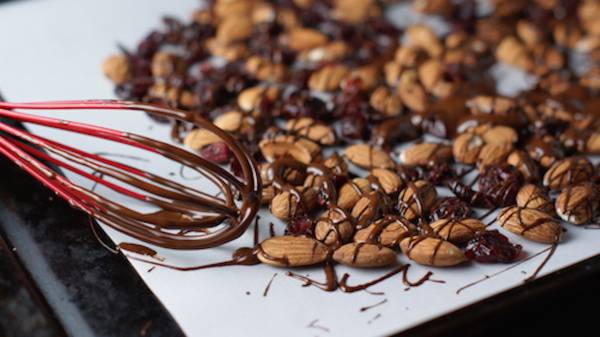 Makes: 2 cups
Ingredients:
2 cups nuts and dried fruits of any kind (I used whole almonds and cherries)
¼ cup bittersweet or semi-sweet chocolate – Enjoy Life, or Ghiradelli makes reasonably clean chocolate chips for melting
Instructions:
Melt chocolate in microwave for one minute on half power. Stir and if not fully melted, heat another 30 seconds on half power. Do not let it burn. Alternately, melt in a double boiler but be sure no water gets onto chocolate or it will seize solid.
Lay nuts and dried fruits on a baking sheet lined with parchment.
Drizzle chocolate over nuts/fruits with a whisk.
Let dry until chocolate is set.
Place in a cute gift bag.
Maple Granola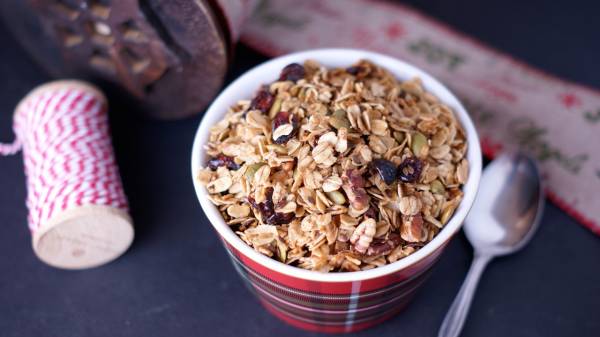 Makes: about 3 ¼ cups
Ingredients:
2 cups rolled oats
¼ cup flax seed
¼ cup pecans (or any other nuts)
¼ cup dried cranberries, cherries or blueberries
¼ cup pepitas (pumpkin seeds
¼ cup unsweetened dried coconut flakes
¼ cup maple syrup
3 tablespoons coconut oil
1 tablespoon coconut sugar
1 teaspoon vanilla
¼ teaspoon salt
Instructions:
Preheat oven to 325 degrees.
Combine all ingredients together in a large bowl and stir so all are evenly coated with the syrup.
Arrange on a large baking sheet lined with parchment or a silicone baking mat.
Bake 25-30 minutes without stirring until golden brown.
Let cool completely before stirring.
Place in a bag/container for gifting.
Pickled Jalapeños
(or any other hot pepper)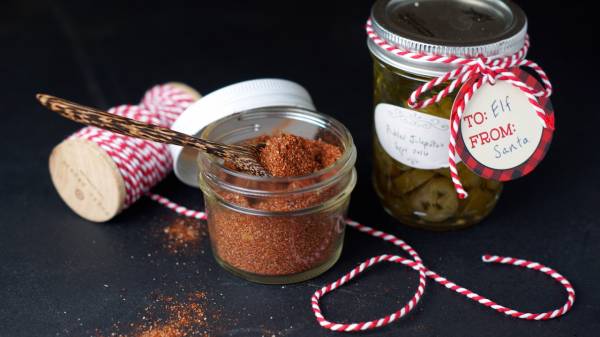 Ingredients:
1 cup white vinegar
1 cup water
1 ½ tablespoons salt
10-15 jalapenos, sliced
Garlic cloves
Instructions:
Make a brine of the vinegar, water and salt and bring to a boil.
Pack jalepenos into canning jars with ½-1 clove garlic.
Fill jars with hot brining liquid to ½ inch from the top of the canning jar.
Top with a new lid and screw metal ring finger tight and keep in fridge to use within a month or proceed to seal jar for canning by immersing in hot water bath and simmer for 20 minutes.
Remove jar and let cool. Lid should pop down once sealed.
Note: you can easily make many more at one time by doubling/tripling, etc.
Taco Seasoning Mix
Makes: about 4-6 batches of tacos (two gifts of 2-3 batches each)
Ingredients:
4 tablespoons chili powder
3 tablespoons cumin
2 teaspoons salt
2 teaspoons garlic powder
2 teaspoons onion powder
2 teaspoons paprika
1 teaspoon black pepper
1 teaspoon red pepper flakes
1 teaspoon oregano
1 teaspoon coriander
Instructions:
Mix all ingredients in a bowl.
Place in air-tight containers for gifting. Be sure to give recipient instructions on how to mix the tacos.
To make tacos: Combine 2-3 tablespoons of dry mix and 2 tablespoons of water with one pound of ground beef, pork, or chicken in a frying pan. Cook until meat is cooked through.
Buttermilk Ranch Seasoning Mix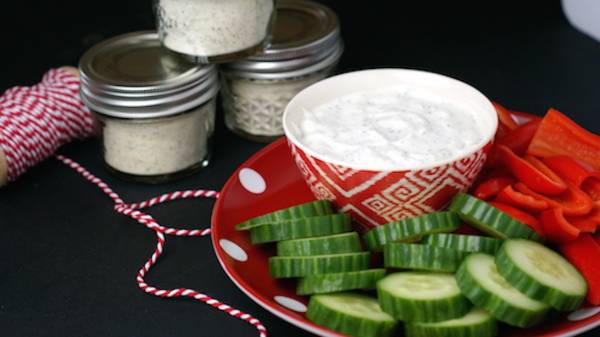 Makes: about three gifts of 2 batches of dip each
Ingredients:
1 cup buttermilk powder
2 tablespoon dried parsley
4 teaspoons dried dill weed
4 teaspoons dried chives
2 teaspoon garlic powder
2 teaspoon onion powder
2 teaspoon salt
1 teaspoon ground black pepper
Instructions:
Mix all ingredients in a bowl.
Place in air-tight containers for gifting. Be sure to give recipient instructions on how to mix the dip.
To make dip: add 2-3 tablespoons dry mix to 16 ounces sour cream, or plain unsweetened greek yogurt or mashed avocados (avocados can be thinned with milk, or coconut milk to desired consistency).
Strawberry Ghost Pepper Jam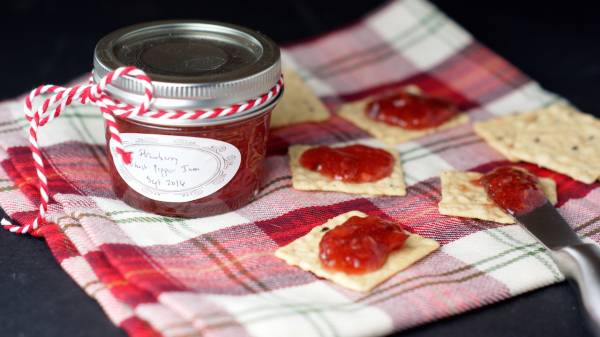 Makes: about 4 cups of jam
(Can be altered to be non-spicy)
Ingredients:
3 cups strawberries, pureed (about 6 cups of berries before pureeing)
1 ghost pepper (or use jalapeños for less spicy jam, or omit completely for no spice)
1 package Sure Jell fruit pectin (4 tablespoons) for less sugar/no sugar recipes
1 cup honey (or use 1 cup organic cane sugar for a firmer set)
Instructions:
Puree strawberries and pepper together in a blender.
Place puree and pectin in a saucepan and bring to a hard boil.
Add honey and boil for 1 minute.
Remove from heat.
Skim off foam if any forms and carefully pour hot jam into hot sterilized jelly jars leaving only ¼-½" space from the top of the jar. Use a canning funnel for easier filling.
With a clean damp cloth, wipe the rim of the jelly jars to remove any spilled jam.
Place canning lids on jar and twist on the ring so it is airtight.
You can simply keep these in the fridge for about a week or two or if you wish to process for preserving and seal the jam, proceed to the next step.
To preserve/can: Place entire jar of jam into simmering hot water (enough to cover jars by 1-2") and boil for 15 minutes.
Remove jars of jam from water and let sit out to cool.
After 24 hours, check lids for proper seal by pressing on the top center. If it dents in, it has not sealed and will need to be re-boiled.
Gift ideas for the runner on your list: