The classic track and field long jump is pretty straightforward, right? Sprint as fast as you can down a manicured track. Launch yourself from the ground. Sail through the air. Land in a soft pit of sand. It is a great technique for clearing massive distance, but in terms of real world performance, it's not the most functional movement to train.
A soft landing is a luxury that is simply not encountered all of the time. When you practice jumping for distance in the real world, hard earth, concrete, and unforgiving metal are the surfaces that you're most likely to encounter. Slam your butt on anything beside a sandpit, and if you haven't broken anything, it will at least take a minute or two before you can walk again.
So, when you are trying to jump across a gap of any significant distance and still be able to walk away afterward, a different type of broad jump is necessary. In the parkour community, broad jumps in which you land upright with minimal impact are known as "precision jumps." The precise landing is the unique characteristic of this movement. You can do a running leap or a standing broad jump, but it is your ability to land with accuracy and poise on a specific target that you want to foster.
As with any movement-skill acquisition, it's critical that you scale your training in a safe manner. In this case, before jumping to targets of any height, you are going to start learning how to land with grace and accuracy on the ground.
Here is the drill:
Identify a line on the ground as your target. The painted lines of a basketball court or a parking lot are perfect.
Stand approximately thirty inches away from the target.
Jump forward and try to land with the balls of your feet directly on the line. Don't let your heels slap the ground.
Strive to be as quiet as possible and land with as much grace as you can.
As you get comfortable landing softly on the balls of your feet, start to increase the distance you cover by moving the starting line farther and farther backward.
In terms of adding finesse to your precision jumps, try to incorporate these pointers:
Reach through your toes, pointing toward the target during the jump.
Instead of landing with your legs spread apart, see if you can land with your feet nearly touching. This technique is good practice if your landing surface area is very small.
Work on dispersing the landing force through your legs, by exaggerating how much you flex through your knees and hips. Aside from extending the duration of the impact, getting low on a landing can yield better control – should you fall.
Here is a beginner sequence, jumping precisely on a line: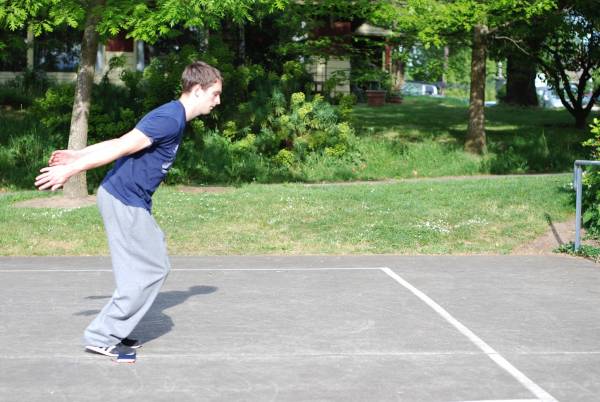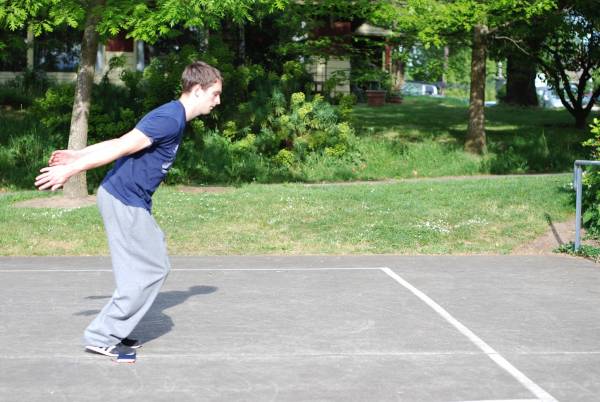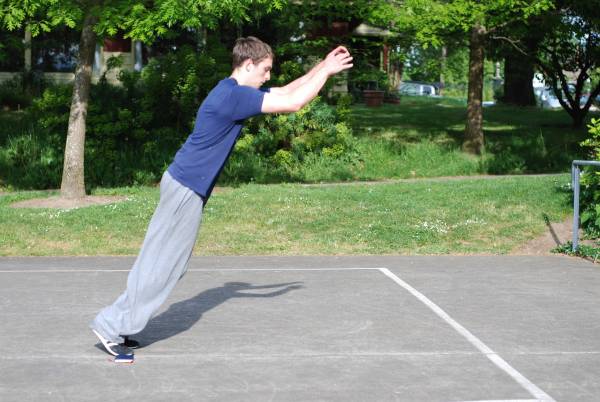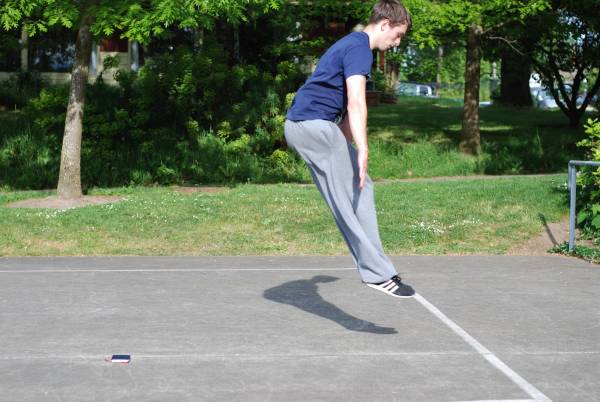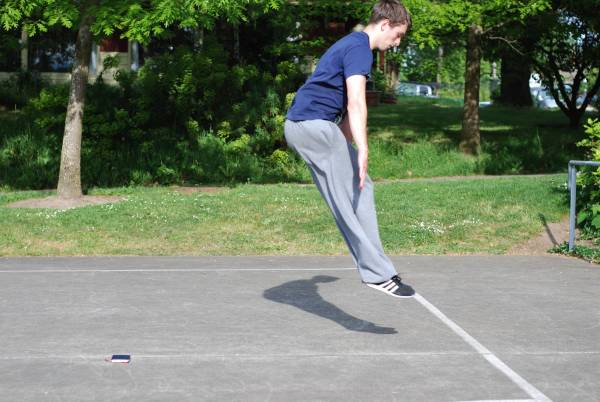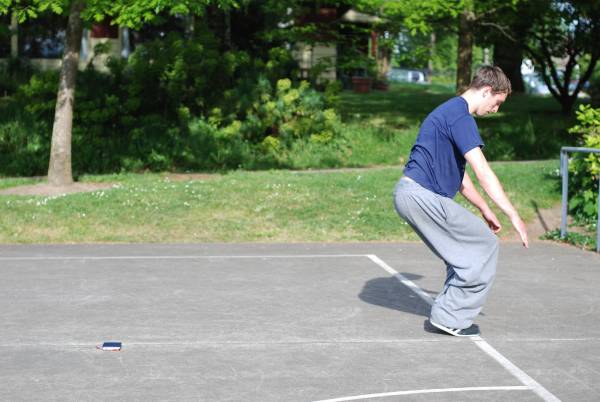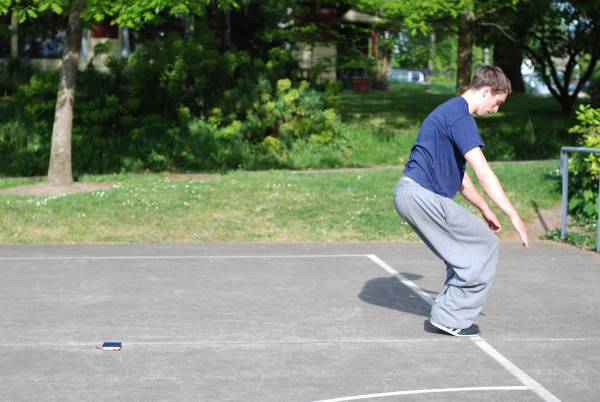 Once you feel proficient with precision landings on the ground, you can start to apply the same principles to a variety of landing surfaces. Try landing on the balls of your feet on a curb, the edge of a stair, or even a low pipe. Precision jumps to railings are for more advanced athletes, but can be practiced low on the ground, with a piece of equipment called precision trainers. Large rocks and downed tree branches can also be great targets to practice your precision jumps.
Aside from mixing up the variety of targets you land on, you can vary how you take off toward the target:
1. A simple standing broad jump is the most basic technique. Swing your arms backward before bringing them in front of your body, and fight the urge to get low before exploding forward. Preload your muscles with a slight squat, but don't waste your force production with deep knee and hip flexion.
2. Taking off from one foot is an interesting variation and prepares you for doing a precision jump from a running leap. Identify a spot on the ground and then use it as your launch mark for a running leap.
3. One last variation to work on is to do a precision landing from a hanging position. Position yourself above a target on the ground, by hanging from a pull-up bar or jungle gym structure. Release the bar and drop to the target, landing on the balls of your feet as softly and as possible. Once that gets easy, position the target away from the bar, so that you actually have to swing and release to hit the target.
Here is an advanced sequence: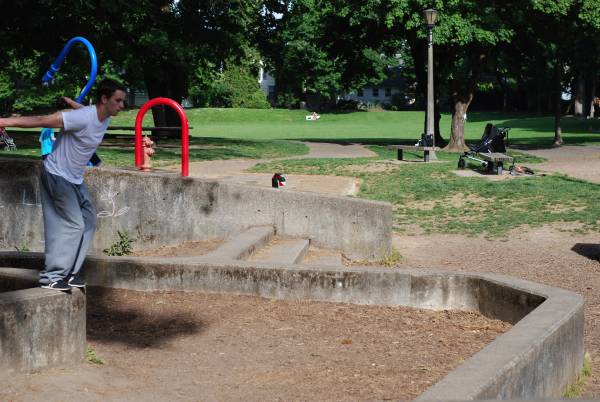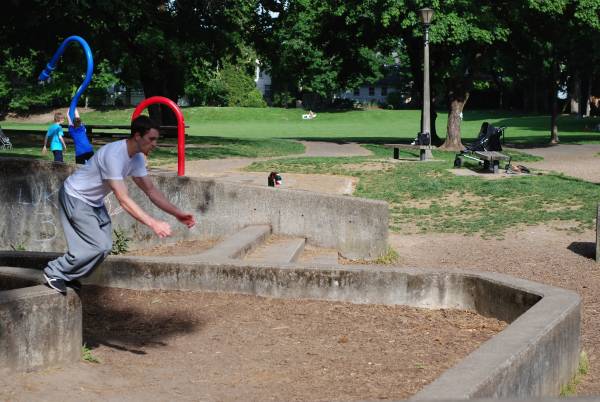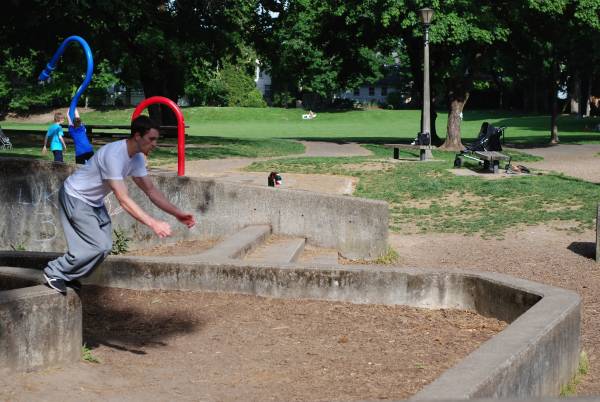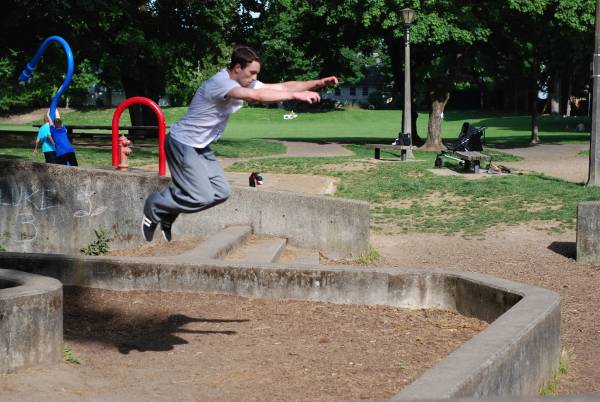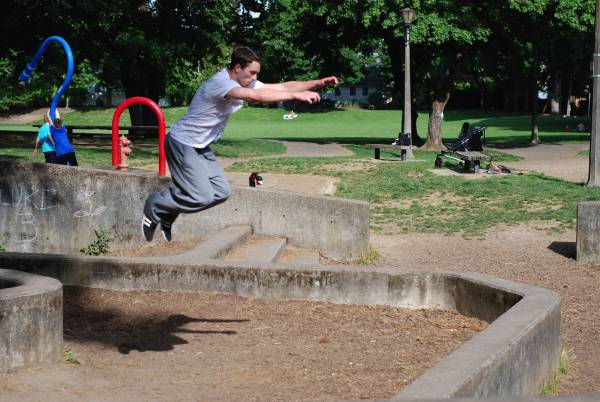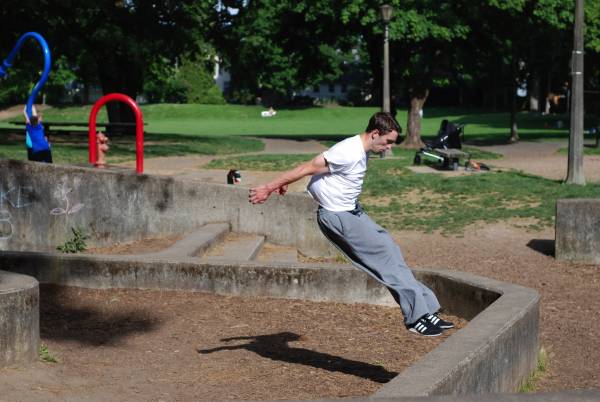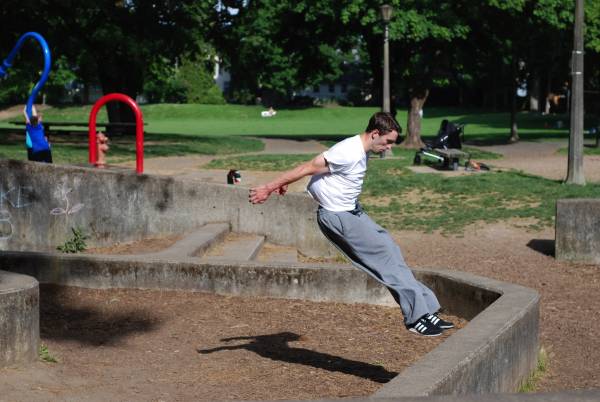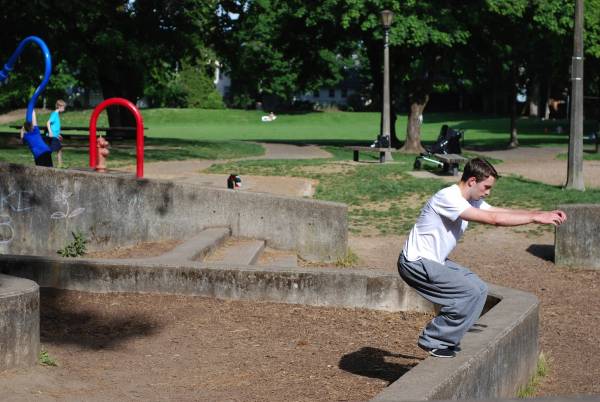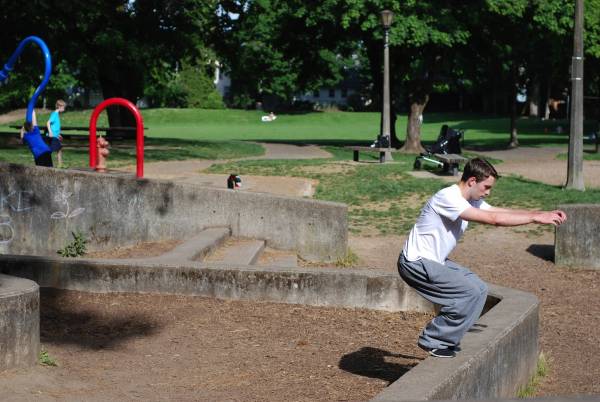 Precision jumps are a fundamental parkour skill. If you aren't already working on them, it's time to get started. Start low to the ground, vary your takeoffs and landings, and then spread your wings and fly!