We receive free products and receive commissions through our links. See
disclosures page
.
MyFitnessPal has become a household name for fitness enthusiasts and trainers looking to keep their clients in line and honest in food tracking. However, I've found lately that many people aren't aware of the more advanced features of this software, and wanted to highlight a few of what I think are the less appreciated, but more advanced features of MyFitnessPal.


iPhone and Android Apps
MyFitnessPal is one of the few companies that has embraced the fact that there are a few different kinds of smartphones out there. While they don't have an app for the BlackBerry, you can't blame them, as the market is fairly small. Both of the MyFitnessPal apps are free, just as registration on the main site is, and can be used for logging and creating both food and activities, as well as writing journal entries. The apps also have a barcode scanner option that I personally think is awesome. Additionally, if you go to the Apps tab on the MyFitnessPal site, there are many other applications that integrate with MyFitnessPal – including running, cycling, and integration with fitness devices like the FitBit and Jawbone Up, as well as a variety of wireless scales.
Sharing Permissions
When logged into the main MyFitnessPal site you can set specific access for people to view your food logs, exercise logs, and more. While the normal activity-viewing permissions are fairly straightforward, if you want to share your Food and Activity Diary privately via several different methods, you can go to "Settings" on the My Home tab, then click on "Diary Settings," which is pictured below. Here you will find not only the Diary Sharing settings on the bottom of the page, but a myriad of options on Nutrients Tracked and Meal Names. By sure to click "Save Changes" to update your settings when you are done.


Customizable Macros


By going to "Goals" on the My Home tab, then clicking "Change Goals," you can then select the custom goals option to manually set your fitness goals, as shown at the right.
Once you're in the custom goals screen, you can enter customized Daily Nutritional Goals and Fitness Goals, as pictured below.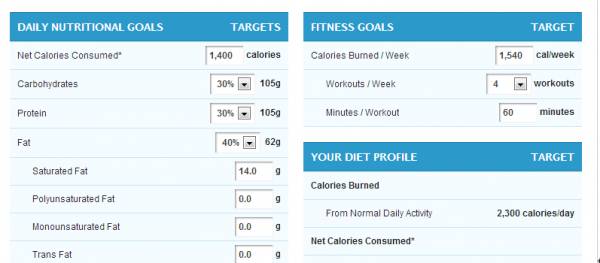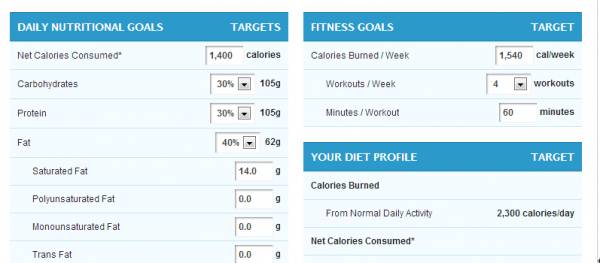 This is a great feature for those of us using any diets outside the norm that would like a little more ease in tracking the correct macronutrients. Make sure to click "Change Goals" at the bottom of the screen to save your updated Nutritional and Fitness goals.
Summary
While some of us may have known about these features, I've found that for many of my clients who have been using this tool for years, and even some of my colleagues, the items mentioned above were a big surprise that made their fitness pursuits and training much easier. I hope this article, less of a review and more of a tutorial, is of use for you and your clients as well.
MyFitnessPal is available free of charge at MyFitnessPal.com.