We receive free products and receive commissions through our links. See
disclosures page
.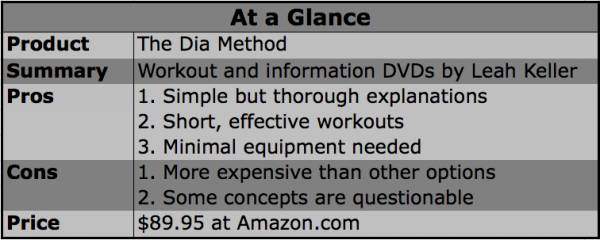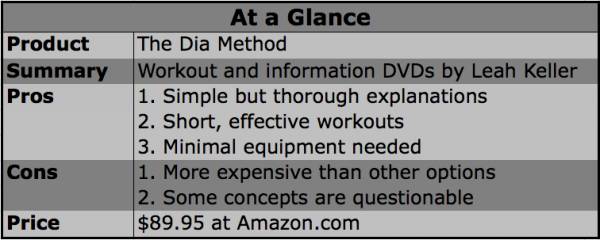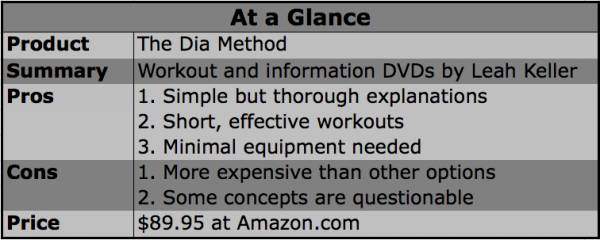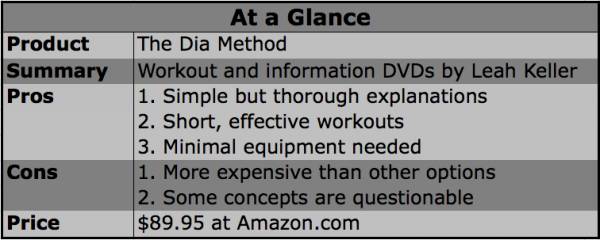 Women who are in the postpartum stages often feel confused and frustrated about exercise. Not only are they recovering from giving birth, but they might also be healing from diastasis recti or other pregnancy-related complications. If you or someone you know is looking for a safe, effective workout program to use in the postpartum recovery period, I recommend checking out The Dia Method.
The Dia Method was founded by personal trainer Leah Keller. Leah created the system to provide a thorough at-home workout program for moms of all fitness levels. Leah has designed programs for moms to use during pregnancy and after delivery. Since I had a baby a year ago, I reviewed the postpartum DVD system.
This isn't your typical workout DVD – it's a complete set that comes with nine DVDs and a resistance band. You also receive streaming access to videos online for nine months after purchase, and you can be a part of an online community. On the Dia Method website, you'll see three package options:
Deluxe: The price for this package is $89.95.
Digital: This option does not include the DVDs, and is available for $59.95
Diamond: This package includes live webinars with Leah, for $129.95.
Summary
Here's a summary of what you'll find in each DVD:
Disc One: Firm Foundation – Leah explains diastasis recti and demonstrates how to check for it. She provides a thorough explanation of how the condition happens and discusses its long-term effects. Leah also introduces the core compressions in this DVD, which are the foundation of her program.
Disc Two: 10 Minutes Flat Workout – The foundational ten-minute workout that is a bare minimum daily requirement for completing the program. This workout is also what the set is named after. By taking a minimum of ten minutes a day to complete this workout, Leah claims you can minimize postpartum pooch and help heal from diastasis recti.
Disc Three: Mama's First Steps Workout – A gentle, total-body routine including wall push ups, wall squats, lunges, rows, and resistance band exercises.
Disc Four: Sexy Mama Workout – Emphasizes the thighs and butt, with lots of lunges, single leg work, plies, and lying hip/thigh exercises.
Disc Five: Toned Arms and Tiny Waist – Works the upper body with reverse flys, seated twists, overhead presses with the resistance band, rows, and a very small modified crunch called the waist cincher.
Disc Six: Firm, Flat, and Fabulous – A safe core workout that includes incline planks, side planks, exercises in the table top position, pelvic floor exercises, and modified crunches done with only a head nod and core compression. Leah also includes single leg lifts in this workout. I thought this was a good collection of core strength and stabilization exercises and was happy to not see any full crunches or double leg lifts, since these can aggravate diastasis recti.
Disc Seven: Brava, Bella! – A total-body workout that uses dumbells, bodyweight exercises, and the resistance band. You'll be doing a lot of combination exercises like lunges with a tricep extension, balance rows, and squats with an overhead press. There's also a short, one-minute segment that discusses how to keep your diastasis closed once it has healed.
Disc Eight: Everyday Moves: Healing Power – Leah discusses some everyday movements that can make diastasis recti worse when done incorrectly: pushing a stroller, picking the baby up and putting the baby down, picking up toys, getting in and out of bed, and sneezing, coughing, or blowing your nose. Leah shows you how to "make each move a healing one" by using core compressions during these movements. I was glad to see this section included, since I think these doing movements correctly makes a huge difference in a speedy recovery.
Disc Nine: Heal Faster & Flatter – How and why to use supportive apparel, such as a corset. I also appreciated Leah's discussion of deep abdominal massage for post-cesarean recovery, which was a huge help to my own recovery after two cesareans.
Benefits
Leah provides helpful cues throughout the entire series and is enthusiastic without being annoying. I thought her explanations of diastasis recti were clear and easy to understand, and provided a good base of knowledge on the topic.
All of the exercises she does are safe and effective for women in the postpartum period, and the workouts are also challenging without overdoing it. Since the workouts are only 25 minutes long, they're perfect for busy moms who want to get a daily workout in but are busy doing all the things new moms have to do.
Drawbacks
Some of the concepts Leah bases her program on have been called into question. For example, core compressions are the foundation of the entire program, and Leah also recommends combining kegels with core compressions to strengthen the abdominal muscles and repair diastasis recti. Some fitness experts have challenged the use of these techniques, so viewers who are well-versed in postnatal fitness and rehab might be critical of their use.
In my own experience, both of these techniques have been helpful in resolving diastasis and recovering after delivery, and I recommend them to women frequently. A recent study on subjects who used the Dia Method after delivery found complete resolution of diastasis recti in less than twelve weeks. So although these exercises are not the end-all-and-be-all of postpartum recovery, they can be helpful when used in the correct way.
I also thought the information could have been organized in a more efficient way. For example, the information on discs one, eight, and nine could have easily fit onto one DVD. However, I liked having a separate DVD for each workout.
All in all, the information Leah provides in this system is an excellent starting point for anyone who wants to recover after pregnancy, and especially for women who are trying to heal a diastasis. Whether you are in the postpartum period yourself or have clients who are looking for a safe way to exercise at home, the Dia Method is one of the most comprehensive resources I've found so far.
The Dia Method: 10 Minutes Flat Post-pregnancy System is available for $89.95 at Amazon.com.