Last week I visited the Triathlon Show held at Sandown Park in the United Kingdom. Attending this show has become something of an annual pilgrimage for me. Every March as the weather begins to change, I seek out some inspiration and see what is new. As a cyclist, I am primarily interested in the cycling aspects of the show, although I do run and swim (but not all three together).
The show was on multiple floors and included vendor booths as well as speaker and panel sessions. The booths exhibited various supplement brands, wetsuits, sports clothing, swimwear, cycles, cycle accessories, and footwear. A huge area was taken up near the entrance by an endless pool fitted out with surface and underwater cameras. This was used for some fascinating elite swimmer demonstrations together with a concurrent coaching and explanation of techniques and tips to develop an effective swimming style. This was worth the entry fee just by itself.
My normal plan of attack at these events is to prepare a shortlist of topics to explore before hitting the show floor. So, after entry I headed straight for the coffee lounge with my show guide and planned my itinerary.
Bike Fit
Andy Sexton from Bike Science gave an instructive talk and live demonstration of a bike fit for road and time trial/triathlon cycles. He made clear that a good bike fit differs from a bike sizing. A bike sizing takes major body dimensions to determine the approximate frame size that should suit the rider. A bike fit is more comprehensive and should use a bike fitting jig and the riders own cycle. The bike fit, as its name suggests, adjusts the cycle to the rider for optimum comfort and performance. Detailed measurements are taken of the leg and foot angles to adjust the seat position, as well as back and arm angle measurements to set the bar positions. Two volunteers of approximately the same height were setup on the bike rig and there was a significant difference between the final fits as a consequence of slightly different leg, body, and arm ratios. One size definitely does not fit all.
My takeaway: As we are approaching the start of the season here in the Northern Hemisphere it would be a good idea to book in for good bike fit in the next few weeks.
Natural Energy Gels
I counted three booths promoting natural energy and supplement products this year. This seemed to have a higher profile than previous years. A typical energy gel contains, water, maltodextrin, fruit juice concentrates or flavoring, fructose, sodium citrate, phosphoric acid, sodium chloride, and preservatives such as sodium benzoate and potassium sorbate.
The main benefit claimed by the natural products on display at the show was the absence of sodium benzoate. Sodium benzoate is a preservative that is used to inhibit bacterial and fungal growth in foods. It is commonly found in soda drinks and its use is controlled to small concentrations. Some people choose to avoid it since it can form benzene in the presence of citric acid.
My takeaway: I have in the past made my own energy bars with oats, dried fruits, and honey, which avoids many of the issues with processed additives.
Rotor
Rotor, the manufacturer of Q-rings, was present at the show this year. Having recently performed a test of the Q-rings, I was keen to discuss with them what results they were seeing. Rotor told me they received many favorable comments from users, and they also noted some cyclists reported a reduction in power output if they changed back to normal round chain rings.
A quick update from my review of the Q-rings: I have a standard interval set of four-minute work periods that I run on my Computrainer that is calibrated so it can accurately produce desired loads. It is now four weeks since the Rotor Q-rings were fitted. There is one interval set that was very difficult to complete four weeks ago. After changing the rings to Q-rings the same interval set could be completed with less perceived effort, and now, four weeks later, I have increased the load so that my average power over the set is seventeen watts higher than before. So I am still very pleased with these.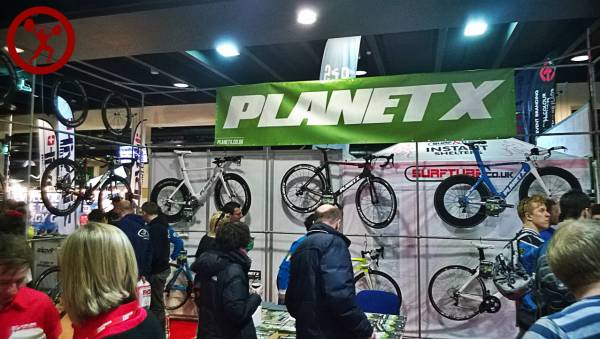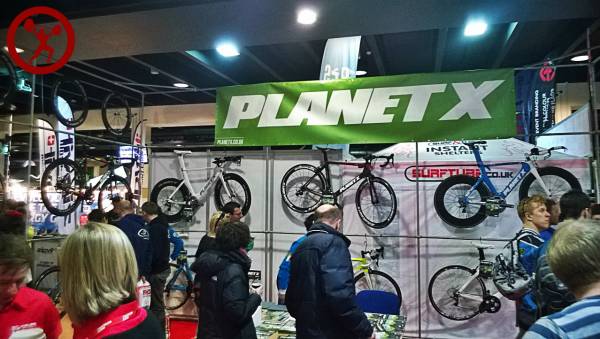 Training Camps
This appears to be a booming industry here in the United Kingdom with many vendors offering early spring camps in warmer and drier parts of Europe. To get the best out of a spring training camp, it's a good idea to think about what you would like to get out of it and ensure the goals of the camp align with your personal training goals. It may be that you just wish to take an informal break for social interaction and pleasure. Another reason might be that you wish to train hard with some significant hill climbs or practice some descents. Alternatively, you may wish to prepare for a long sportive event later in the year. Having recently returned from five days cycling in southern Spain, I can thoroughly recommend taking a cycling trip. Ours was a self-guided tour, since we were just there to soak up some sun and cycle around some attractive scenery.
My takeaway: The above are all valid reasons to train or go to a training camp, but I would encourage you to do your homework to make sure the camp you choose aligns with what you wish to do.
Bike Boxes
I have been looking at these for a number of years, as I always prefer riding my own bike, rather than renting one. With the growth of cycling as a recreational sport in the UK, accommodation of cycles in boxes on airlines has become more acceptable. I was pleased to find that a local supplier also rents a high-end range of boxes on a weekly basis. The airline fee and rental charge compare favorably with some of the cycle rental charges I have seen.
My takeaway: A good bike box should have some sturdy wheels that will not detach and strong handles and locking clasps to facilitate transport. Internal contoured spaces for wheels, pedals, and bars make packing easier, and the contours together with internal spacers help strengthen the box sides. Internal straps should be present to secure all the parts during transport. The overall weight should enable the cycle, box, and to be well within the airline limits.
Saddles
Some years ago I undertook my first fifty-mile time trial. It was so uncomfortable towards the end that I decided my saddle had to go. Cycling is a recreational sport for me, so comfort is important. If I am not comfortable, then I don't enjoy the ride – in addition to my performance taking a nose dive.
As a result of that time trial, I changed to an Adamo race saddle, which has a split end. At the time only a few models were available, but since then, this saddle has become a lot more popular. At the show many variations were on show, with subtle changes to the padding and shape of the nosepieces depending upon the intended use.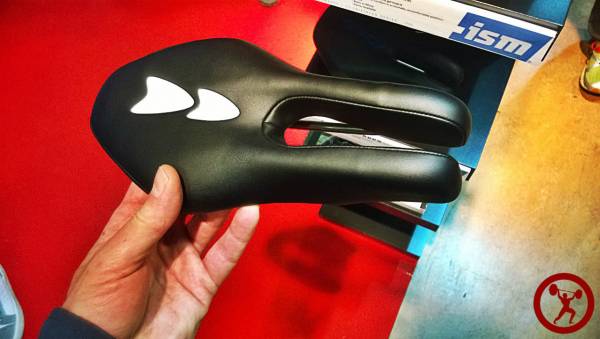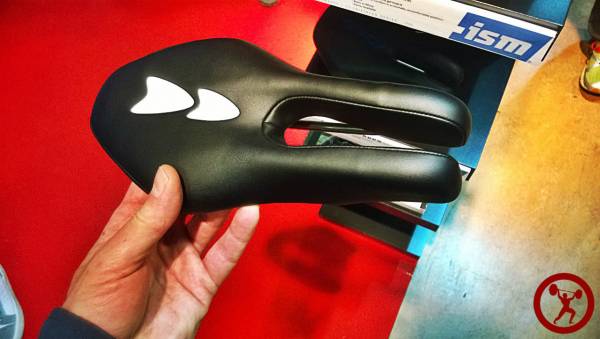 My takeaway: If you are having issues in the comfort area, I recommend trying one of these. A good cycle shop should have some demonstrations versions available for loan. The sitting position is a little different, so try it a few times. 
There were fewer cycle manufacturers this year than I noticed in previous years, although it is always interesting to look at the new models and equipment trends. But as usual the show provided some topics for further thought and some motivation for events in the months ahead.
References:
1. 220 Triathlon. The Triathlon Show. Accessed on February 28, 2014.