On Saturday I made the three-hour drive down to Richmond, Virginia to compete in the US Grappling Brazilian jiu jitsu competition. Although the drive was a little longer than I was expecting, it was a great day for me and my three teammates from Round Table BJJ. I was pleasantly surprised at the quality of competitors and the amount of black, brown, and purple belts who competed in this event.
Competing in the purple belt adult division, I went 2-0 in my weight class (under 215lbs). Both of my matches were pretty good, but it was my second match that really made the three-hour drive down worth it. I won on points, but had one the most grueling seven minutes of my life in the process.
Fortunately, I was able to get two nice takedowns to give myself a nice 4-0 lead, which I really needed because my opponent was constantly threatening to take my back and sweep me from X-guard. At the very end of the match he had a nice arm-bar attempt, but it was too late and time expired. After the match, I felt pretty good about my performance because I knew my opponent was really good.
The absolute division was basically the complete opposite of what happened in the finals of my weight class. I had the same opponent again, but this time he beat me on points in another grueling seven-minute match and I locked in an arm-bar as time expired. He made some adjustments to his previous game plan and swept me twice. After the division was over, I got to talk to my opponent. I discovered he is from Beta Academy, which is only an hour and forty minutes from me. Hopefully we can train together at some point in the near future.
This week also marked the first week of my conditioning phase of my strength and conditioning program for the New York Open in July. Rest times will go down while reps and mat time will go up. Now I also go from three days a week of weight training to only two days. The other day will now be for conditioning and mat time.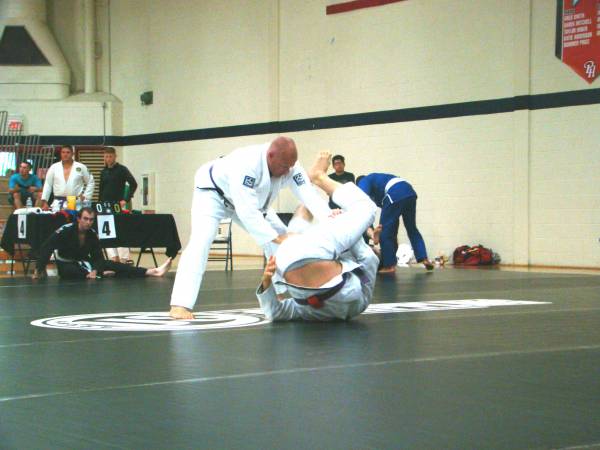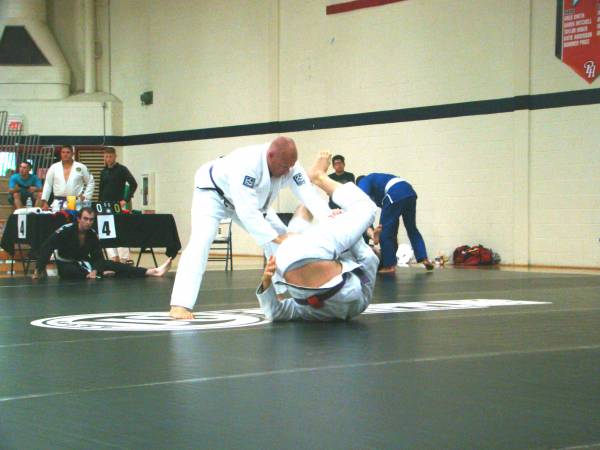 I have also started to do some interval training. I finish out my weightlifting days with sprint intervals or some sort of sustained cardio to help get my weight down. I weighed in at US Grappling on Saturday at 214lbs with all my clothes on and my wallet, phone, and keys in my pocket. That was about where I thought I was, 212lbs or 211lbs. I should have no problem making the 208lb heavyweight limit next month.
Overall, it was a great training week and a fun and educational tournament. I'm feeling pretty good for the upcoming tournaments and look forward to getting back in the gym and working on some more holes in my game that got exposed this past weekend.
Sunday – BJJ
Competition drilling
Monday – Strength and Conditioning/BJJ
AM Training – Strength and Conditioning
Vertical Jump 3×10
Plyo Push-Up 3×10
Barbell (BB) Pop-Up 3×10
Push Offs 3×10
Dumbbell (DB) Bench Press 60 lbs 3×15
DB Row 60 lbs 3×15
DB Overhead Extension/DB Curl (super set) 55/25 3×15
Core Work
PM Training – BJJ
Countering Guard Pulls, Rolling
Wednesday – BJJ
Half Guard Passing, Rolling
Thursday – Strength and Conditioning
Vertical Jump 3×10
Plyo Push-Up 3×10
BB Pop-Up 3×10
Push Offs 3×10
Interval Circuit:
4 Step Agility Run
Medicine Ball (MB) Chest Pass
Attack Sprawl
MB Walking Lunge
Shrimp
Jumping Jacks
Dive Bombers
MB Overhead Squat
Live Pummel
Plank
High Knees/w Step Through
Friday – Strength and Conditioning
BB Romanian Deadlift/Walking DB Lunge (super set) 60 kg/25 lbs 3×15
Towel Pull-Up 18, 15, 13
DB Reverse Fly 35 lbs 3×15
Sprint Intervals
Saturday – BJJ
Competition
James Kearns is an active Brazilian jiu jitsu competitor and also trains and competes in Olympic weightlifting.Follow his journals here every week.