We receive free products and receive commissions through our links. See
disclosures page
.
Twelve years ago, my first year out of college, I became obsessed with what I ate. I had a job, but entry-level work meant I had to watch where I spent my money and I cared too much about my health to fall into the fast food, top ramen, and frozen dinner trap. So I built a FileMaker Pro database where I planned cheap meals for the week with proper carb/protein/fat ratios. I had imported an extremely large tab-delimited text database I found for free on the Internet, and built a whole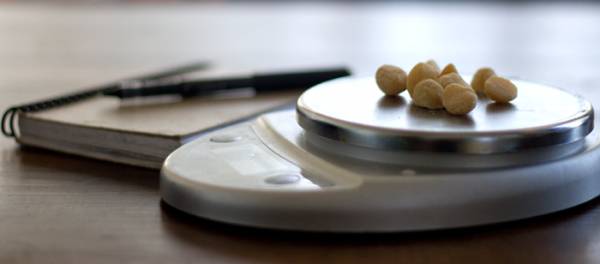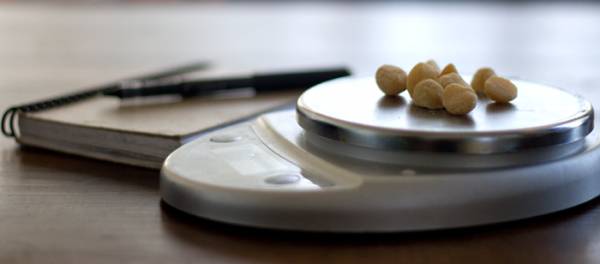 multi-table daily meal tracker that tallied my protein, carb, fat, and sugar intake. Excuse me, while I push my thick framed glasses back up my nose and hit my inhaler.
Nerdy and OCD? Yes. Effective? I stayed within my $250 a week food budget and gained 15lbs of lean muscle mass with regular exercise, so… yes. Would I DIY a food database again? Absolutely not. Mobile and web apps today will help you track what you eat easily, effectively, and specifically to your dietary needs, without having to spend weeks building your own database. Here are three solutions to help you track what you eat without having to earn a computer science degree.
Calorie Tracker – Livestrong.com: Achieve Your Diet and Fitness Goals – iOS, $2.99
That's the full name of Livestrong's diet tracking application, but don't judge it by its awful search engine optimization title. The app is actually one of the most satisfying food tracking experiences I've had.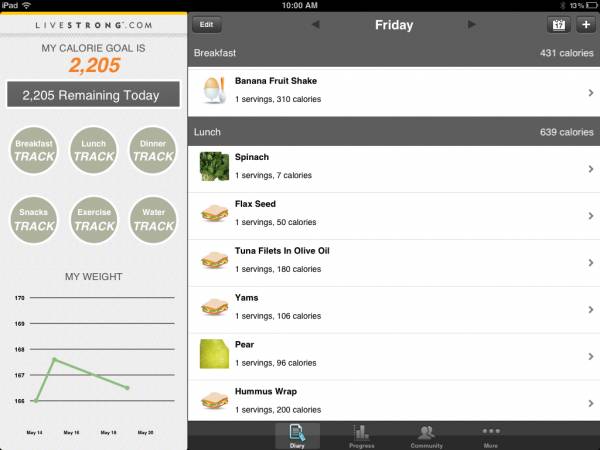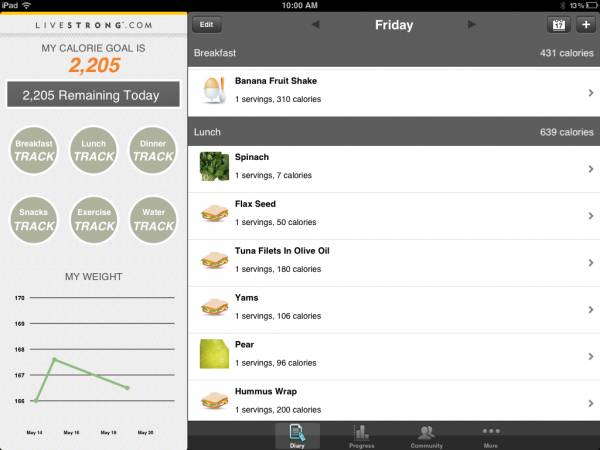 The first thing you do is setup your profile, which includes your age, height, gender, activity level, and weight goals. I'm perfectly happy with my weight despite the BMI index calling me borderline obese, but don't sweat that pesky index too much. At 5'8 and 33 years of age, and "Moderately Active", Livestrong suggested I stick to 2205 calories a day.
Meals are divided into your traditional breakfast, lunch, dinner, and snack categories. This isn't ideal if you divide your meals into five to six blocks, as is more common amongst athletes, however you'll find the snack category is flexible enough to act as a between meal bin.
As you log your meals throughout the day, the diary page will indicate how many calories are left to meet your daily goal. More importantly (to me), the progress nutrient tab will give you a pie chart indicating your current macronutrient ratio. I'm purposely omitting my ratio as to not confuse it for a recommendation. After all, we're all pretty unique in our needs.
What makes the Livestrong app truly stand out from the competition is their dense database of existing foods with all major macronutrient information included. I have yet to encounter any situation where I had to enter a custom food item, due to the large Livestrong community adding items to the database everyday. This does, however, make for a few duplicate entries, and you have to lookout when adding food with glaring mistakes, such as a hard boiled egg supplying a whopping zero grams of protein.
Super Diet Genius – iOS, $3.99
One thing you learn quickly after a few weeks of tracking your meals, is that reporting your meals after you eat them often feels like putting the cart before the horse. You'll eventually begin using the tracker more like a planner, building the day's meal in order to stay within specific caloric or ratio needs. Once you're in that mindset, your entrepreneur mind might kick in and think, "There should be an app that builds your meals based on your food preferences and goals."
There's an app for that.
Super Diet Genius works off the same profile setup Livestrong uses – current weight, goal weight, gender, height, age, and activity level. What Super Diet Genius brings to the table is a food preferences tab where you're presented with a list of common proteins, carbs, fats, fruits, and veggies. Turn the tab off for any food you don't want included in the meal plans. Paleo people, I'll save you some time, turn off pretty much everything in the carbs tab, you'll be covered in the fruits and veggies tabs.
Super Diet Genius will then automatically construct a simple meal plan that's easy to follow. Don't expect recipes and fancy dinners, this is a bare bones meal plan with an emphasis on whole foods. As you eat each item on the meal plan, you check them off, and are able to even add any additional fruits and veggies to any meal without affecting your weight goal.
My only critique of the app is that, just like the Livestrong app, it's relying on the BMI index, which lumps large groups of people into the same meal plan. Check in after a week to see if you need to modify your proposed caloric expenditure. Don't expect to have the app recalculate after you eat that slice of pizza either. You can't enter food not already in the database, so the occasional moments of sin will completely throw off the day.
I'd like to offer a final, non-traditional alternative to meticulous food tracking apps. The idea behind food tracking, and dieting in general, is to learn how to eat. After a while, you get it. You've learned your lesson, see the errors or your nutritional ways, and become the proverbial "man that was taught to fish in order to eat for a lifetime." Meticulous food tracking, just like meticulous diets, won't last long. So I've turned to the free blogging service Tumblr to act as my weekly tune-up.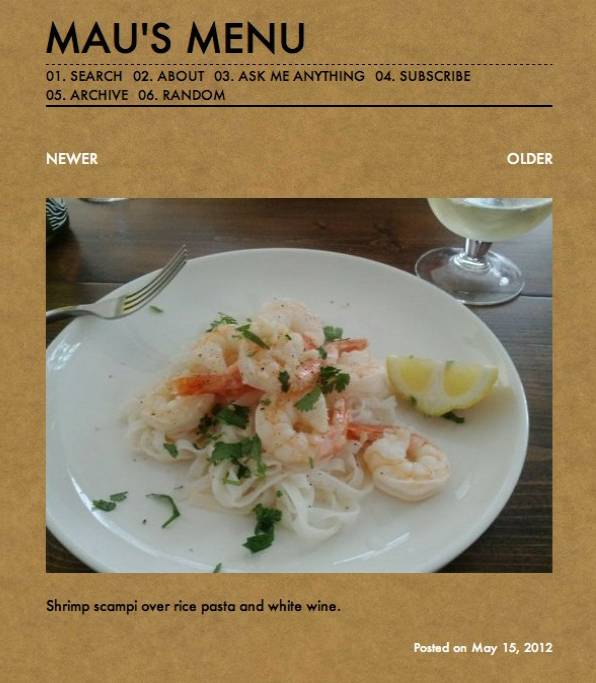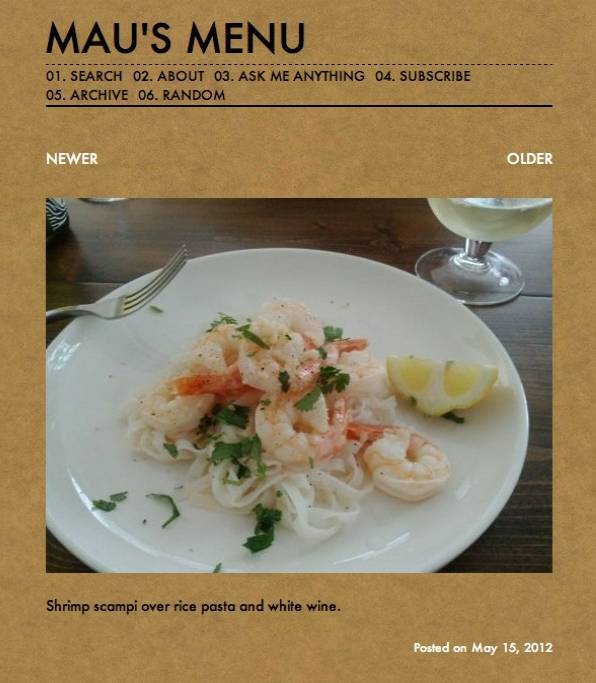 Before you begin to eat, simply open the Tumblr app, select a photo post, snap a picture of your meal, and hit publish. Done. This is your photo journal, so no need to write a post, the photo is there with a timestamp. At the end of the week, I look at my eating trends and adjust the next week accordingly, if needed. This is not a compelling blog, so don't bother sharing this Tumblr stream with anyone. Food really isn't pretty sometimes and even if you created beautiful still life before chowing down, nobody cares. This is YOUR nutritional journal.
What's really interesting about this process is that it actually forces you to assemble your meal into a plated, sit down, experience and then have an almost grace-like moment before eating. It was also shocking to see how often a computer keyboard was in the photo. Photo logging has become the missing link in my nutritional education; slow down and enjoy your meal, Mr. OCD.
Calorie Tracker – Livestrong.com is available on iOS for $2.99
Super Diet Genius is available on iOS for $3.99
Tumblr is available on Android, iOS, Blackberry, and Windows Phone for Free