I've heard people say it's the everyday small victories that matter most. Maybe it's a new personal record at today's workout or a small kitchen victory that leads to more nutritious home-cooked meals.
In these everyday victories, you progress little by little, building upon the last accomplishment. As you build character, you also figure out what you're made of.
My Small Kitchen Victory
In my case, the small everyday victory was discovering what a dairy-free substitute for ricotta cheese could be made of. I was in the midst of making a cauliflower mash, when I peered into the pot and wondered when I had made the mistake of adding ricotta. Then I realized it was just my subconscious longing (daydreaming) for ricotta, as I haven't been able to tolerate soft dairy for quite some time and have switched to a more paleo-ish style of eating.
Soy cheeses are often used as a dairy substitute or some create a nut cheese with soaked and pureed cashews. Both solutions can be tasty, but are not an option for anyone looking to avoid soy or who has soy or nut allergies. I wanted something more flavorful and nutritiously dense, and I was staring right at it.
Cauliflower to the Rescue
Cauliflower is the great kitchen chameleon. It can mimic rice and other textures. It also tends to take on the flavor of whatever dish you put it in, leaving just a hint of its previous life as cauliflower.
In this recipe, cauliflower is roasted and pureed with sautéed cremini mushrooms for an intense, toasty flavor that mimics the consistency of ricotta. This spreadable puree is perfect for using in a rollup smothered with a homemade tomato-basil sauce. For those of you who like a little dairy in your life, this is also amazingly tasty with the addition of manchego or parmesan to the cauli-cremini puree.
"Cauliflower is the great kitchen chameleon. It can mimic rice and other textures. It also tends to take on the flavor of whatever dish you put it in, leaving just a hint of its previous life as cauliflower."
The key to getting the lasagna noodles to form a cute little rollup worthy of date night is to par-boil them just until they are pliable but not to the point of being soft. I used gluten-free rice noodles and also have had success using an almond flour-based lasagna noodle to make it paleo. After spreading a thin layer of cauliflower-cremini puree, roll the noodles gently. Place them in a baking dish with some space in between so they are easy to spoon onto plates for a beautiful presentation.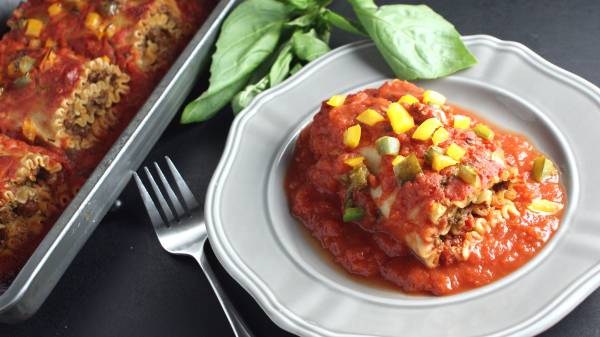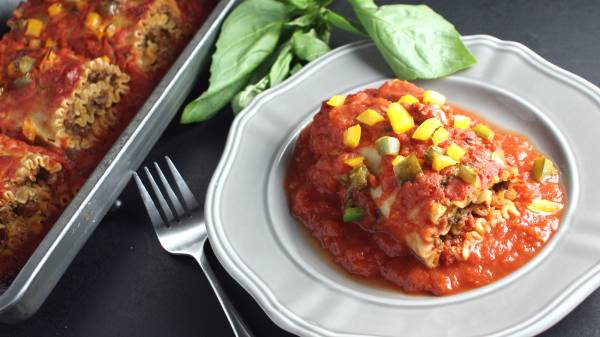 Cauliflower and Cremini Rollups
Prep time: 45 min
Cook time: 40 min
Yield: Serves 4
Ingredients:
8 lasagna noodles of any kind
12 ounces Italian sausage
2 teaspoons fennel seed
½ onion, diced
1 bell pepper, diced for topping
Cauliflower-Cremini Puree:
1 head cauliflower, broken into florets
8 ounces cremini mushrooms, diced
1 Tablespoon olive oil for sauté
4 cloves garlic, minced
½ teaspoon salt
½ cup broth of any kind
2 eggs
½ cup shredded manchego or parmesan cheese (optional)
Tomato-Basil Sauce:
28 ounce can crushed tomatoes
2 cloves garlic, minced
2 Tablespoons fresh chopped basil
¼ teaspoon salt
Method:
Preheat oven to 400 degrees Fahrenheit.
Toss cauliflower florets with olive oil and roast in oven forty minutes, turning once halfway through roasting.
While cauliflower is roasting, brown the sausage with fennel and onion. Drain excess fat and set aside.
In a separate pan, sauté cremini mushrooms and garlic in olive oil until the mushrooms have given up most of their moisture.
When cauliflower is done roasting, combine it with the sautéed mushroom and garlic, salt, broth, and eggs in a blender. Puree until smooth. It should resemble the consistency of ricotta. Set aside.
Place lasagna noodles in boiling water and boil about four minutes. This will depend on what type of noodles you are using (rice, almond flour, whole wheat, etc). The goal is to have pliable but not soft sheets of lasagna.
While noodles are boiling, combine the ingredients for the tomato-basil sauce.
Drain the noodles and lay them out on a clean surface. Spread each one with a layer of cauliflower-cremini puree.
Sprinkle browned sausage over the top puree layer.
Gently roll up the noodles.
Lightly grease a 9×13 baking dish and place about a cup of sauce on the bottom.
Place noodle rollups in the baking dish, leaving some space between each one.
Ladle remaining sauce over the rollups.
Sprinkle with diced bell pepper, cover with foil, and bake 30-40 minutes until noodles are soft.
More Like This:
What's New on Breaking Muscle Today
Photo 1 courtesy of Shutterstock.