Is breakfast really the meal of champions? Despite some attempts to dismiss breakfast as unnecessary or overrated, others still defend the beloved morning meal. Coach Jeff Barnett covered one such study in his article, Breakfast Eaters Are Slimmer, More Active, and Less Depressed:
This large study examined over 1,800 students in eighth and tenth grade. The link between breakfast-skipping and obesity was straightforward. Those who never skipped breakfast were least likely to be obese. Those who skipped breakfast sometimes – a little more likely. Those who skipped breakfast all the time – very likely to be obese. To say this link was well-established is quite the understatement.
Breakfast eaters also tended to display other healthy lifestyle practices, like eating more fresh vegetables and participating in more physical activity. So while breakfast might not be the most important meal of the day, evidence suggests it's definitely good for you.
But of course, that all depends on what you eat. It can be hard to find healthy and tasty options to start your day, which is where these recipes come in. Let's start with a common breakfast staple: a homemade bacon recipe from PaleoBOSS Lady, V Capaldi. We promise it's way easier than you might think. For another variation, check out the article, 2 Easy Homemade Bacon Recipes.
Italian Bacon Recipe
Ingredients:
4lb pork belly
1 Tablespoon each pink Himalayan sea salt, fresh crushed black pepper, and dried fennel
1 bay leaf
Method:
Mix spices in a bowl and rub the pork belly, covering as much as possible.
Place the herb-rubbed pork belly in a plastic bag with the bay leaf and store in the refrigerator.
The next morning, flip the bag and put it back in the fridge. Repeat this process for seven days.
After Day 7:
Preheat the oven to 200 degrees Fahrenheit.
Rinse the pork belly and pat dry.
Line an oven-safe pan with parchment paper and bake slowly for two hours. The internal temperature should reach 150 degrees Fahrenheit.
Let the bacon rest a few minutes, then slice and enjoy!
Now You Need Pancakes! Page 2 Has a Recipe Created Just for Athletes!
These aren't your grandma's pancakes. Not only are they grain-free and dairy-free, but they're also intended specifically for the athlete. Created by Steph Gaudreau, these pancakes pack a carbohydrate punch and are super easy to make. Steph gave the following tips for the cooking process:
To achieve a smooth batter, you'll need to run the ingredients through a food processor, though a blender will also work.For an optional protein boost, add half a scoop of your protein powder of choice, but it's definitely not a mandatory ingredient. The entire batch is approximately 130g carbs, 30g protein and 15g fat (not including cooking fat). This recipe makes approximately ten two-inch pancakes.
Plantain Protein Pancakes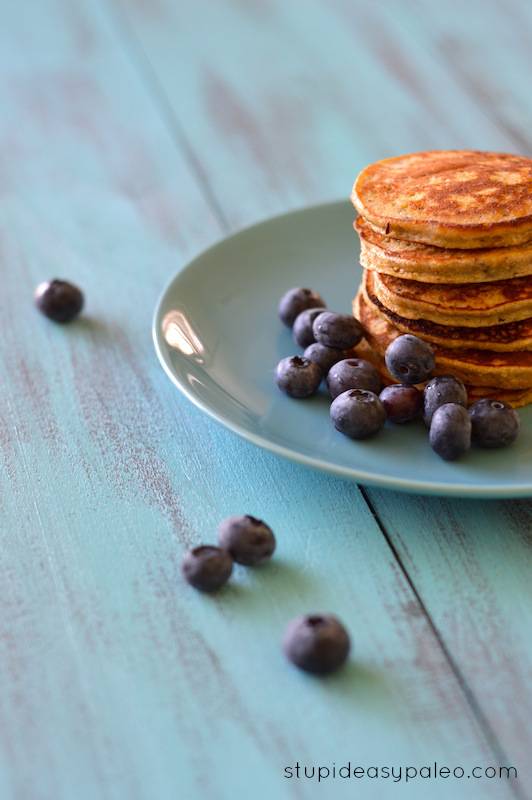 Ingredients:
2 ripe plantains
2 eggs
1 Tablespoon coconut flour
½ scoop protein powder, optional
Pinch of sea salt
1-2 Tablespoons coconut oil or your fat of choice
Method:
Peel the plantains and cut them into large chunks. Load all the ingredients into a food processor. Run the processor until all the ingredients are smooth and a batter has formed.
Heat a large skillet over medium-low heat. Add about 1 heaping teaspoon of coconut oil or your fat of choice to the pan and let it melt. Form pancakes using about 2 tablespoons of batter. Cook approximately 3 minutes on each side or until each side is golden brown. Repeat until all the batter is gone.
Serve with fresh berries and a side of eggs and bacon for a complete breakfast.
Not Into Pancakes? Page 3 Shares a Savory Crepe Recipe
Maybe you're in the mood for something more savory. If so, try Kari Lund's recipe for Chorizo and Sweet Potato Crepes. This is one of my kids' favorite breakfasts, and it's at the top of my list, too. Kari also included a sweet banana-bread inspired recipe in her article, 2 Grain-Free Breakfast Crepes: 1 Savory, 1 Sweet.
Chorizo and Sweet Potato Crepes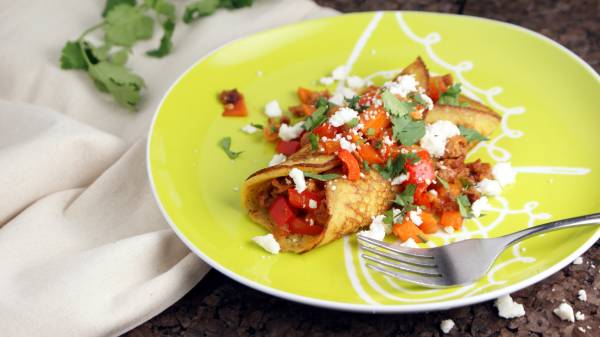 Prep time: 10 min
Cook time: 15 min
Yield: Makes 5 crepes
Ingredients:
Crepe Batter:
1 ripe plantain
2 eggs
1 Tablespoon water
1 teaspoon tapioca flour
Pinch of salt
Coconut oil for oiling the pan
Chorizo and Sweet Potato Filling:
½ pound ground chorizo sausage
½ onion, diced
1 red bell pepper, diced
1 small sweet potato, peeled and diced
Black pepper to taste
¼ cup chopped cilantro for garnish
¼ cup queso fresco for garnish (optional)
Method:
Filling:
Place all filling ingredients (except the garnishes) in a frying pan. Sauté until sausage is cooked through and sweet potatoes are tender.
Crepes:
Peel plantain and add all crepe ingredients to a blender. Blend until smooth.
Over medium low heat, heat up a frying pan or crepe pan with 1 tablespoon coconut oil.
Once pan and oil are hot, pour ¼ cup batter into pan and immediately swirl pan to distribute batter into a thin circle.
Cook about 3-4 minutes until top looks dry. It is very important to be patient. If it doesn't look dry, don't try to flip it or it'll fall apart. Just let it cook a little longer, but don't let it burn.
With a thin spatula, carefully flip the crepe over and let the other side cook 2-3 minutes.
Lift onto a plate to cool and repeat for rest of crepes.
Assemble crepes by placing a spoonful of filling in the center of each crepe and rolling up both sides.
Top with additional filling, cilantro, and queso fresco.
Both the crepes and the fillings can be prepared the day ahead, cooled, and kept in a sealed container in the fridge until ready to serve. You can also freeze the crepes by layering parchment paper between them in a freezer-proof container.
Now You Just Need Eggs. Page 4 Is All About a Frittata Recipe.
Steak and eggs, anyone? Cassy Joy Garcia served up a delicious variation in her recipe, Southwestern Breakfast Frittata:
In this Southwestern Breakfast Frittata, I've taken classic beef fajitas, baked them into a dozen scrambled eggs, and then finished with fresh cilantro and avocado. It's a fabulous, delicious breakfast that reheats like a champ and provides the balanced nutrients we need. Pair it with a small piece of fruit, and you've got yourself a complete meal!
Southwestern Breakfast Frittata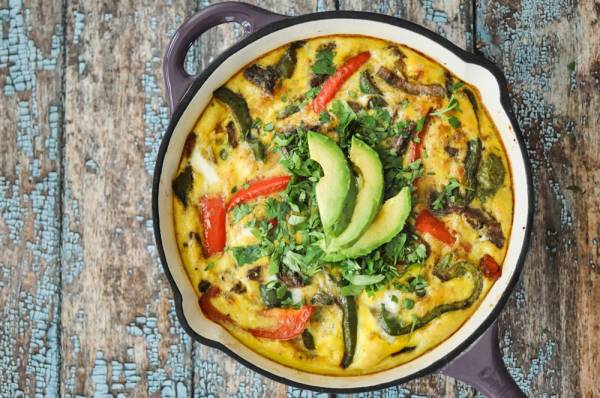 Program Compliance: Fed & Fit, Whole 30, 21-DSD, AI (when you omit pepper)
Time: 45 minutes
Yield: 6 servings
Ingredients:
1 Tablespoon grass-fed butter, ghee, or extra virgin coconut oil
½ pound skirt steak, tenderized
1 teaspoon steak seasoning (or salt & pepper to taste)
1 red bell pepper, cut into strips
1 green bell pepper, cut into strips
½ purple onion, sliced
12 eggs
2 Tablespoons fresh cilantro, chopped
1 avocado, sliced
Method:
Preheat oven to 350°F (~175°C).
In a medium or large frying pan, melt the butter.
Dust the skirt steak with the steak seasoning or salt and pepper.
When the butter is melted and bubbling, add the steak and leave it undisturbed for 5 minutes. Flip the steak and cook on the other side for an additional 5 minutes. Remove the meat from the pan and let it rest on a cutting board while you cook the vegetables.
Add the chopped peppers and onion to the hot frying pan with the steak drippings. Sautée until the onions become translucent and the peppers slightly charred. Turn off the heat.
Chop the meat into bite-sized pieces and add back in the pan with the cooked vegetables.
Scramble the 12 eggs together and pour over the beef and vegetable fajitas. Stir to evenly spread the eggs throughout the mixture.
Bake at 350 F for 30–35 minutes, or until the center is firm.
Let it cool for 5 minutes, cut, and then serve with the cilantro and a couple slices of avocado for each slice.
Store in a sealed container in the refrigerator for up to 5 days.
Too Busy to Cook? Click to Page 5 for an Overnight Oats Recipe.
Some mornings you just don't have time to cook. If you anticipate one of those days on the horizon, plan to prepare this recipe by Jeff Taraday. Jeff explained why he calls his recipe a "power breakfast:"
Not only are oats amongst the healthiest options for breakfast (or as part of a post-workout meal), but they're also some of the easiest things to incorporate in your diet. Oats are an excellent source of antioxidants, fiber, healthy fats, and protein. Studies have shown that oats have powerful cholesterol-lowering abilities, and they can help to stabilize blood sugar. Adding chia seeds to your oats may help to further stabilize blood sugar while adding in some healthy omega-3 fatty acids.
Overnight Oats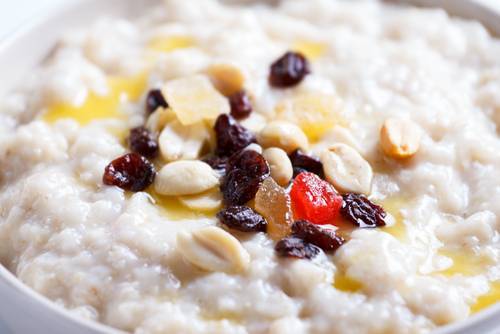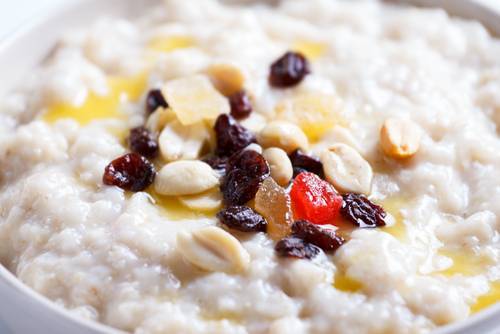 Yield: Serves 1
Ingredients:
½ cup rolled or steel-cut oats
⅓ cup unsweetened plant milk (almond, soy, rice, coconut, etc.)
1 small handful raisins or goji berries
1 teaspoon cinnamon
1 Tablespoon chia seeds
½ teaspoon vanilla extract
Method:
Combine all ingredients in a Mason jar or any container with a lid and mix well.
Cover with lid or plastic and place in fridge overnight.
In the morning, top with your favorite fruit, nuts, or seeds, and enjoy. You may also experiment with various seasonings and ingredients such as frozen berries, pumpkin pie seasoning, or almond butter.
Share your favorite breakfast recipes in the comments below!
Photos 1 and 6 courtesy of Shutterstock.
Photo 2 courtesy of PaleoBOSS Lady.
Photo 3 courtesy of Steph Gaudreau and Stupid Easy Paleo.
Photo 4 courtesy of Kari Lund.
Photo 5 courtesy of Cassy Garcia.