I am addicted to unhealthy food. Sometimes I get away with it because I practice Brazilian jiu jitsu, which burns a lot of calories. But during injury rehabilitation, the weight gain happens quickly. I'm working on getting rid of this unhealthy dependence. And I'm using a strategy from the last time I quit doing something stupid successfully.
When I was thirteen, I started smoking. I smoked until I was 25 and decided I was too old to continue. I assumed I would settle down and have a family, and I didn't want to be addicted to cigarettes when it came time to get pregnant. Now that I am forty, I live alone with three cats. Although I never did get pregnant, quitting the cigarettes was obviously the best decision for my health.
I'm now quitting the junk food using the same successful strategy. This article is my invitation for you to join me.
Transition to eating clean, fresh ingredients with manageable steps.
Gradual Change for Lasting Effects
The smoking strategy was simple. Each day I had my first cigarette of the day fifteen minutes later than the day before. So on day one, my first cigarette was at 8:30am, the next day, 8:45, and so on. If I waited until my scheduled time for the first cigarette, I could smoke as much as I wanted afterwards. If I smoked before my scheduled time, I couldn't smoke at all for the rest of the day. By the time I got to three months, I was no longer addicted to cigarettes, and I haven't smoked regularly since.
So how can we apply that strategy to our diets? It's all about the gradual change. For me, it's not about throwing all of my junk food away and strictly adhering to my new diet. It's not about beginning with a painful detox or cleanse (which are foolish, by the way). I was never able to quit smoking or do anything else "cold turkey." I was able to quit because of two reasons:
It was important to me to quit for the sake of being healthy for future goals.
I never felt deprived during the quitting process.
Weekly Meal Plan for Athletes
So here I am nearing the end of recovery for a back injury I sustained in August of last year, and I am slowly but surely losing the weight I gained. For your sake and mine, I have developed a weekly meal plan, complete with recipes, and a detailed grocery list. This plan is my goal for a perfect week of eating.
Eat for Performance
Many of the recipes are from John Berardi's Precision Nutrition cookbook. His basic concept is to eat low-carb meals any time, and higher carb meals after training. I kept that in mind as I mapped out the meal plan, but I wasn't 100 percent compliant. I focused on finding healthy, delicious meals that I loved to eat. No plain broccoli and chicken.
I've tried each recipe I've included, and the whole plan is available in PDF format for your convenience. Each meal is hyperlinked to its recipe, and a grocery list for the full week (including supplements) is available in PDF as well. Please see my notes below regarding various substitutions for the grocery list.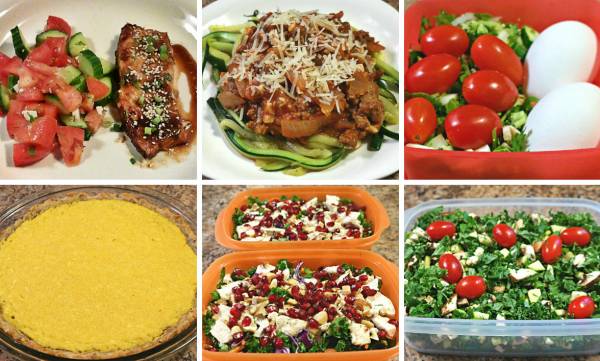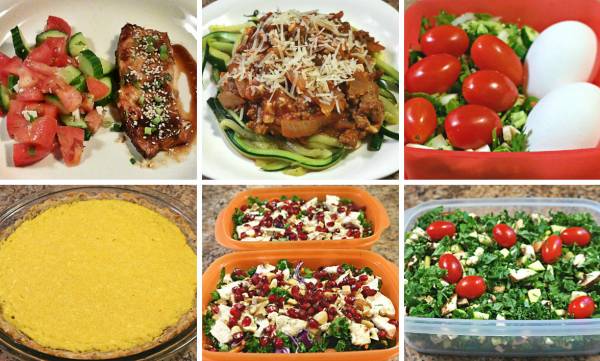 Examples of some of the meals you'll enjoy in this plan, including broiled salmon with miso glaze (upper left) and Asian kale salad (bottom middle).
Grocery List Notes
You can simplify the grocery list by substituting ingredients. For example, instead of buying green onions and scallions, you can choose one or the other and adjust the quantities as needed. Or if you're trying to avoid certain ingredients like grains or gluten, find recipes that are similar but don't contain the offending ingredients.
Here are some of the substitutes and adjustments I made to the grocery list:
For the Spaghetti Squash Spaghetti, I've substituted zucchini for the spaghetti squash. Use one zucchini per serving.
For the Thin Texas Pizza, I've substituted aged white cheddar for feta, yellow onions for white onion, and regular tomatoes for grape tomatoes.
For the Asian Kale Salad, I've substituted matchstick carrots for baby carrots.
For the Thin Texas Pizza, I've substituted yellow onion for white onion.
For the Cucumber Dill Salad, I've substituted regular tomatoes for grape tomatoes.
I substituted the whole wheat tortilla on Thin Texas Pizza with this Cauliflower Pizza Crust.
I substituted the corn tortillas in the Soft Chicken Tacos with these Soft Zucchini Tortillas.
Supplements
Supplements assist us with recovery and health. The majority of our nutrition comes from real food. Based on my research, I have settled on the following supplements to optimize my health and performance:
Daily Supplements:
During + Post Training:
BCAAs (during training)
Protein + Dextrose (post-training). This should be consumed quickly, rather than sipped. I take one scoop of protein and about 40g of dextrose.
Chamomile Tea: I fill a Thermos before training and drink it on my way home to calm my system after training and prepare for sleep. Remember, sleep is the most important thing you can do for your health. Be sure to get eight hours a night.
A Perfect Week of Meals
In an ideal training week, I train Brazilian jiu jitsu three days a week and do two days of strength and conditioning. I take one night off every week and walk an average of 10,000 steps a day, according to my Jawbone activity tracker.
My meal planning approach:
Sunday evening I prep meals for the following week.
I prepare my omelet filling for several days and my meals for Sunday night, Monday, and Tuesday until lunch.
Tuesday night, I cook supper and meals for Wednesday and Thursday lunch.
Thursday night, I cook supper and lunch for Friday
For the rest of the weekend I am able to cook as needed.
Learn Patience and Consistency
Developing this meal plan has been a slow process. In the beginning, I cooked one or two meals from my Precision Nutrition cookbook per week. The rest of the time, I ate the way I normally would have. Eventually, I cooked three, then four meals that were based on the cookbook. I started enjoying these healthy meals more than the food I used to eat.
After gradually changing my diet over several months, I look forward to eating these healthy meals every day and I enjoy experimenting with different recipes. I feel better, and I'm starting to look better. Once I'm back on the mats at full capacity, I know I'll perform better. I hope this meal plan will be a useful tool for you as well.
You'll Also Enjoy:
New on Breaking Muscle Right Now
Photo 1 and teaser image courtesy of Shutterstock.