Click here to read other journal entries and articles by Andrew Read, and look for his new journal every Monday as he trains for Ironman Melbourne.
Journal Entry 31 – My First Triathlon
5.41. That was my finish time in my first ever triathlon, the Canberra 70.3 Half Ironman.
Click here to read other journal entries and articles by Andrew Read, and look for his new journal every Monday as he trains for Ironman Melbourne.
Journal Entry 31 – My First Triathlon
5.41. That was my finish time in my first ever triathlon, the Canberra 70.3 Half Ironman.
I've got mixed feelings about this. Rather than show you all "that" side of my personality, the one that makes clients cry, I'll break the race down into its various elements to prevent you all having to deal with me going all drill sergeant on my own ass.
The day began at 4:30 AM when my girlfriend and I woke up. We wouldn't be racing until just before 8 AM but you need to make sure your food is settled and that you've gotten all your nerves out of the way. How do you do that? In my case by needing to go to the bathroom three times in about an hour.
Once I was a few pounds lighter we made our way down to transition to set up. In these longer races you actually set your bike up the day before and then set up your area on the morning. This involves:
A towel. Make sure to use a brightly coloured one that is individual as it helps make finding your bike easier.
Bike shoes – Mine are these super new Specialized Trivents that I bought last week to trial. Have you ever seen the pro triathletes set off on the bike with their shoes clipped in and wonder how they manage to get their feet in without crashing? Me too, until I bought these uber shoes. The heel actually folds down on these and is held in place by a little magnet. You just slide your feet in like putting on slippers and then press a button and they are basically done up. Super.
Running shoes and socks.
Food/drink – While doing this I also taped my gels onto the top tube of my bike and put my water bottles in their cages.
Here's a breakdown of the race:
1. Swimming
My girlfriend has only been swimming for a short time. In her first triathlon she started too fast and spent a lot of time trying to catch her breath. Obviously we spoke about this before the race and I made sure to remind her not to do it. So what did I do? The exact thing I warned her not to do. Idiot.
It took about 600m for me to get back into my rhythm after blowing the start. This was also compounded by not having any practice actually swimming in open water and sighting. It makes a big difference to your stroke and to your breathing when you're unaccustomed to it.
Swim time – 37 minutes (About 5 minutes slower than my goal)
Transition 1 (Swim to bike)
If you've never swam 2km and then jumped up and started running I suggest you give it a try. It feels like you're piggy-backing someone and your heart rate jumps through the roof.
But thanks to my James Bond shoes I was in and away pretty quickly – faster than both the guys on either side of me who were already there when I got to Transition 1. Seriously, triathletes, buy these shoes. They are that good.
Time in Transition 1: 4:40 (with about a 500m run to get there).
2. Ride
The first 10km of the ride was hard – a constant struggle to get my heart rate back under control and make sure I didn't burn too many matches too early. A task not made easy by the fact that there were some guys blowing past at the speed of light with disc wheels and sperm helmets. Really humbling to see just how fast some of the top amateurs can go, let alone the pros.
Once I had everything back under control I just kept my heart rate where it needs to be for Ironman. While I was keen for a good time today the main goal was really to go out and have an Ironman-paced training day. So my ride was definitely not the speed it needs to be for 70.3 racing, but very sustainable for Ironman.
Nutrition and hydration are key concerns for these long events. I had decided to eat a gel every 30 minutes and drink every 15. That was spot on and definitely something that works for me. A+ for food.
The bike course was five laps of 18km. The first lap was spent getting my heart rate under control. The next two were good, solid riding. Lap four I started to tighten up and was having to spend too long on the base bars to relax my back. Lap five was the same. The position is right; I just need more time in the saddle.
Ride time: 2.43
Transition 2 (Bike to run)
I was concerned coming into Transition 2 as I know had to slip my shoes off while pedalling. People tell you that these skills need to be practiced. I have to say I don't know what all the fuss is about. If you're an adult I hope you've learnt how to take your shoes on and off and ride a bike in a straight line. I was in and out of my go-faster shoes quickly, rode right to the dismount line and was into transition quickly.
Once I'd racked my bike I wiped my feet to make sure there was no grass from the early run to transition to get onto the bike and then got my socks on. Here's a tip for you guys – Thor Lo makes the best running socks I've found on the planet. Shoes on, visor on, swig of water and away.
Time in Transition 2 – 2:41
3. Run
When your longest run before a half marathon on fatigued legs is 15km, and that was the week before, you're never going to run fast. The run was three laps of 7km. The first lap I had to keep telling myself to slow down. I've never had the problem of running too fast off the bike in training, but my first pace check after a minute or so was down at 5min/km – my top speed seen so far in training and certainly not sustainable.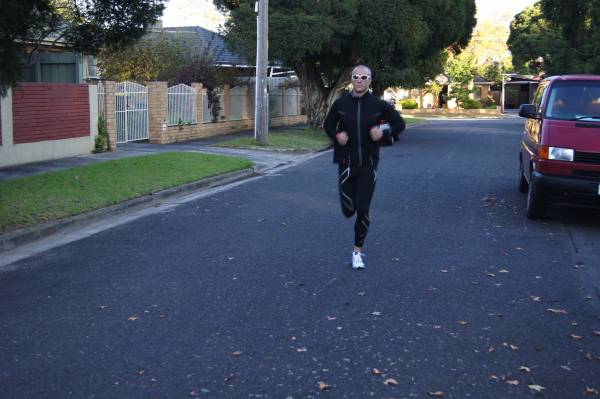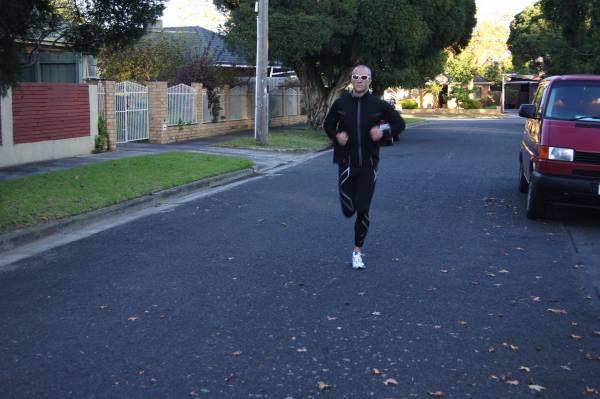 I managed to calm myself down to about 6min/km and started to find my rhythm after 20 minutes or so. My heart rate was nice and steady at about 150-155 beats per minute, which is a little higher than I'd like at that pace but with dehydration your heart rate tends to creep up in long events. I was also using my breathing as a guide and did the entire run on nasal breathing – a good sign that I was aerobic the whole time.
On the run course people advise you to steer clear of solid foods as the stomach struggles while running. I had one gel but the rest of the run was flat Coke and water. During the first lap I ran through all the aid stations and drank on the bounce but on the second and third lap I made sure to walk the stations so I could get in enough liquid. So it was Coke, water and then tip the rest of the water on my head. By the time of the last lap my body was starting to overheat and the cold water was actually a little shock each time I dumped it on myself.
Overall, while the run wasn't good it was exactly what I expected. A big bonus was that I came out unscathed. I basically gambled today and felt like one or both of my calves could have let go at any time. My mother was actually monitoring the live timing and due to the large number of people in my age group it took a while for my final lap to come through. She told me later that she was worried that I had fallen to pieces in sight of the finish line. Thankfully not, and I'm glad my rusty old body held together for me today.
Run time – 2.13
I have to be honest and say I'm not too happy with this result. If I were my client I'd have my foot so far up my ass tomorrow that I'd be tasting boot leather. Today was supposed to be a big training day and it was. It taught me a lot and showed my just how much harder I need to work to fix all the problems I had today, and also exactly how much fitter, faster, and stronger I can be. If you're really into exercise I have to say that getting a chance to go non-stop for about five hours is a great way to spend a day with like-minded people. Mentally I was fine all day, my problem is just lack of fitness and swim skills.
Where to from here? Well, I'll take it easy for two days and then straight back into normal training to work on what I see as my biggest issues:
Lack of open water swim practice.
Lack of time on the bike riding hard. Lack of time riding for five hours or more.
Lack of running.
Overall a good training day but a mediocre performance. I give myself a C. Not bad but plenty of room for improvement.
My bike, courtesy of Leon Nardella and the crew at Pro-Motion, was flawless.
Thanks to 2XU for my gear as always. No rubbing, no issues and the compression shorts did their job.
Big thanks to Kristian Manietta at Tri-Specific. While my result was lackluster my girlfriend's wasn't. Today was her training focus for the last sixteen weeks and it showed. She totally rocked it and all thanks to Kristian's help. Looking at her result today, even as unhappy as I am with my own result, gives me confidence that his guidance will see me right for the main event in March.
I also need to give a shout out to the MX12 VIP group. This private coaching group was started by Chris McCormack recently and has become my new favorite hangout on the internet. Advice, support, and motivation from my new group of virtual friends, topped with being able to ask questions at any time to one of the world's greatest ever triathletes – if you're into going long then get onto this.
If you'll excuse me I'm going to go eat some pizzas.