I have been kicking secondary progressive multiple sclerosis (MS) to the curb through conscious living for over 1,400 days now. Food, movement, and mindfulness are my drugs of choice. The journey we call life is full of twists and turns, and the latest twist for me was a trip to Ecuador.
The trip was sponsored by Natural Habitats, an organization that provides education and support to the community. We went to Ecuador to learn about organic and sustainable red palm farming. Many people in the paleo and conscious living world cannot tolerate coconut oil, so red palm is a healthy alternative.
Here I am (center) experiencing the natural beauty in Ecuador with my travel companions.
Community in the Kitchen
Community is the glue that holds it all together, both in the gym and in the kitchen. For example, in Ecuador the simple act of preparing food is a community event at each meal. Seeing the men and women work side by side in the kitchen was so refreshing. Regardless of where you live, clean eating presents an opportunity to make meal time community time. Gather the clan and work together making meals. This type of ownership produces universal outcomes of better health, digestion, and wellness.
The power of community I witnessed in Ecuador is no different than the community support needed to maintain a healthy and fit body. It is the backbone of gyms, boxes, and sports teams. Seldom, if ever, are athletes completely self-motivated. Rather, a community of individuals works together to train and produce the desired outcome. This core foundation translated perfectly into the support of organic sustainable farms I saw in Ecuador.
Going on this trip confirmed my belief in the power of community for achieving a desired outcome. Organic and sustainable farming practices are not the cultural norm, and it takes a committed community to buck the standards of practice and be successful. The success of the red palm industry in Ecuador is fostered by working in harmony with the power of Mother Nature, and it's all led by the heart of the Ecuadorian men and women.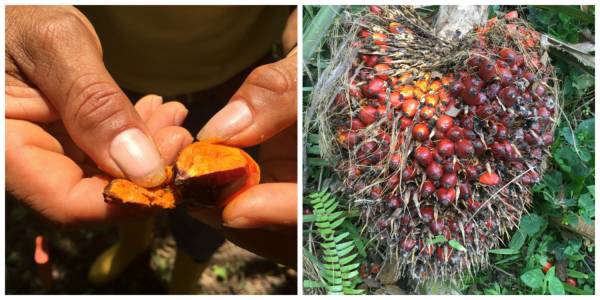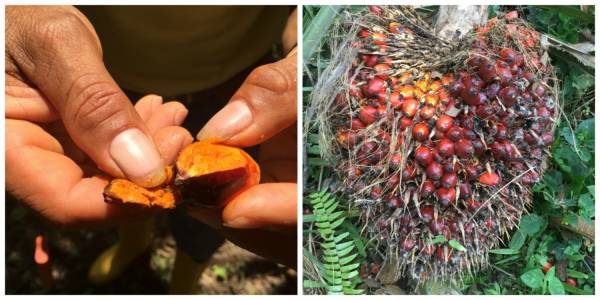 Left: raw red palm kernel; Right: red palm plant.
Red Palm: An Alternative to Coconut Oil
Red palm is a beautiful plant that offers delicious oil for medium-heat cooking. It's also a tasty alternative to coconut oil. The fruit is delicious right from the tree, and the oil offers a distinct flavor that jazzes any meal up. Red palm oil is considered a superfood due to its high levels of vitamin A, vitamin D, beta-keratin, and antioxidants.
When cooking as a community, nothing is simpler than chopping a lot of veggies and throwing them into a cast iron pan to sauté. Adding red palm oil to the mix offers a slightly nutty flavor that is distinctive and delicious. With the protein of your choice and a side salad, this is a delicious, easy, conscious-living meal the whole family can create in no time.
Quick Cast Iron Chicken and Veggie Sauté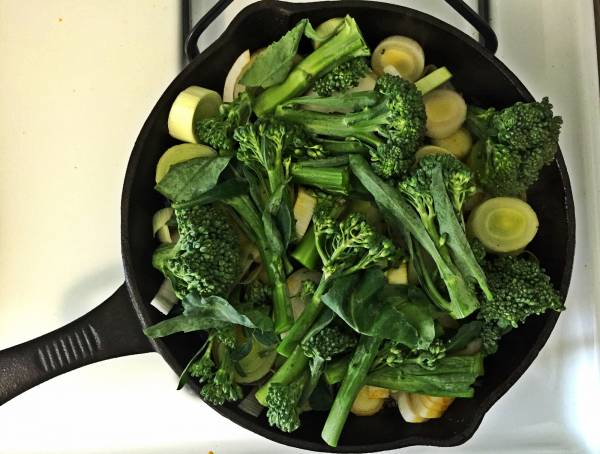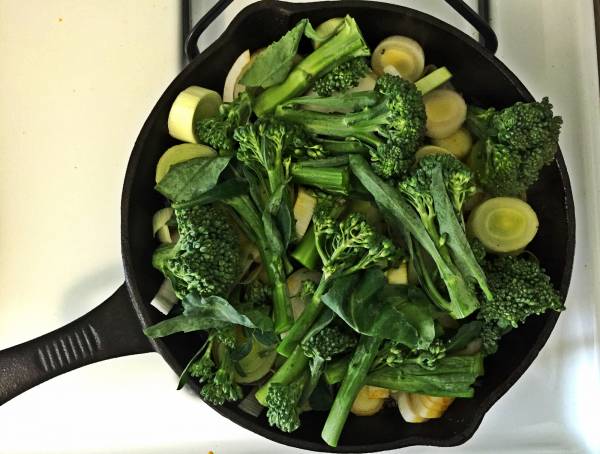 Ingredients:
2 organic leeks, cut
2 medium onions, chopped
1 bunch organic broccoli rabe, chopped
2 organic grass-fed boneless chicken breasts, cut into strips
4 Tablespoons organic red palm oil
Extra virgin olive oil
Pink Himalayan sea salt and ground black pepper
Organic wild arugula
Method:
Heat the palm oil over medium heat and add all veggies to the pan.
Cover with lid for about 10 minutes, then turn. Repeat this step.
Add chicken and cover for 5 minutes, then turn. Repeat this step.
Remove lid. Add pink Himalayan sea salt and fresh ground pepper to taste and mix.
Cook for another 5 minutes. Serve with a bunch of arugula covered in olive oil and salt. Enjoy.
You'll Also Enjoy:
What's New on Breaking Muscle Today
Photos courtesy of V. Capaldi.