When you see a pistol done well, it looks so easy. Then you try one.
To help you perform a perfect pistol, we've put together all the videos on the topic from our expert coaches. Watch these video, do these drills, and let us know how much better your one-legged squat becomes!
While you might be pursuing the pistol for CrossFit or for the Beast Tamer/Iron Maiden challenge, they are also valuable for proprioception in general. This means anyone who runs, works, or moves around on an uneven surface will benefit from training pistols.
And according to recent research, the pistol is not only good for building strength and balance, it's also good for diagnosing your current imbalances and weaknesses. Difficulty with pistols could mean you have weak glutes or tight hip adductors, calves, or hip flexors.
Pre-Pistol Workout Warm-Up and Mobility Flow
Yoga expert Sima Tamaddon works with athletes of all types, and in her opinion the pistol squat is beneficial in particular for "trail runners and clumsy people." (Direct quote, I swear.)
Sima created this short flow to warm you up and prepare you for your pistol practice that could also be used as a pre-run warm up:
Tips and Drills for a Better One-Legged Squat
In this video, bodyweight-exercise-lover Jon Kolaska demonstrates a beautiful pistol, and then follows it up with his advice on things you should focus on during the squat:
Keep the shin of the standing leg as close to vertical as possible. It will move a little bit, use the glutes and inner thigh muscles to stabilize the leg.
Keep pressing through the heel of the standing leg.
Keep the back as flat as possible.
John also gives modifications and advice on how to scale your pistol squat and slowly build up your balance, strength, and flexibility.
Two From Dave Ayres
Coach Dave Ayres is known for his videos, as they are both entertaining and educational. He wound up making two videos on the pistol, due to some debate on the usefulness of the rings when progressing the movement.
So, in video one, Dave shows you how to mobilize your calf muscles, as well as how to scale the pistol using a bench, a weight-plate tower, and a single weight plate:
In his follow-up video, Dave explains how he was condescending and wrong about the ring pistol. As he explained:
I didn't like the ring pistol progression previously because it involved a cheat of pulling yourself up with the rings. But I've come to realize that's not necessarily a bad thing, as we're mostly concerned with the ankle. The rings help to get us there.
Watch the full video for more explanation of how the rings can help and other ways you can improve your pistol squat:
Al Kavadlo Love Pistol Squats
Al Kavadlo loves bodyweight exercises. And Al Kavadlo loves for you to try bodyweight exercises. Actually, I'm pretty sure Al Kavadlo loves everything.
But lucky for us he shares this love via awesome videos on how to scale and improve your pistol squat. In this video you will learn five variations for humans, plus two for super-humans:
Bench pistol
Assisted (pole) pistol
Elevated pistol
Counterweighted pistol
Full pistol squat
Hands-behind-back pistol 
Plyometric pistol
Ten Variations From Chris Garay
Coach Chris Garay has studied the teachings of Carl Paoli, Al Kavadlo, and Ido Portal. From this study he put together ten exercises that he believes will get you your coveted pistol. He demonstrates them in the video below, but you can learn more in his article What's Preventing You From Doing Pistol Squats? How to Progress Pistols.
Chris's article also includes quick fixes for the following five common pistol problems:
You fall on your butt at the bottom of the pistol.
Your foot comes up onto your toes and your heel comes up into the air.
Your hip flexor of the straight leg cramps.
You collapse into the bottom position of the pistol.
You have trouble balancing side-to-side.
Creating a Training Program for Achieving the Pistol
With all these videos, drills, and modifications, it's guaranteed that you'll find the tool you need to strengthen your muscles, improve your mobility, and finally get the pistol squat of your dreams.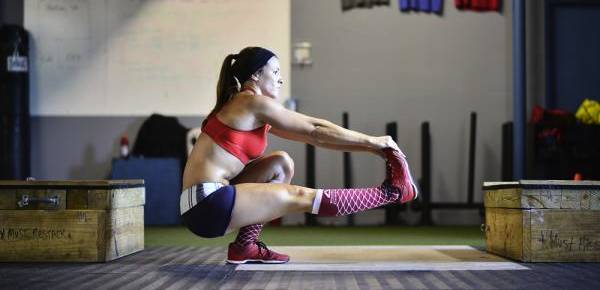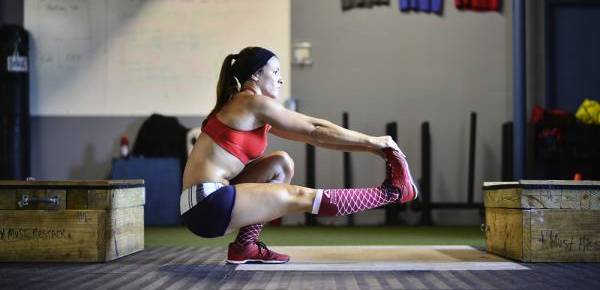 Of course, it's not just about the drills you're choosing, but also how you go about incorporating those drills into your day. Coach Craig Marker suggested that if your goal is to do an unassisted, full-range-of-motion pistol, that using the greasing the groove approach might be a good way to go. In particular he uses an approach called every-hour-on-the-hour, or EHOH.
Basically, if you're at your office, set an alarm to go off at the top of the hour. Shut your office door. Start doing your pistol practice. Who's going to join me? Who will be the first to get a pistol?
Photo 1 by Jgcastor (Own work) [CC-BY-SA-3.0], via Wikimedia Commons.
Photo 2 courtesy of CrossFit Empirical.