We receive free products and receive commissions through our links. See
disclosures page
.


A year ago, I was the only female training Brazilian jiu jitsu at Titans Fitness Academy here in Halifax, Nova Scotia. We introduced a women-only BJJ program and since November 2013, we have slowly built our numbers to about ten female students.
LEARN MORE: My Case for Women Only Beginner BJJ Classes
GGC: A Company Founded by Women
The increase in the female BJJ student population is happening in clubs around the world. One organization that has helped to spread the word and support the female BJJ community is Groundwell Grappling Concepts (GGC). Back in 2008, purple belt Alaina Hardie was frustrated at the lack of women available to train with and presented an idea to her instructor, Felicia Oh. The GGC site explains:
She floated the idea of a women's grappling camp to Felicia, asking the Brazilian jiu jitsu (BJJ) black belt if she'd be interested in arranging a non-competition situation in which women could train, troubleshoot, lead, and instruct each other in BJJ and submission grappling. Felicia enlisted the help of fellow female grapplers, then brown belt and current black belt Valerie Worthington and black belt Emily Kwok, both decorated competitors like herself, to help her with the leadership of the camp.
The concept exploded, with all of the scheduled camps selling out. Eight years later, they're still going strong. Operations have evolved to include co-ed camps, and black belt world champion Hannette Staack has also joined the organization permanently, bringing her extensive experience and energy with her.
With the increase of women training BJJ, the gear designed specifically for women has exploded as well. I've done a lot of gear reviews over the past couple of years and I certainly don't need a new rashguard, but when I saw GGC's new rashguard design pop up on Facebook, I had to have it. Now, after wearing it at least once a week for about a year, it's still one of my favorites.
LEARN MORE ABOUT GGC CAMPS: Why I Love Teaching Women's Grappling Camp
Features
Made in collaboration with Fuji Fight Science Wear
88% polyester, 12% spandex
Designed for the female figure
Sublimated graphics
Flatlock stitching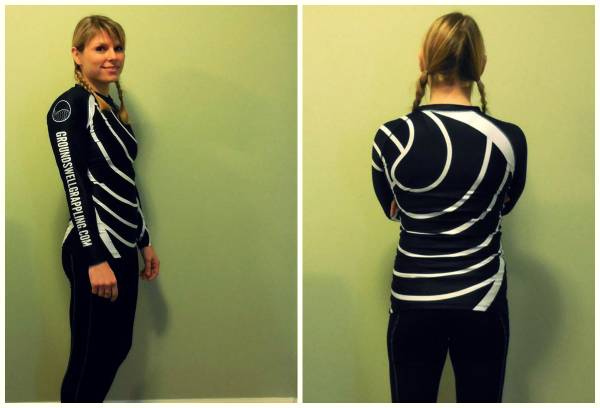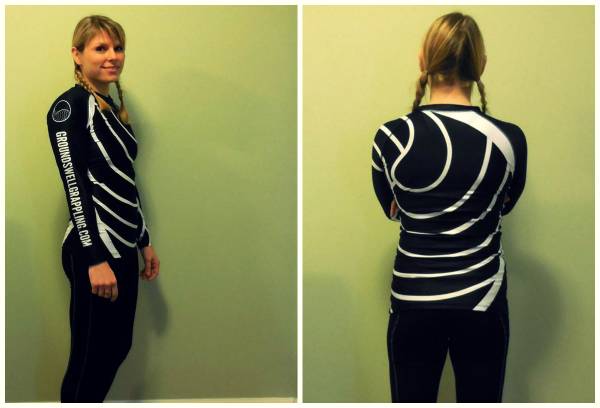 Quality and Style
The GGC rashguard design is a blow-up of their company logo. When I asked Valerie Worthington about it, she explained, "The design is intended to reflect the name, Groundswell, so a sense of flow, movement, smoothness is definitely intended." For those of you who aren't familiar with the term "groundswell," it is defined on Wiktionary as "A broad undulation of the open ocean, often as the result of a distant disturbance."
"Performance-wise, this rashguard wicked moisture away from the skin well. It remained light and comfortable even in the most disgusting, sweaty rolls."
The curved lines are flattering and simple enough to wear with any grappling bottoms. Stitching and fabric are top quality, as well. Here it is a year later and there are no unraveled seams and no pilling along any of the friction points. The rashguard practically looks brand new.
Fit and Comfort
Fit and comfort ranked ten out of ten for me. The rashguard fit perfectly in every way and was extremely comfortable during rolling. I love how it is cut to come in a bit at the waist before the slight flare at the hips. Some of the unisex or men's rashguards are a bit baggy in the body, which can be great for chubby days. But this rashguard seems to hide the chubby without being baggy because of its streamlined cut and graphics. Due to the additional length, it rarely rode up to expose my midriff.
RELATED: The Top 10 BJJ Rashguards for Women
I identified an added bonus when I saw that my new spats were showing sweat marks in the rear. At the time I was wearing another rashguard, but because I had packed for two no-gi classes that day, I switched it out for my GGC rashguard and pulled it down over my bum. A temporary fix, but welcome nonetheless!
Performance-wise, this rashguard wicked moisture away from the skin well. It remained light and comfortable even in the most disgusting, sweaty rolls.
Customer Service
When I ordered this rashguard, a couple of glitches occurred at the fault of the courier. I contacted GGC and Valerie went above and beyond to ensure that I received the rashguard as quickly and efficiently as possible.
Follow Groundswell Grappling Concepts on Facebook, Instagram, and Twitter to keep up to date on camp scheduling and new products. One of these days, I'm going to get myself organized and join them for a week. What could be more exciting? Maybe I'll see you there!
The Groundswell Grappling Concepts rashguard is available for $60.00 at GroundswellGrappling.com.