We receive free products and receive commissions through our links. See
disclosures page
.


Sometimes I get on Pinterest and I think, "My word, does anyone do anything but post food photos on here?" But the other day, I came across a photo of an item called Beefcakes from a company called Manbake. Now that piqued my interest.
Thankfully, I was given the opportunity to try three different products from Manbake – the High Protein Bar, Cookie Butter, and Beefcakes.
By the way, no surprise that a company with the name "Manbake" was originally envisioned by a guy. But it wasn't long after Seth Laguna invented his first baked good that he and his fiancée Lindsay Beck teamed up. Behind all of the products they now create is the idea of providing both pleasant taste and wholesome nutrition. With the inclusion of chia, flax, and hemp seeds in almost all their recipes, their products provide a full amino acid profile. In addition, Seth wanted to create a protein-rich snack for people on the go that had a macronutrient profile and would be useful for pre- or post-workout.
When I first unwrapped this bar, my immediate thought was, "That looks like an old-school Power Bar." If you ever ate an old-school Power Bar, you'd be thinking that's not a good thing. To my surprise and delight, however, once I bit into Manbake's bar, the experience was decidedly un-Power-Bar like. The Apple Pie bar truly tasted like an apple pie and the texture was not a problem at all. On the whole, it was actually quite an enjoyable experience.
The ingredients of the bar are whey protein, almonds, prebiotic fiber, apple powder, vanilla bean powder, and cinnamon. Due to the fiber content, the total net carbs in the bar are only six grams, while the protein content comes in at twenty grams.
The High Protein Bars also come in Strawberry and Vanilla Latte flavors (which also contains 50mg of caffeine), but I did not try either of these flavors.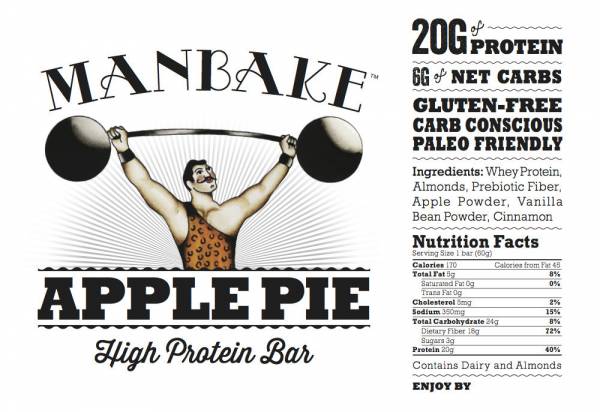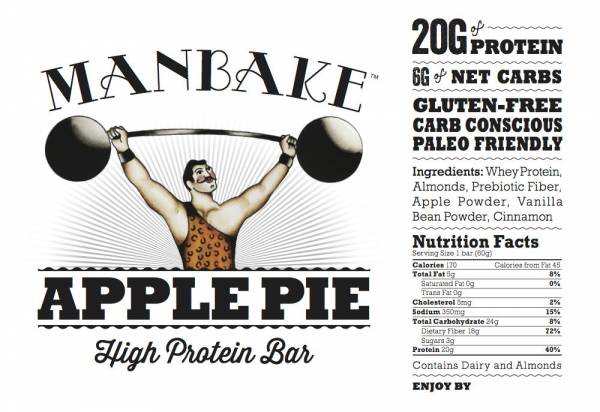 Anyone who eats paleo, primal, ancestral, or generally healthy also probably knows the emotional and nutritional value of a good nut butter. I mean, we all still need a treat now and then, right? Manbake steps up with Cookie Butter.
I tried it plain, on crackers, and on fruit. Both the texture and the taste were great. I thought the Cookie Butter tasted like graham crackers. My husband thought it tasted like movie theater popcorn. Either way, it was a delight. Two tablespoons comes out to 150 calories, so it definitely falls in the treat category for me – but it also tasted like a treat.
The ingredients listed on the jar and those listed on the website are different, so my assumption is the ones on the jar are correct. In which case, the cookie butter is made of whey protein, almonds, cashews, chia seeds, flax seeds, hemp seeds, cinnamon, vanilla bean powder, and stevia.
Manbake also makes an almond butter and a cashew butter that I did not try. And the Cookie Butter comes in both 7.15oz and 16.3oz size jars.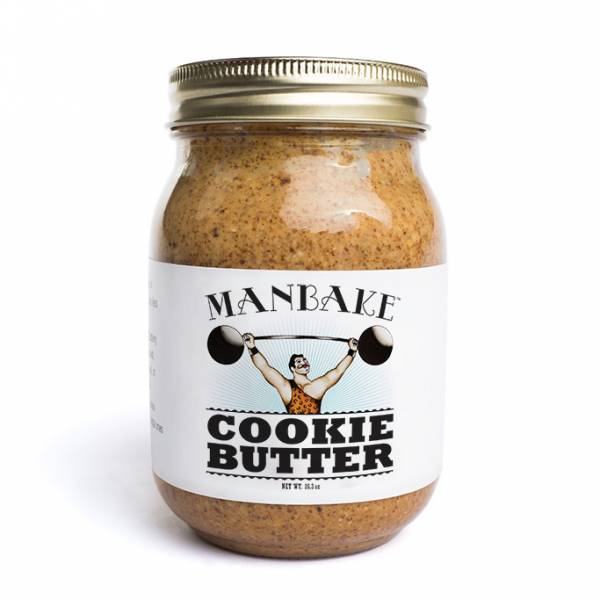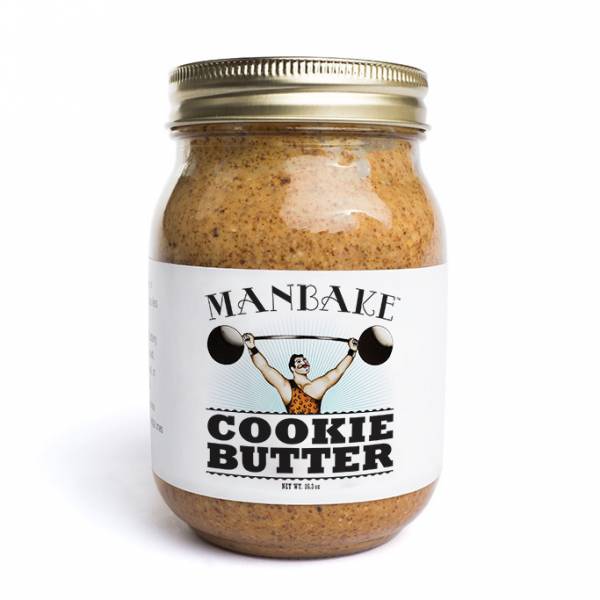 The last item I tried from Manbake were four different variations on their cleverly named Beefcakes. You know, 'cause "cupcakes" doesn't sound buff or manly, right? All the non-vegan versions of Beefcakes come loaded up with whey protein and are relatively low in carbs. If you can't tolerate whey or casein, however, you'll want to stick to the vegan Beefcakes.
Carrot Cake: This was the first flavor I tried, and in the end, my least favorite. For me, the vanilla whey protein overpowered the carrot flavor.
Cinnamon Bun: While these are not listed on the Manbake website, they were sent to me to test and turned out to be my favorite flavor of the non-vegan options I tried. The texture and moisture were better with these than the Carrot Cake Beefcakes, and the cinnamon, vanilla, and other spices all blended together nicely.
Chocolate Peanut Butter: Another flavor I don't see on the Manbake website, but also another enjoyable one. Of course, there is the problem that peanuts are not paleo, but more on that later. These had a nice crunch, which I think was due to the seeds, and a nice chocolate taste.
Vegan Coconut Almond Fudge: This variation was fun and different, no doubt owing to the fact that it did not contain any whey protein. The coconut makes the texture pleasant on these and they had a rich chocolate flavor. They did, however, also contain garbanzo bean flour, potato starch, tapioca flour, white sorghum flour, and fava bean flour.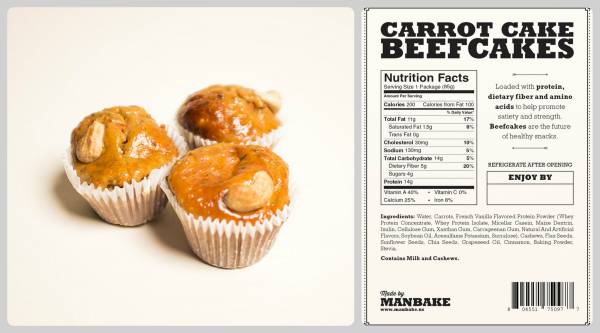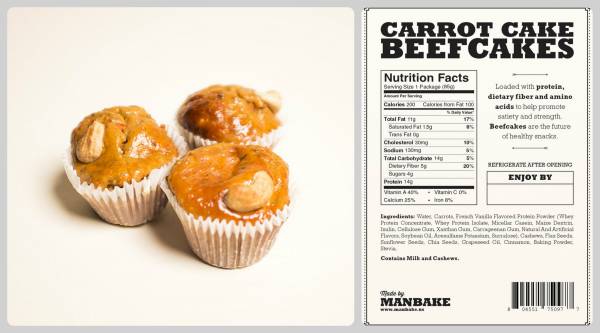 One piece of advice on all the Beefcakes is that you'll want to store them in your refrigerator. Due to the lack of preservatives, they will spoil faster than most traditional baked goods. The package says to refrigerate after opening, but I'd err on the side of caution and refrigerate them immediately. (Unless you've placed a small order or are planning a large Beefcake binge.) In the event your Beefcakes go bad before the "Enjoy by" date, Manbake does have a replacement policy.
Another important thing to know is that all of the Beefcake varieties include ingredients like cellulose gum, xanthan gum, carrageenan gum, soybean oil, acesulfame potassium (also known as ace-K), and sucralose. From what it looks like on the packaging, these items are in the protein powders that Manbake uses, but they are in there, nonetheless.
All the Beefcakes are available in either three-packs or eight-packs. Each of the flavors I tried came in a three-pack and ranged from 200 to 260 calories total for the entire package. The three non-vegan flavors were relatively low in carbs, from 6-9 net grams, but the vegan flavor came in at a much higher carb content of 29 net carbs.
Not Really Paleo
The biggest downside of these products is that they are not, in my opinion, actually paleo. What constitutes paleo will likely be an endless debate, but ingredients like ace-K and soybean oil don't qualify under anyone's rules that I know about. I really enjoyed all these products, but in my opinion they would have been wiser to label themselves "gluten free" as opposed to "paleo friendly." Because no matter how tasty and how much healthier these items are than other options out there, they're still not paleo.
That being said, if you are not paleo, then these are great. They are flavorful, gluten free, low carb, and chock full of protein. And even though I eat paleo 90% of the time, I do use protein powder and indulge in other things from time to time. So when one of those times comes around, Manbake products wouldn't be a bad choice to make at all.
Manbake products are available for the following prices and quantities: