Among all of the hot dips and gooey delectables that have become mainstays of game day eating and party snacks, it can be a challenge to serve appetizers that hold up to high nutritional standards.
Hosting a party of any kind can be made easier with paleo friendly poppables so you don't have to stress about maintaining your healthy eating style and instead, can focus on your guests and the game. Paleo eaters can enjoy the party without having to bring attention to any special ways of eating because these appetizers are a hit with any crowd.
A standard vegetable tray with avocado ranch dip is always a game day win. Add to the assortment with an impressive paleo antipasto platter that looks gorgeous on your snack buffet. Quinoa stuffed mushrooms pack in a hit of protein and lots of earthy flavor. Jerk chicken is placed on lightly salted plantain chips and is sure to satisfy athletes and healthy eaters alike.
This collection of hand hold-able morsels are easy to make, easy for snacking, and taste amazing.
Paleo Antipasto Platter
Prep time: 10 min
Serves: as many as you want
Ingredients:
Cherry or grape tomatoes
Whole small sweet peppers
Goat cheese stuffed sweet peppers – slice in half and put a pea-sized amount of tomato basil (or other savory flavor) goat cheese inside
Artichoke hearts
Meat sticks, cut into bite size pieces – look for brands that use humanely raised meats, no preservatives and paleo ingredients (I used the cracked pepper by Vermont Smoke and Cure)
Whole pitted olives – Kalamata or any large green variety (I used garlic stuffed)
Plantain chips
Nut thins (crackers made from nut flour)
Preparation Instructions:
Arrange artfully on a platter and serve!
Quinoa Stuffed Mushrooms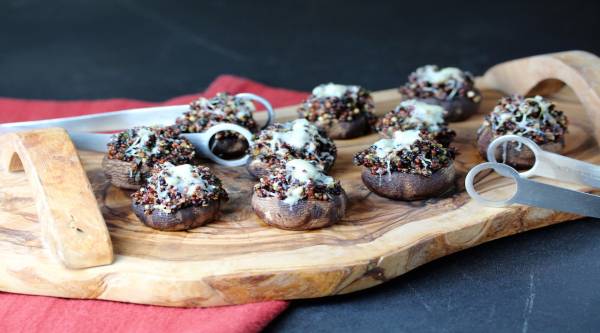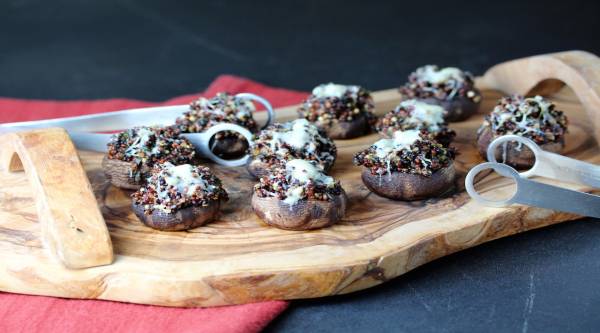 Prep time: 20 min
Cook time: 20 min
Serves: about 15-20
Ingredients:
½ cup rainbow quinoa
⅔ cup chicken broth or vegetable broth
1 stem kale, leaves only, very finely chopped
⅛ teaspoon garlic powder
⅛ teaspoon paprika
⅛ teaspoon black pepper
⅛-1/4 smoked salt (or pink Himalayan), to taste
2 tablespoons parmesan or manchego cheese, finely shredded plus more for garnish (optional)
6-8 ounces whole cremini mushrooms, stem removed
Preparation Instructions:
Preheat oven to 425 degrees.
While oven is preheating, rinse quinoa and place in a saucepan with the broth.
Simmer quinoa until most of the liquid is absorbed.
Add kale to the quinoa and finish cooking until all liquid is absorbed.
Add remaining seasonings to the quinoa and set aside.
While quinoa is cooking, brush mushrooms with a small amount of olive oil and place on a baking sheet.
Bake 10 minutes and remove from oven.
Stuff mushrooms with the quinoa mixture and top with parmesan if desired.
Bake an additional 10 minutes.
Remove from oven and place on a serving dish. Serve warm.
Jerk Chicken Plantain Bites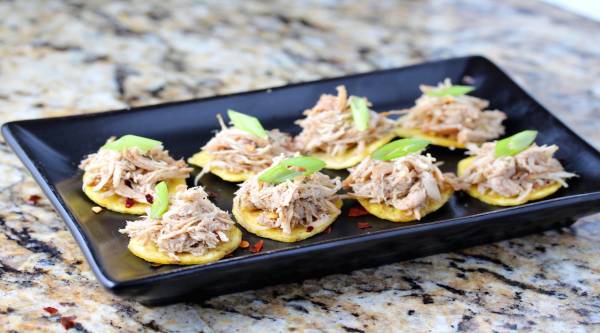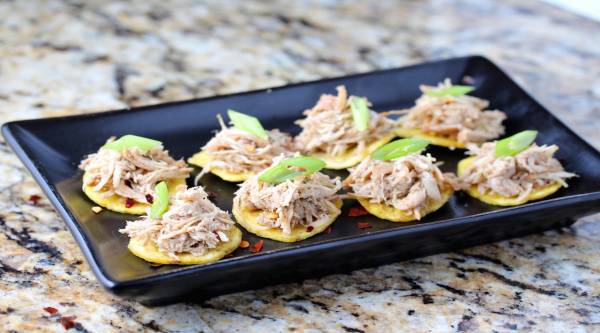 Prep time: 15 min
Serves: about 25
Ingredients:
1 cup shredded cooked chicken (warmed slightly)
¼ teaspoon allspice
¼ teaspoon thyme
¼ cumin
¼ teaspoon garlic powder
2 teaspoons lime juice
⅛-1/4 teaspoon salt, to taste
1 tablespoon paleo mayonnaise or more if needed for it to hold together
Plantain chips (use lightly salted or unsalted)
2 green onions, green part only sliced on the diagonal (reserve white part for another use or can finely chop and add to the chicken mixture)
Preparation Instructions:
In a bowl, mix together all ingredients except the plantain chips and green onion garnish.
Mix until well combined and sticks slightly together.
Scoop about a tablespoon onto a plantain chip and top with a small slice of green onion for garnish.
Arrange on a plate and serve.
Try these other game day treats: