We receive free products and receive commissions through our links. See
disclosures page
.


Last week I reviewed ProBar's Bolt pre-workout fruit chews, but they weren't the only snack I had the pleasure to try. ProBar has a whole line of products that are chock full of quality ingredients, but without skimping on the taste. ProBar Core protein bars are no exception.
In line with the rest of their offerings, most of the ingredients in the Core bar are organic. In case you missed it last week, ProBar is a Utah-based company that prides itself in providing products founded in values and quality. All of their products are created using sustainable, organic ingredients often sourced from whole foods. All of their bars are gluten free as well.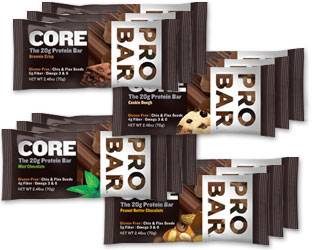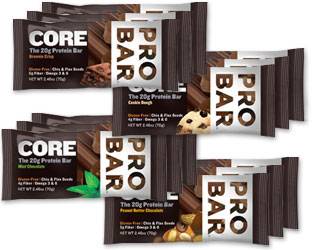 Each bar has about twenty grams of protein, which is a decent amount considering the bars are not huge. The bars don't offer just protein, though. They also have roughly 32g of carbs apiece, about half of which is sugar. Not terrible, but not great if you're avoiding sugar. The bars are definitely best for after your workout when the carbs will be best utilized. Each bar also boasts four to six grams of fiber as well as a good amount of omega-3 and omega-6 fatty acids.
The bars have a dry and crispy texture, which I prefer to chewy and sometimes sticky bars. Each bar contains a layer of crisps under a layer of the primary flavor, all dipped in chocolate. Each has the slightly processed taste that almost all protein bars share due to the protein powder and concentrated nutrients, but the ingredients themselves are generally higher quality than you'll find in other bars. The taste didn't bother me in the least, but is worth mentioning.
The bars come in four different flavors. Here's what I thought of each one:
Cookie Dough: While I can't say it tastes anything like cookie dough, it has a fairly generic but delicious flavor.
Peanut Butter Chocolate: This one tastes a little more like its namesake than the cookie dough flavor, but has no actual peanut butter in it. It still tastes good, and is certainly peanut-y, but don't expect a major peanut butter flavor.
Brownie Crisp: Despite the prior two not living up to their names, this one has about as strong of a brownie flavor as you can expect from a crispy protein bar. It also has a deep chocolate flavor, which I appreciated since I'm a dark chocolate fan and prefer lightly sweetened, high-cocoa chocolate. The flavor is probably due to the fact that cocoa appears three times on the ingredient list and chocolate appears once, much to my delight. Chocolate fans like myself can't go wrong with this one.
Mint Chocolate: You can smell the mint in this bar as you open it. It tastes like a big, crispy Andes after-dinner chocolate to me, and I mean that in the best way possible. This one also has the biggest layer of flavor over the crisps, making it slightly softer. It is probably my favorite of the bars.
The major source of protein in these bars is soy, and they contain flax lignans as well, which may be a turn-off for some people. Consider the ingredients prior to purchase.
All in all, these bars are a strong offering by ProBar. With good flavors, good texture, a good blend of nutrients and quality ingredients this is an excellent bar for people who are not avoiding soy.
ProBar Core bars are available for $2.99 for one or $33.53 for 12 at Shop.TheProBar.com.