The term "organic" has become more prevalent, even in the workout scene. People love the idea of minimalist workouts that are simple, raw, and in touch with real life. The idea that you can turn your home or even your baby into a gym is the new buzz. Look at YouTube and you can find videos of moms lifting their kids as workout partners, not to mention the plethora of videos showing people outside using tires, cars, and whatever they can to get their workouts done without leaving the house.
My parents' "gym" was life. It was the same way with my grandparents. To think getting outside and playing with your kids or moving and lifting everyday objects is the newest craze in fitness actually sounds ridiculous when you sit back and think about it. There's absolutely nothing new about this type of organic lifestyle.
An Organic Way of Life
During my recent time in Ecuador I learned so much about the true meaning of organic, beyond what the dictionary and marketing tell us. In Ecuador, organic farming comes from the heart. It is not a way of farming so much as a way of life.
My trip to Ecuador showed me organic is more than a method of farming.
In this sense, organic is about being one with nature, not just about how food is grown. As the pre-packaged, processed lifestyle has become the norm, we've lost sight of this simple way of living, and hence when we see it is something new. My trip taught me that a truly organic life is what we were given at birth. It has nothing to do with consumerism. During our trip, we asked why the farmers choose an organic lifestyle. The answer was universal: they see it no other way.
Taste Food for What It Is
This understanding makes the organic concept within food far more meaningful. Recipes are often filled with ingredients that mask the flavor of the food and make it less nourishing for our athletic endeavors. Processed food is about making food taste like what you want. Eating consciously, and eating organically, is about tasting food for what it is. Since my conscious-eating life began over four years ago, I find my cooking style is less complex. Creating meals is all about the marriage of ingredients that allows each to come into its own.
Vegetables and fruit are huge in my clean-eating life. I only buy organic and try to stay local as often as possible. This marriage of herbs, fat, and roasted veggies is my favorite way to prepare food during fall and winter months. I love to cook vegetables until they are slightly charred to allow the caramelized sweetness come through. Lining a cookie tray with parchment paper makes clean up a breeze and great for batch cooking as well.
Herb-Roasted Veggies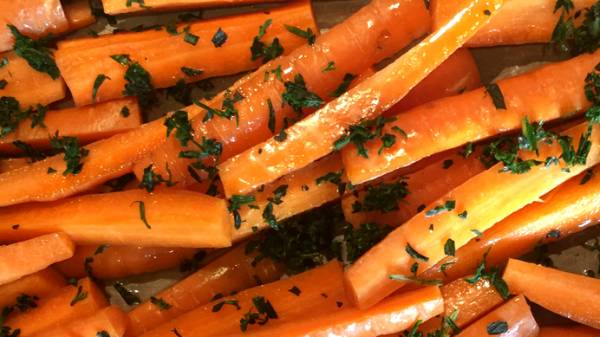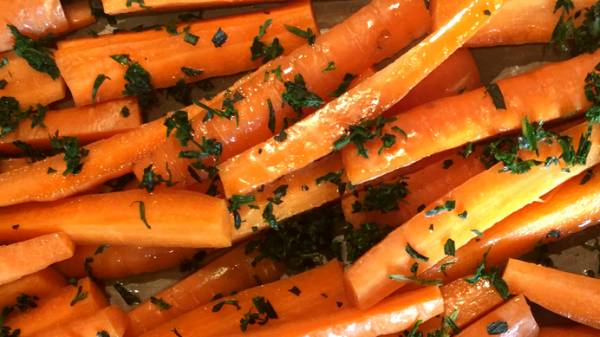 Roasting root vegetables with herbs is a simple way to support your clean-eating lifestyle.
Ingredients:
Organic vegetables (Some of my favorites: onions, sweet potato, carrots, fennel, garlic, and asparagus)
Fat of choice
Fresh herbs (Some examples: parsley, thyme, basil, mint, cilantro)
Pink Himalayan sea salt
Fresh ground pepper
Method:
Preheat oven to 400 degrees Fahrenheit.
Prepare vegetable to your liking by slicing, dicing, or cubing.
Mix in desired fat. This may require melting the fat first and tossing the vegetables with the melted fat.
Grab cookie tray and line with parchment paper.
Add tossed vegetables on tray.
Sprinkle with salt and pepper.
Add either chopped or whole herbs on vegetables.
Place in oven for 20 minutes, then check. Continue to cook to desired doneness. On average, charred is about 40 minutes.
You'll Also Enjoy:
New on Breaking Muscle Today
Photos courtesy of V Capaldi.